An INMA study of the top 50 biggest news subscription brands found 22 brands have a loyalty or membership scheme. Some of these publishers' goals are to attract new subscribers or increase retention, while others seek to bring in additional revenue.
On Wednesday, an INMA Readers First meet-up uncovered the latest trends and best practices of loyalty programmes, as well as taking a look at how the COVID-19 pandemic has influenced them.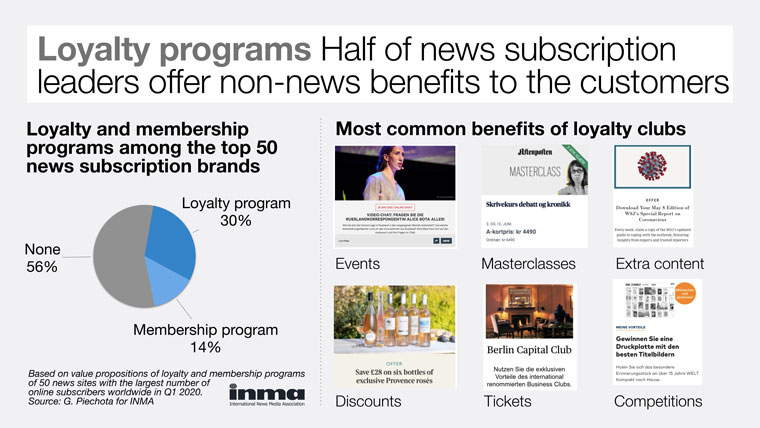 During an INMA members-only Webinar on Wednesday, Greg Piechota, INMA researcher-in-residence, shared data from his research on loyalty programmes, including that half of news subscription leaders now offer non-news benefits to their customers. Some of the most common benefits of the programmes include: events, master classes, additional content, discounts, tickets, and competitions.
Piechota shared loyalty programme case studies from Clarín in Argentina and Die Zeit in Germany with INMA members.
Case study 1: Clarín, Argentina
Clarín started building its loyalty programme, 365, 10 years ago when it was transforming from a print to digital business, explained Ignacio Gimenez Zapiola, commercial director.
"We need to support our subscriber base and know more about our customers," Zapiola explained as the main goal of the initiative. "We need a direct relationship with the customers to sustain our business. If you're going to have a digital business, there's no way you can go do that without knowing your customers and have data on them. You need to make sure you have a long-lasting relationship."
The team invested its focus on providing benefits that are attached to the Clarínn subscription, Zapiola said. "Looking to the future, we knew we wanted to have the possibility to build business around that."
The aim of the 365 loyalty programme was to construct new business models around it. The team realised that using the newspaper name for the loyalty programme could have limitations, so members decided to build a new brand and called it 365.
The team constructed the benefits as discounts offered to existing Clarín advertisers in exchange for advertising. By using their advertisers' audiences, they built new audiences for the 365 membership. "We can fulfil the promise of delivering customers" to the advertisers, Zapiola said. "What they want is to attract people to their sites or their outlets. We needed to see a B2C transformation."
The 365 loyalty card is built around the credit card system in Argentina and allows the company track what their members buy through it, where they spend their money, how much they spend, and when. That gives a large data foundation.
"That's the centre for our registration base for readers," Zapiola said. "Today in our big data department we have more than 10 million consumers registered. This was the genesis for us to know our consumers."
The programme has developed new business in:
Third-party subscriptions revenue.
Insurance brokerage sales. They get a commission for insurance sales through partners.
Payment industry through fintech programmes.
"We need to make sure as publishers that we have a lot of power, because we relate to and attract people," Zapiola said. "We need to believe that we can attract consumers and build our own programmes. We have a lot of strengths."
Zapiola shared what he considers five keys to success in building such a programme:
Believe in the value of your media to attract consumers.
Build a team to work specifically in the loyalty programme.
Hire people with experience in the consumer business.
Invest in analytics platforms.
Invest in customer acquisition.
"You have to invest in people," Zapiola said, adding he believes a good programme should have at least 50 people dedicated to it for a large news brand. "It takes money and it takes time."
Case study 2: Die Zeit, Germany
Die Zeit's loyalty programme, Freunde der Zeit ("friends of Zeit"), is quite different from the 365 programme of Clarín. Lennart Schneider, manager of Freunde der Zeit, spoke about the three-year-old initiative. 
"Freunde der Zeit is really more about retaining our existing subscribers and giving them experiences," Schneider said. "We have built a programme that is really focused around our journalism and the people behind the newspaper."
Die Zeit is Germany's leading quality newspaper, with more than 500,000 copies sold and 2.3 million readers per week; 70% of its newspaper sales are to subscribers.
"They are the backbone of everything we are doing," Schneider said, adding that the company has not seen a decrease in newspaper sales or subscriptions yet due to COVID-19.
"Our programme is really about building personal relationships between subscribers and editors. You could say it's a love relationship. The main focus is a mixture of behind the scenes, which are experiences, and member benefits."
Benefits include:
Events: Events are meant to give subscribers a behind-the-scenes look into Die Zeit. One such event is the Q&A sessions with editors, in which subscribers are invited to a forum to ask their questions: "During corona, we have switched all our events to online events," Schneider explained. "We are doing a series of Webinars with our editors." Videos and podcasts are also a big part of this offering. 
Content and discounts: "To build trust and loyalty, we also give a number of benefits," Schneider said. Content benefits include audiobooks, e-books, and newsletters. In addition, partner benefits are slightly comparable to the 365 programme, Schneider said. These are things such as discounts for theatre tickets, free trial programmes to partners, etc. "All our benefits are bundled in our weekly newsletter, which goes out to 190,000 subscribers each week."
When you look at the customer lifetime cycle, Die Zeit is mainly marketing Freunde der Zeit during the four-week free trial offer of a Die Zeit subscription. "We have to convince people that Die Zeit is the right brand for them, that they trust the people who are doing the newspaper, and that they get to know us," Schneider said.
They also have seen many long-time subscribers who are excited about the programme because they get to know editors after reading the newspaper for a long time. Thus, Freunde der Zeit also helps with retention.
Schneider discussed how the news publishing industry has traditionally had two different types of paying customers: subscribers (who pay for access to content) and supporters (who pay to support the mission of the brand and journalism).
"In the last years, there is a new group emerging in the membership economy, which is they embrace both missions," he said. "It's the best of two worlds. That is where we are positioning ourselves."
The Freunde der Zeit programme has more than 72,000 registered "friends." Schneider also shared these numbers:
Six readers' parliaments.
127+ events since 2017.
55 regional events.
38 open houses of newsrooms.
14 online events, of which the biggest events have attracted up to 2,000 people.
"We are very closely tracking the feedback of our events and customer satisfaction," Schneider said. "That is one of our main KPIs. That is constantly high and that is something we are quite proud of.
"All of the benefits are freely available to all our subscribers, but in the beginning you have to register once so we can validate that you are really a subscriber."
The media company never had an e-mail address for many long-time print subscribers, so this provided a way to obtain that for the first time.
Schneider gave a lot of credit to his team, which consists of six people: "You have to build up a team that is absolutely dedicated to this programme."