The vast majority of adult Canadians (79%) now own a smartphone. This is up from 60% in 2015. This steep increase in smartphone ownership in Canada is consistent with other developed countries and has changed the way people consume media.
News brands across the globe continue to evolve their mobile strategy to address this change. For some major brands, marketing investment has shifted to make mobile the primary focus for numerous campaigns, even while best practices for mobile engagement remain in flux.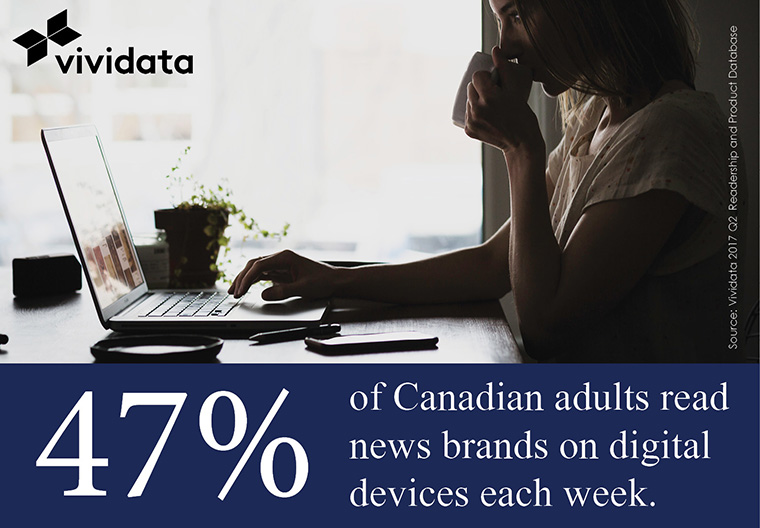 The size of mobile news brand audiences
All this change is for good reason. Nearly one in two Canadian adults now read newspapers on digital devices each week — with a strong preference for mobile. In an average week, 64% of digital news brand audiences access content specifically on a mobile device, which is truly monumental.
But what's more compelling is that one in three of this mobile audience accesses digital news brand content "once a day or more," and one in two access it "a few times a week."
As this chart shows, audiences frequent the channels of their preferred news brands for the most up-to-date news and information. For marketers, this provides an opportunity to reach an audience (on multiple occasions) through trusted and frequented news brands.
Frequency isn't the only item of interest; the profile of this mobile audience is prized among marketers.
A profile of mobile news brand audiences
Adult Canadians who use mobile devices to access news brands:
Earn an average household income of C$92,000 (C$10,000 more than the general population).
Are more educated than the general population; 42% have an undergraduate or postgraduate degree (an index of 127).
Are more likely to be MOPEs (managers, professionals, or owner/entrepreneurs); one in three are MOPEs (an index of 134).
Are younger than the general population, with greater likelihood to be 18 to 34 years old.
A vast majority (72%) shopped online in the past month.
Are more likely to agree with the statement, "I am prepared to pay more for products that elevate my status."
Spend more on travel, and travel more often than the average adult.
These are just a few accolades of this mobile-first audience.
It's all about the content
There is relative consistency over the past five years with eight out of 10 Canadian adults having read news brands in print or digital each week. Whether in print or on a computer or a mobile device, Canadians are engaged by news brands.
However, each platform provides a different experience. Mobile (and, on a larger scale, digital) provides news brands the opportunity to deliver compelling content to an audience throughout the day. In turn, this is a great opportunity for marketers, as they can reach a valued segment of the population through their multiple interactions with a news brand.
While the different platforms that news brands publish on attract different audiences and levels of audience engagement, it is all about their content. News brands are, and have always been, a trusted, immediate source for accurate news and information — no matter the platform.