Why should news media take tablet advertising seriously? Are untold riches awaiting us? What are the trends in the space? And for those who do embark on the journey to the potential new revenue stream that is tablet advertising, what should they bear in mind when constructing a plan and a strategy?
Let's start with, "Why tablet advertising?" Here are some facts. From 2013 research, the Pew Institute found tablet users were more engaged:
31% of tablet users said  they spent more time with news since getting their device.

Another 43% said the device was adding to the amount of news they consume.

And 73% of tablet users said they read in-depth articles on their tablet.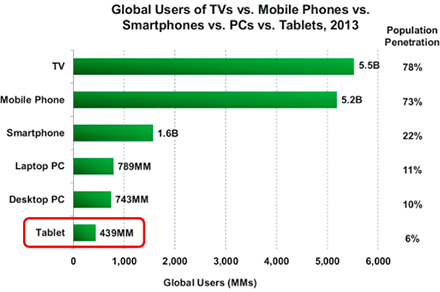 If you add this to some market factors – namely, that tablet sales are growing fast and there is huge growth potential for them (see e-Marketer chart below) – then you have a space that needs to be taken seriously as part of the mix for future news media revenue streams.
PC + smartphone = tablet? It also has been said that tablets are important because they combine the success factors of the personal computer (PC)  and the smartphone:
PCs: large screen, powerful hardware, ample storage, good battery life, and flexibility.

Smartphones: intimacy/personal, always with you, touch-user interface, instantly on, and simple to use.
A powerful combination! And we're seeing the rise of the "phablet" (a cross between a smartphone and a tablet) in many markets, which offers a larger screen that must be treated in the same way.
Industry study: Here in the UK this year, industry group Newsworks conducted a tablet advertising study and found an ad response up to 40 times greater than online. Yes, 40!
It created some key benchmarks and a new metric for tablet advertising.
The Tablet Project cites an increase of 0.79% in what it calls "the average tap rate (interaction)" with a tablet ad. That's up to 40 times greater than the average online display click-through rate – depending on sector.
Consumers were also found to spend an average of seven seconds with tablet ads – far higher than the fractions of a second tracked online.
With tablet ownership rising to almost 18 million in the UK, such initial benchmarks have been increasingly requested by publishers (and agencies). There has, however, been a lack of data and understanding thus far around tablet advertising, i.e. what makes an ad successful, what metrics should brands expect, what kind of ad types and language should we be using?
Vanessa Clifford from Newsworks said these results offer the advertising community first-stage industry norms, with some standard metrics, creative learnings, and a common language for the first time.
The study tracked 20 campaigns across five key sectors – motors, retail and travel, finance, tech, and entertainment – between October and December 2013. Participants included Virgin Holidays, Cancer Research UK, Sony, Nationwide, Audi, and YouView, among others.
For each sector, there are distinct variations in key metrics, which will now enable planners to shape expectations and judge campaign delivery for clients.
Individual sector tap rates were found to be:
Motors: 0.61%, with an average dwell time of 6.9 seconds.

Finance: 0.87%, average dwell time of 5.9 seconds.

Retail and travel: 1.04%, average dwell time of 6.1 seconds.

Tech 0.84%, average dwell time of 6.8 seconds.

Entertainment: 0.57%, average dwell time of 10.1 seconds.
The ads were grouped into three core creative types – text link, video, and interactive.
The results show that each type has a different role to play – text links drive above the average tap rates; video provides a powerful combination of tap rate and dwell time; and interactive ads hold attention with considerably higher dwell time.
According to the study, text links' average tap rate was 0.82% with an average dwell time of 5.6 seconds. Video had an average tap rate of 1.06% with an average dwell time of 7.1 seconds. Interactive had an average tap rate of 0.42%, with a dwell time of 9.0 seconds.
Initial reaction from agencies has been broadly positive. Tara Mendelsohn, investment associate director at one of the big London ad agencies, OMD, said the study had "propelled the tablet agenda to the forefront."
She continued, "It will help us prove the value that tablets add to media plans using industry agreed insights, norms, and benchmarks that will help shape our client conversations moving forward."
Top tips: So, what advice can I give for when you're designing for tablets? Well, commercially, here are my "top tips," which you should think about to ensure you get the right impact.
Consider the tablet's unique selling proposition (USP): Tablets are immersive and allow for swiping, tapping, shaking, steering, tilting, and locating. Design your ads for this.


Focus on clarity: Just because the technology exists, doesn't mean users want it. Think about your specific audience.


Think about the experience: The user journey. Don't annoy your readers. Make it elegant!


Make it short 'n' snappy: Think short attention spans, short dwell times. Have clarity/succinctness around the call to action (CTA). And make it just one CTA.


Use video: Video is a powerful tool for tablet rich media, It can greatly enhance engagement with your customers. (Ensure it's clearly labeled).


Design with easy navigation: Position clickables well. Consistent/easy navigation is essential.


Include social media elements: Add an option for content sharing, ideally with an option for personalised and generated content, again with a clear call to action, so users know they're tappable.


Remember screen size: Less is more. Ensure any "click to action" elements are prominent and easy to use (avoid "error" taps).
Is this a recipe for successful? Yes, it should be, as long as you keep remembering to treat smartphones and tablets differently. Keep in mind, the greater screen size, better display, unique usage patterns (peak usage tends to be in the evenings for tablets) … all these features are different for tablets and smartphones.
Optimal tablet usage can generated up to three times the click-through rates (CTRs) and conversion rates than smartphones. That's important!
Develope a tablet advertising strategy (consumer-facing). Bearing all the above in mind, start to develop a serious tablet ad strategy. Key things to remember:
Develop commerce/payment capabilities for future e-commerce opportunities.

Become a solutions business focused on improving consumer empowerment with the help of tablet technology.

Improve consumer relevance. Apply robust analytics and develop personalisation functionalities.

Integrate an active participation in social media re: brand discovery, while developing relevant sharing/social media tools.

Use smart tech functionalities to innovate and enhance the consumer experience.

Increase convenience by offering context-relevant, location-based offers.
All this should give you an ABC guide to the arena and combine to help you drive tablet advertising offerings in your company, both for yourself and for your advertisers.
Over the next few years, we will see a continued explosion of tablets as a consumer device and as a medium for content and advertising. Some of the key (crystal ball) questions will focus on:
Will iPads continue to dominate? (If not, remember there are other platforms and operating systems where your readers might be.)

Will a common development platform emerge for rich media content and advertising?

How important will medium-sized screen tablets be in the market? The phablet. The "MassNiche," as Deloittes call it.
We shall see.
Meanwhile, for further reading on the whole tablet ad market, developments, and grey case study examples, I would recommend the following links to you: