If you're looking for a sign of what peace in our time looks like between media and the digital platforms, then Australia should again become your focus — this time thanks to the launch of News Corp-Google's Digital News Academy. 
Even in a country where the money from commercial peace deals is flowing like nowhere else — with more than US$150 million a year reportedly now being paid by platforms to publishers — this collaborative venture leaps out. 
News Corp, Google, and others have joined with Melbourne Business School, which runs Australia's top-ranked MBA programme for the University of Melbourne, to launch the academy with the plan to turn the industry's skill base on its head.
A quick recap: Australia's 2021 media bargaining code forced the signing of publisher-platform commercial agreements that are delivering cash injections to individual media companies equal to or larger than many of the media companies were earning as net profit pre-pandemic. 
But this professional education initiative shows those deals have also unlocked something else, not as big but more profound: deep cooperation that strives to change the trajectory of journalism and to ensure the revived rivers of gold are not squandered while they flow.
The Digital News Academy stands out for three reasons:
The scale of the collaboration.

Its curriculum.

Above all, its ambition.
To other countries, it shows what is possible in peacetime and how an entire nation might become a business model incubator.
Firstly, it's the scale of the collaboration
The idea was hatched between News Corp's Australasia's Executive Chairman Michael Miller and Google Australia's Managing Director Melanie Silva after they buried the hatchet and struck a lucrative commercial agreement.
It took off from there to embrace much of the industry. Australian Community Media (the biggest regional group) and Country Press Association (which covers most of the small local players) came on board. Other media companies, all of which have now signed their own Google commercial contracts, have an open invitation to join later intakes.
Secondly, it

's the content
Its scope reads as if someone has ingested all the global best practices from across all of INMA's specialist initiatives — from the data, product, subscriptions, advertising, and the newsroom streams — to purposefully reframe the notion of commercial curriculum. It sets out to build an electrical vehicle for the new realities rather than try to re-tool an internal combustion engine car for a bit more mileage. 
Its biggest switch is the pivot to formally place journalists and journalism in the driver's seat of commercial success. It is built from the ground up around the best tools and insights. How media should best use machine-generated measurement of a piece of content's value to determine what readers devour. What topics, narrative styles, and formats work best to drive first-party data collection — whether through registration, subscriptions, renewals, engagement, advertising yield optimisation, and/or content-to-commerce. How to adapt the models for specific market conditions and target audience groups, with a special focus on small operations.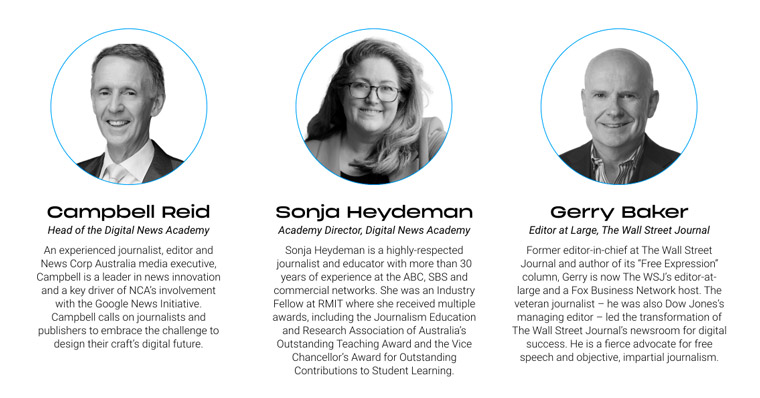 The academy is chaired by long-time News Corp editor and go-to executive Campbell Reid, it's run by long-time journalism educator Sonja Heydeman, and its expert panel includes a range of Google international talent — such as its AI-in-journalism guru David Dieudonne from France and Megan Chan, who leads its Pinpoint unit in California. Kate Beddoe oversees it for Google from Singapore. As the platform's director for news partnerships in the Asia-Pacific, Beddoe did more than most people to get parties through the tortured Australian media code negotiations and out the other side.
While Google brings its digital and business nous, News Corp brings its practitioners, including The Wall Street Journal Editor-at-Large Gerry Baker and a range of its leading local executives.
There will be 50 news professionals included in each student in-take. They will eventually receive formal graduate qualification for completing the modules, whether in person or at home. This study-anywhere element was critical for engaging local and small regional newsrooms and for offering post-pandemic workplace flexibility. There will be a working virtual newsroom, which will publish live to a real audience, and there will be an overseas study tour for the best of each cohort.
Thirdly, it's the ambition of the thing
This is a big deal. It aims to recast the news industry to catch up to the most successful emerging business models. There have been journalism school and business school collaborations before, but none as fundamental nor as well funded. 
News Corp CEO Robert Thomson was involved in this week's launch, as if to help convey its importance as a constructive step but probably as much to formally signal the end of his years-long war of words with the digital platforms as he encouraged them to reform their ways. He has previously heralded the Australian media code as marking the end of the beginning, in Churchillian terms, in the battle between publishers and platforms. The Digital News Academy and joint investment in industry modernisation is part of what comes next, and Thomson came out to support it.
Thomson included a promise that the basics of great journalism would not be lost in its modernisation: "It is crucial that young journalists fully comprehend the potential of digital reporting and delivery, but that they also be well-versed in the traditional journalistic imperative of fact-based reporting." 
It is noteworthy that Google's funding for the initiative is over-and-above its commercial agreements with individual publishers for payment for content, traineeship payments, project grants, marketing partnerships, tech deals, or joint product initiatives. And its funding is over-and-above its own Digital Growth Strategy training, which delivered 16,000 hours of viewing last year and has evolved from a training programme in the use of Google's tools to a training programme in media itself.
Finally, it seizes the moment
Yet with all this cash arriving at media companies, it is important to observe how this piece fits in with a wider new puzzle in Australia. Overall, how should its media ensure its growing cash stockpile is invested to set up this precious resource of journalism for the future? 
For this, there's a parallel with the impact of major discovery of an oil field.  
Economists and historians have long analysed and debated the so-called "Dutch Disease." This was the phenomenon that followed the Netherlands' discovery of its massive North Sea oil reserves, only to later see the country's currency soar, its manufacturing base crash, and its economy crack. Oh yes, and the oil ran out. Booms beget busts. 
Subsequent oil-rich nations have tried to learn from the Dutch. Norway was the stand-out and built a sovereign wealth fund for reinvestment for the social benefit of future generations. Similar programmes in the United Arab Emirates and elsewhere in that region have sought to ensure the spoils from booms aren't short-lived.    
The digital platform cashflow for Australian media is like its new oil gusher. The Digital News Academy is like its first major investment from its sovereign wealth fund-equivalent. 
It's as big as any existential question. How can the news industry in Australia fully avoid the dangers of its rapid pivot to its new source of cash, recognising that booms are temporal? How does it avoid an "Australian Disease," especially given the knowledge that progress overseas towards viable deals between publishers and platforms has remained stultifyingly problematic in the absence of legislation? What should a smart, cash-rich media company in Australia now do? 
News media companies in the rest of the world would surely love to have this problem to contemplate.