Spokesman-Review publishes "emotional IQ" series after teen suicides
Ideas Blog | 03 August 2016
The community in Spokane, Washington, was stunned by five high-school student suicides in early 2015. The students who died ranged in age from 14 to 17. There didn't seem to be a pattern, though four of them had communicated about committing suicide.
Many news outlets do not cover suicides, largely for fear that reporting about it may prompt copycats. In response to this string of local tragedies, The Spokesman-Review marketing team was moved to do something, so we partnered with Yale Center for Emotional Intelligence, which was conducting the "Emotion Revolution" digital survey of high school students regarding how they feel in school versus how they want to feel.
Yale's study was developed in partnership with Born This Way Foundation, created by Lady Gaga and her mom, Cynthia Germanotta. Gaga has long connected with young people who, like herself, struggle with anxiety.
The Spokesman-Review promoted the survey, which gave students a way to share their feelings about bullying, stress, impulse control, and other issues.
We published a full spread about emotional resilience in young people, introduced the survey, and invited our Newspapers in Education partners to share it with administrators and students. One principal, at local Freeman High School, instructed teachers to develop curriculum around the survey to encourage students to take it.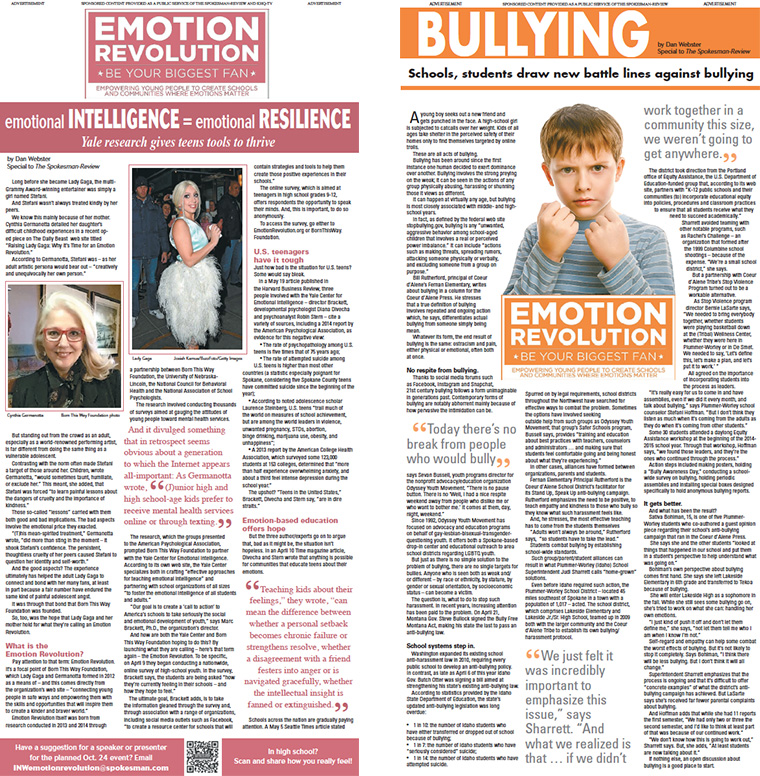 We also printed cards with a survey QR code, and partnered with various local youth organisations to distribute them through their networks and at events, including Odyssey Youth Movement, a youth-led, adult-supported lesbian, gay, bisexual, and transgender advocacy group;  Cup of Cool Water Ministries, which supports homeless youth; and Inland Northwest Business Alliance, Spokane's lesbian, gay, bisexual, and transgender business chamber.
Our partner television station, KHQ-TV, televised a suicide discussion featuring mental health professionals and students from affected schools. They also developed broadcast ads to promote the survey.
To follow these efforts, we published another spread in June about combating school bullying, and another in September about a Spokane child health event featuring a keynote speaker from Yale Center for Emotional Intelligence.
These stories also appeared as sponsored content "as a public service of The Spokesman-Review" on the spokesman.com home page. Publishing the "Emotion Revolution" stories online prompted hundreds of social media shares. Letters to the editor praised the focus on emotional intelligence as a tool for better outcomes in life.
The community response to this project was huge and far reaching:
Hundreds of students in our readership area took the "Emotion Revolution" survey.


Two other Northwest newspapers, The Wenatchee World and the Eugene Register-Guard, joined us to promote the survey online and in print in their communities. 


Community Newspaper Holdings, Inc. ran our digital ad promoting the survey on every Web site of its newspapers in 23 states, providing the research efforts a broad cross section of the country.


Greater Spokane, Inc. (the local business chamber) shared the survey on its Web site and social media channels.


Spokane District 81 On Track Academy and YMCA Teen Centers of Spokane displayed posters with tear-off QR codes to the survey at their locations.


The Kootenai County Task Force on Human Relations in North Idaho, which played a role in the downfall of the Aryan Nations Compound in Hayden, Idaho, formally endorsed our efforts to start a community discussion about the well being of young people.


KSPS, the local PBS station, aired an hour-long live broadcast on its "Health Matters" programme, where local experts and school officials focused on circumstances that lead to suicide.
Another outgrowth of concerns about suicide was the creation of a programme called Mental Health First Aid, an eight-hour course teaching volunteer students skills to help others who appear to be in crisis or developing a mental health problem.
We were invited as VIP guests to the Emotion Revolution Summit at Yale, which led to many discussions about newspapers' unmatched ability to reach educated, concerned citizens interested in making their communities better.
The Spokesman-Review continues to make an impact with regular news coverage about emotional intelligence, with emphasis on topics relevant to high-school age students, as well as adults, including emotional intelligence in the workplace and emotional resilience during the stressful holiday season.