Diversification stimulates revenue, growth for Editora El Mundo
Ideas Blog | 02 March 2016
About eight years ago, Editora El Mundo decided to diversify its services. We founded a small commercial printing business, then later added a distribution service. This one-stop combination of services gave us an edge and filled a need for a wide range of clients.
Since 1967, El Mundo had been singularly focused on publishing its nationwide daily newspaper, Diario El Mundo. But the competitive landscape was tough in a country with only 6 million inhabitants, a low overall newspaper penetration and, to make matters worse, strong competition from two other, much larger editorial groups.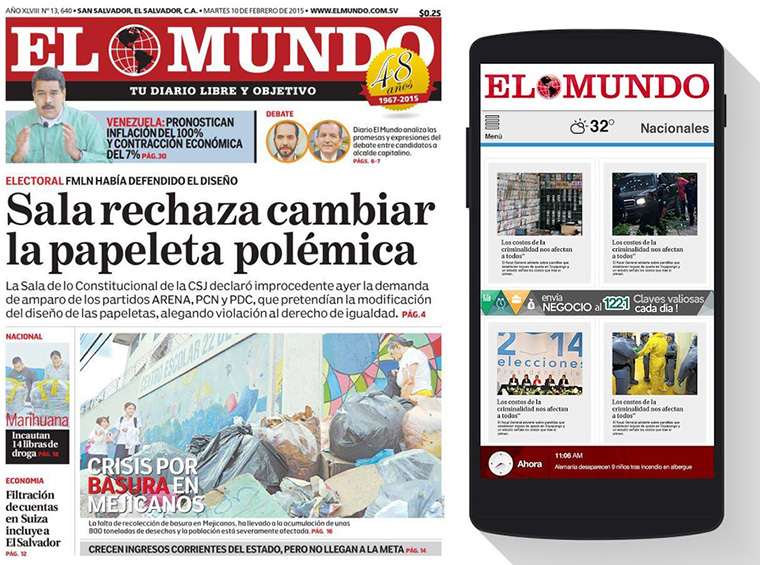 The new commercial printing business offered a way to diversify El Mundo's revenues. We started operations with a used, four-colour Heidelberg printing machine and four full-time employees.
Back then, the commercial plan was simple: leverage the legacy newspaper's reputation to access large clients and fulfill their commercial offset printing needs. In a very short time, the strategy proved to be the right one.
While our competitors focused on low value-added services like printing inserts, we started to service large banks, telecommunications providers, industrial conglomerates, real estate developers, and retailers with more complex commercial products.
We knew that value-added services were critical to differentiate ourselves from our competitors, so we also started a new service unit for massive home-to-home distributions for advertising customers.
To be able to offer the new distribution service, we started out by counting the number of households per street in the three largest cities of the country, since there were no real detailed maps or data.
For three months, we used our large motorcycle fleet from our subscription department to count and map the whole city using Google Maps as a basis. Now we are the only company with detailed information on how many households there are per street or per neighbourhood.
This data is essential when planning and executing a distribution project, and it helped to increase our non-daily newspaper distributions to more than 3 million units in 2015, in a country of 6 million inhabitants, and 1.6 million households.
A combination of printing and distribution services proved to be highly valued among our clients. Customers point out that they prefer to receive both services, along with updates and reports, from a single reliable provider.
We were in the perfect position to meet that need and, given that this work was done separately from the newspaper's regular operations, it did not affect editorial at all.
The printing has grown from four to 35 employees, plus 100 independent contractors in our street distribution unit. Over time we have invested in more printing machines and peripherals to enhance our printing services and capacity.
This combination of our own printing facilities and our distribution expertise generated many new projects at both economically attractive pricing for our customers and healthy profit margins for our company.
One success story is a relationship we built with one of the area's largest real estate companies. We have printed and distributed more than one million newspapers, geographically focused on their potential customers at bus stations and in homes. We have printed and distributed advertising offers for supermarkets, cell phone companies, as well as several banks on a weekly basis. We have printed calendars for the government and distributed them nationwide to more than 500,000 homes.
In addition to our original target clients, we started servicing the central government, several political parties, and a number of city halls, which has helped us to become much more relevant with large customers and advertising agencies.
Not only did the new business avenues help Editora El Mundo's sales and profit margins grow rapidly, they also positioned us in the local market as a service company, maximising synergies with the existing resources of the daily newspaper. In times when newspaper advertising is shrinking, our printing and distribution business has helped to compensate our advertising sales decrease.