The deadline for a remuneration agreement between Google and French news publishers is imminent, based on an April ruling from the French Autorité de la Concurrence. The due date is set for three months from the time the authority made the ruling, which marks a potentially significant turn in the relationship between Google and EU publishers, and will fall roughly a year after the EU adopted tough new copyright reforms and roughly six months after France's July transposition of the EU's  "neighbouring rights" law into its own.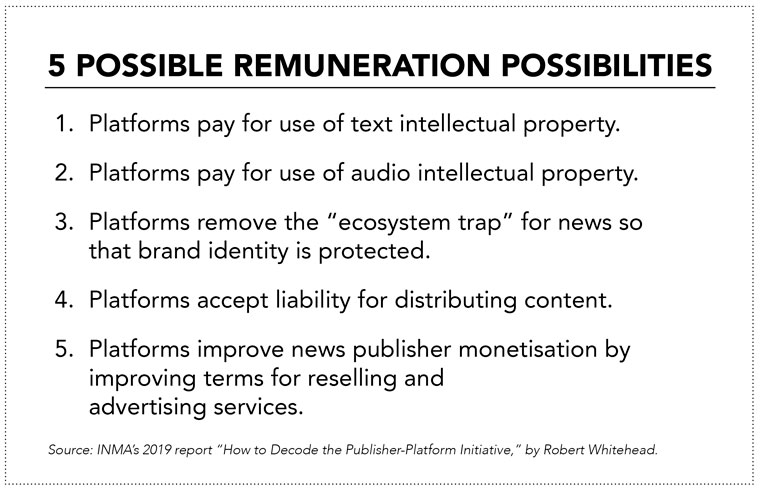 Negotiating "in good faith" toward retroactive remuneration
According to the Autorité's Web site, the authority found "Google's practices on the occasion of the entry into force of the neighbouring rights law were likely to constitute an abuse of a dominant position and caused serious and immediate harm to the press sector."  
It said Google must negotiate, within three months and in good faith, with French publishers toward a remuneration agreement that will yield payment for content published in Google News (advertising-free and gathers headlines in one place), Google Search (advertising-based), and Discover (formerly Google Feed). That content, "within its various services," includes:
Snippets or short excerpts.
Longer display article extracts.
Photographs.
Infographics.
Videos.
Suspected abuses
Google is powerfully positioned in Europe's search market, with more than 90% market share. The French agency listed three abusive practices for which it suspects the technical powerhouse at this stage in its investigations:
The imposition of unfair trading conditions that "would have allowed it to avoid any form of negotiation and remuneration for the re-use and display of protected content under neighbouring rights."
Circumvention of the law by "deciding that generally no remuneration would be paid for the display of any protected content." The Autorité noted "this choice seems difficult to reconcile with the purpose and scope of the law, which aimed to redefine the sharing of value in favour of press publishers vis-à-vis platforms by assigning a neighbouring right which must give rise to remuneration, according to precise criteria. Furthermore, Google refused to provide publishers with the information necessary to determine the remuneration and considered that it could reproduce all the titles of the articles in their entirety without seeking the publishers' agreement."
Discrimination (i.e. because of its unilateral policy of zero remuneration for all publishers irrespective of their situations and corresponding protected content, "Google may have treated in the same way, economic actors with different situations outside of any objective justification").
While publishers generally agree as to the utility Google provides in helping them connect with online audiences, a 2019 INMA survey showed the relationship breaks down when it comes to:
Copyright recognition of original news content.
Sharing of consumer data with publishers.
Tax status.
Compliance with existing law.
Separation of ad tech from advertising sales.
Pricing power.
Privacy regulation.
And the French authority argues the news industry's dependence on the traffic that Google generates is "very important and crucial for publishers and news agencies who cannot afford to lose any share of their digital readership due to their economic ddifficulties."
It continues:
"Under these conditions, publishers, and news agencies are placed in a situation where they have no other choice than to comply with Google's display policy without financial counterpart. Indeed, the threat of downgrading from the display is synonymous for each press publisher with the loss of traffic and therefore of income, both if it is the only one affected by this downgrading and if this downgrading targets all the publishers …
"Given all of these elements, the Autorité notes the existence of a serious and immediate effect on the press sector, resulting from the behaviour of Google, which, in a context of major crisis in the sector, deprives publishers and news agencies of a resource considered by the legislator as vital for the sustainability of their activities, and this at the crucial moment of the entry into force of the law. As a result, the Autorité issued several injunctions as a matter of urgency."
"Unilateral withdrawal" forbidden
In September, Google Vice President of News Richard Gingras announced on the company's blog that it would no longer publish snippets if it were required to pay for them. "When the French law comes into force, we will not show preview content in France for a European news publication unless the publisher has taken steps to tell us that's what they want." 
What the French are calling "unilateral withdrawal" is a practice in which Google has historically engaged in other EU countries. But the French law declared this would be considered an unfair measure — except in the unlikely event that publishers were to give it "free authorisation." And Google must continue to display news snippets during the negotiation period, in accordance with publishers' wishes.
Google's response 
In one comment, Gingras called the news an important asset because of its potential to inform people and lead to a more educated democracy, adding it is Google's goal to help people find quality journalism. Bloomberg reported in an early February earnings call News Corp CEO Robert Thomson encouragingly mentioned Google by name, saying there are "positive signs" the search company's CEO Sundar Pichai "has a thoughtful appreciation for the profound social influence of high-quality journalism." 
Google's Gingras offered this formal statement in response: "Since the European copyright law came into force in France last year, we have been engaging with publishers to increase our support and investment in news. We will comply with the FCA's [Financial Conduct Authority] order while we review it and continue those negotiations."
Conclusion 
Google's compensation to news media until now has been either philanthropic or indirect. In April, the company announced it would lift ad serving fees for news publishers for five months because of COVID-19-related losses. Nonetheless it is under pressure around the world — from Europe to North America to Australia and Asia to the U.K. — to begin paying news publishers for their content. Although the French law has been passed, it remains to be seen how the negotiations will play out. 
In February, The Wall Street Journal wrote that Google was in talks with non-U.S., mostly European, publishers to work out licensing arrangements for a new product that would rival Apple's News Plus. (In the United States, Google is already paying for audio content for its Google Assistant from PBS and other audio news sources.) 
If that were to happen, it would coincide with greater opportunities for publishers to distribute their content online, with news companies themselves developing their own news aggregation apps, and the agreement of Apple and Facebook to pay publishers for content. 
In INMA's 2019 report How to Decode the Publisher-Platform Initiative, author Robert Whitehead laid out additional possibilities, other than an endless cycle of legal appeals, that could lead to resolution of this potential standoff over remuneration — in France and elsewhere.
Platforms pay for use of text intellectual property such as summaries and substantial works but not for social media mention or basic links to articles. (Apple and Facebook are compliant.)
Platforms pay for use of audio intellectual property. Google was in discussions with news publishers over this according to the February Wall Street Journal report. Apple News Plus will pay news publishers for audio content on basically the same terms as it uses for print.)
Platforms remove the "ecosystem trap" for news so that brand identity is protected. [Google and Facebook are already compliant with this; but Apple is not.]
Platforms accept liability for distributing content. An Australian court held Google to be a publisher in April, although the company contends it is a newsagent, similar to those that news publishers pay for display rights: "Publishers provide posters with headlines for newsagents to display in their windows to help draw customers to buy newspapers.")
Platforms improve news publisher monetisation by improving terms for reselling and advertising services. That could involve, among other things: Dealing transparently with publishers in different regions and of different size, and revamping terms for publishers who resell platform ads on other services and incentivising profitability over growing volume. 
"There is not yet a gold standard fee model," Whitehead said. "Whatever it is will differ by digital platform, based on their differing monetisation methods. Google News doesn't have ads directly on its Google News articles, but does make money from the traffic that news brings to its network. So a remuneration model would require a broader revenue share formula or content licensing deal."