Hi there. I'm having a lot of conversations around personalisation and automation at the moment so want to use this newsletter to highlight a few lessons learned. If you are looking into automation for home page or recirculation, I'd love to learn how you are thinking about it and what tools you are using. You can e-mail me directly at  jodie.hopperton@inma.org.
Thanks, Jodie
Are you listening to user signals?
An advantage of having first-party data, especially for larger groups, is that we know more about the user. With this knowledge, surely it should be easier to put the user at the center of the journey and listen to the signals they give us.
Karl Oskar Teien at Schibsted showed me this slide, which really resonated:
We have so many data signals coming in and need to balance them. Historically, we have weighed heavily, and further back solely, on editorial signals. But now we know more and more about users. We need to think about how we use this information for maximum impact on the user. 
In a recent blog post (here), I talked about audiences being made up of people and why cohorts are so important. But we also need to do something with that data. One home page can only be optimised for one set of users. We can use cohorts of users to understand more about our audiences and create slightly different versions of the home page for them.
But when it comes to maximising the impact of the home page (one of the biggest traffic drivers), isn't it better if we are able to listen to each user and highlight content accordingly?  

As an example, a lightly engaged user may come to the home page once a day or less. We want to serve them content on the most important issues of the day. If it's a subscription title, we probably want to weigh more heavily on articles we know drive subscription sales. And of course, our on-page marketing will want to reflect that. If it's an advertising-led title, we may want to maximise for pageviews. But if a heavily engaged subscriber comes to the same page several times per day, they don't want to see the same content again and again. They have completely different needs.
With all the content you produce, users won't also know how to reach the things that are of most interest to them. As Karl also put in in the pyramid below, the content that is consumed by an individual reader is only the tip of the iceberg.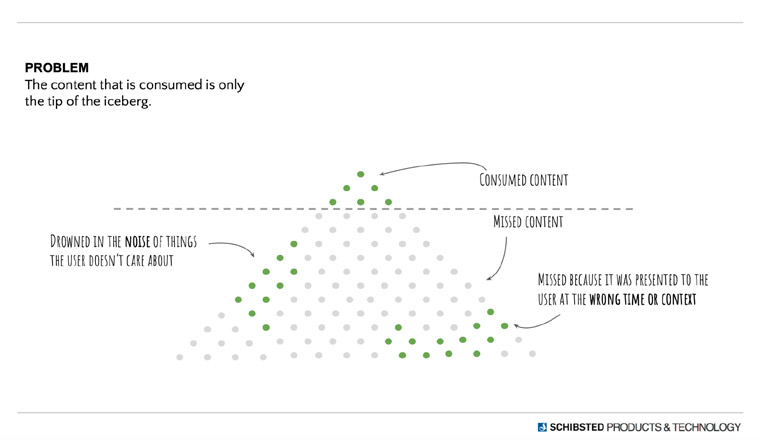 So what happens when a publisher removes stories that have already been read by those users? One publisher saw an 8%-10% lift in click-through rates. The same publisher saw a 20% lift in subscription sales when they used an algorithm that showed content to maximum conversions. These are significant numbers, especially when many publishers are asking themselves if it is worth spending the time and money building models for this. 
Product thinking is focused around the user, the problems they have, and the user journey. Surely we need to listen to the signals of the users and actually use the data points we have available if we are to truly call ourselves product-oriented organisations. 
As I write this, I feel like I am trying to make a case for personalisation, which wasn't the aim as I started out. I think I am persuading myself from the evidence I've seen. Please note that I am not advocating wholly automated home pages. In the balance, we have strong editorial signals that should absolutely be used. The way in which the home page comes together — covering a variety of subjects and ensuring that everything fits together — is important. 
But as an executive recently said to me: What's the cost of not personalising? Or as another put it: How big is the risk really? It's all in-house content, and we are manually managing the top spots.     
Date for the diary: May 19, 2022
The INMA World Congress is coming up, starting this Thursday. If you want a crash course in the biggest issues and opportunities for news media right now, this is the event for you. During seven modules, we'll go into a number of areas, including leading, subscriptions, advertising, the business of newsrooms, smart data, and, of course, product. The event spans three weeks (May 5-26), and the product module is May 19. Join one or all of the sessions. More here.  
Home page automation: where to start 
In my conversations about home page automation and personalisation, I have learnt a lot. There is still much to learn, but I think I now have enough of an understanding to articulate some of the main considerations for crafting a home page with automation. 
Here are a points I encourage you to think about if you are (even remotely) starting to think about automation and personalisation on a home page:
Manual intervention is important. I haven't yet seen a quality news site that fully automates a home page (please do correct this if you have one or have seen one). For the large majority of publishers, you will want to define which areas of the site are populated manually and which automatically. Editors are far and beyond best placed to decide which are the major news stories around the world that need paying attention to. Or to put it another way, if a news site does not have something about a major story (such as COVID or Ukraine), it may not be taken seriously. As an organisation, you may want to give some stories more air, such as large investigative pieces that have taken months to put together.  

Think in buckets/bundles/packages of content. If you automate everything, you may just get the equivalent of cute cat videos across the site. Users will still want to see the range and breadth that you offer, such as news, opinion, sports, finance, leisure. When you plan your automated home page, think in sections and how each of those stitch together for the overall feel of your brand. 

Your CMS is essential. If you decide to automate, you can only work within the parameters of how content is tagged and managed. We've seen this before when tagging articles by user need. There needs to be the right, consistent tagging of content so you can programme how it is weighed and valued for each of the above mentioned brackets. If your content is not in order, you will not be successful at automation.

Consider your "easy wins." What are things you know are an issue for certain readers? For example location, interest segmentation, or removing articles that have already been read.

Remember to keep looking at what you are optimising for. For a subscription site, it's likely conversions for non-subscribers and engagement for subscribers. For audiences that are unlikely to subscribe, it's likely maximising ad yield. Or getting users to register. Or sign up for a newsletter. Think about the content you want to show that will meet those goals. 

Automation of content can only work if it is a joint mission between the newsroom and product. Look at why you are doing it. Look at how you are doing it. And agree on goals and metrics. Spend time testing and getting comfortable with it. If you are testing different variants, make sure people know internally and are monitoring each. There will be errors — especially in the early days — so work together to monitor and correct during experimentation before you go live to a whole audience.

Think about how you communicate to users. Some readers may assume you are already doing it (like Netflix, Spotify, or the plethora of online content platforms). Some may be surprised. Some may rally against it. The last thing you want to do is being caught off guard. If you are doing this for the user, consider how you tell them and what their reactions may be. 
I hope this was helpful. If you are already automating your home page, I'd love to hear from you. What's going well? What surprised you? What unexpected roadblocks have you hit? And how is it going? Please e-mail me at jodie.hopperton@inma.org or schedule time to speak with me directly at www.calendly.com/jodiehop.
Tweet of the week
I enjoyed this thread of creating MVPs where @bandanjopt shares how to create an MVP, some of the world's most successful MVPs, and, importantly, what NOT to do.
Recommended reading
Crikey, what a week or two it has been for media and news. Here are my recommended reads on the three biggest stories for media products:
Great Twitter takeover has big implications for news publishers: There is a lot of talk about what will happen with Elon Musk buying Twitter. INMA's leader of the Newsroom Initiative, Peter Bale, has summed up what this means for news organisations.
CNN+ was doomed from the start: A Media Operator nailed this last summer: How will this benefit the audience? The answer is it won't. The whole story is an unfortunate mix of circumstances that can't be summarised in one sentence. But two big product lessons that can be learnt here are: ensuring that any new product or feature is solving a user need, and that solid research backs up any hypotheses.

Netflix's post-crash identity crisis: Everyone was wrong about the total addressable market of streaming. And that bit Netflix hard with stock plummeting 70% from its high. This article from Puck (one of my favourite outlets that works at the intersection of Wall Street, Silicon Valley, and Hollywood) is a great look at what happened and blames Wall Street (at least in part) for the errors.
About this newsletter 
Today's newsletter is written by Jodie Hopperton, based in Los Angeles and lead for the INMA Product Initiative. Jodie will share research, case studies, and thought leadership on the topic of global news media product.
This newsletter is a public face of the Product Initiative by INMA, outlined here. E-mail Jodie at jodie.hopperton@inma.org with thoughts, suggestions, and questions. Sign up to our Slack channel.