New research shows tactile print ads increase effectiveness
Print Innovations | 14 July 2015
Earlier this month, Newsworks presented the results of a study conducted in partnership with UCL and PHD. "Touching is believing" found that brand perceptions – such as confidence, satisfaction, reliability, and trust – and purchase consideration increase when we touch advertisements in newspapers or on tablet editions.
When it comes to print, touching ads increases people's belief that the brand is honest and sincere by 41%, quality perceptions by 20%, and purchase intent by 24%.
You may think that touching a newspaper ad isn't something you regularly do (although research actually found that many people do it subconsciously), but there are countless examples of print ads designed to encourage the reader to interact with them tactilely.
For example, BMW recently used a panoramic ad in The Telegraph to chart 40 years of its 3 Series. Starting in 1975 with the line "A new movie inspires nightmares about the open water. A new car inspires dreams about the open road" and culminating in 2015 with "Various politicians promise to reduce emissions. The new BMW 3 Series actually does," the ad also stops off in 1982, 1990, 1998, and 2005.
To see the creative in its chronological entirety, the reader has to unfold the pages of the ad, making touch a central step in the viewing process.
Another example in The Telegraph (admittedly from a while ago, but I had to include it as it is the perfect demonstration of how touch can be used in advertising) is Age UK's "Spread the warmth" cover wrap.
By using heat sensitive thermal ink, some objects in the pictured room glowed orange when readers placed their hands over them. The wrap led to 910,000 donations from Telegraph readers to Age UK's campaign, with a 625% lift in donations from a younger audience. A brilliant example of an interactive, innovative ad.
On the subject of cover wraps, a couple of weeks ago, Kerrygold ran a lovely, colour-in one in the Guardian's Weekend magazine. While no doubt aimed at kids, I'm sure there were many readers of all ages that couldn't resist setting to work with some colouring pens and therefore engaging tactilely with the fun and inventive ad.
Similarly creative, ads from Fiat, Three, and, most recently, Great Ormond Street Hospital Charity, have all utilised touch by encouraging readers to cut-out parts.
In Fiat's case, the end result was to make a paper doll and car. Three's ad allowed readers to make a festive calendar starring themselves. And Great Ormond Street Hospital Charity urged readers to use their #BadHairDay face frame to snap and share a selfie and donate.
Sometimes, as pointed out in the "Touching is believing" research, it's the shape of an ad that means readers automatically touch the creative as they turn a page. Hewlett-Packard's patchwork-effect, border ad is a great example of this – whichever edge of the paper you use to turn the page, you're going to touch the ad – as is similarly the case with Jigsaw's "Life not landfill" print ads.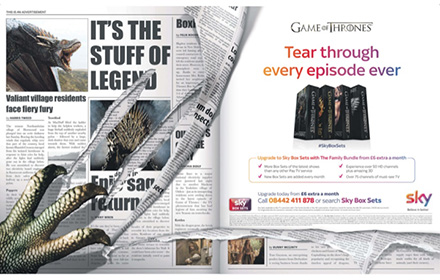 Of course, it can be the content of an ad that encourages touch. Look at giffgaff's fist bump or Sky's Game of Thrones ad where a dragon claw tears apart the page.
There are also food ads, which in print can look so tangible and life-size that you feel (or wish!) that it was in front of you. While you may not sit there pawing the page, I defy you to look at these Lurpak ads and not want to reach out for macaroni and cheese/shepherd's pie/bread and butter pudding.
So whether you consciously interact with an ad by cutting it out, unfolding it, or colouring it in, or subconsciously as you turn the page or daydream about what to have for dinner, when it comes to newspaper ads, the power of touch shouldn't be underestimated, and, to quote the research, it matters in an increasingly virtual world.