Product Initiative Meet-Up: How Deeply Should Editorial and Product Be Aligned?
Presented by Jodie Hopperton of INMA, John Kundert of Financial Times, and Karl Oskar Teien of Schibsted
Watch the replay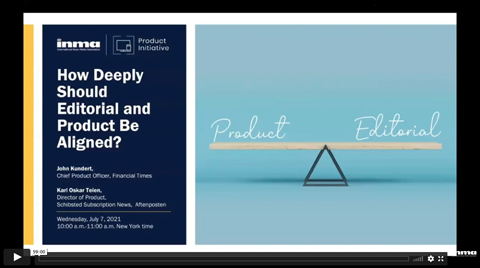 Originally presented: 7 July 2021
Newsrooms historically have been been far removed from the "business" side of news. But with digital, we understand more and more about the drivers of content and how they affect the business — not only what is being read and when, but what content drives certain behaviours such as subscriptions. Some say "content is the product," but the counter argument is that product creates the framework and experience that is consumed. We will look at differing views on how deeply editorial and product should be aligned, discussing the motivating factors behind decisions and why different approaches may work (or not) for different organisations.
Free for Members
This video is copyrighted by the International News Media Association (INMA) and may not be replicated, shared, or linked without explicit written permission of the association. See INMA's copyrights and trademark policy for more details.