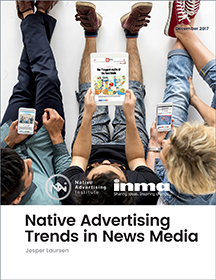 Native Advertising Trends in News Media
Summary:
The rise of native advertising in news media's revenue mix is highlighted in a report based on a global survey of INMA members from late 2017, in cooperation with the Native Advertising Institute. While revenue expectations are up, clearly labeling native advertising is not.
Key themes in this report:
Native advertising is becoming more popular and important in the revenue mix.
Native advertising offerings are evolving.
We can expect fierce competition between publishers and agencies.
Improvements need to be made in native advertising labeling.
Who should read the report?
Media company CEOs, advertising executives, strategists, and content creators involved with native advertising
Author:
Jesper Larsen, Founder, Native Advertising Institute (NAI)
Detailed overview:
The importance of native advertising continues to rise in the revenue mix even as labeling is inconsistent for many media companies.
Based on a survey of 231 media executives from 51 countries, "Native Advertising Trends in News Media" captures the sharp rise of native in the advertising mix — 11% last year, 18% this year, and projected to be 32% by 2020.
With the rise in revenue comes challenges, with 11% of publishers not labeling native advertising at all. Author Jesper Larsen, founder of the Native Advertising Institute, says this lack of labeling hurts the credibility of news media and needs to be addressed.
Meanwhile, publishers say they are open to "going to war" with advertising agencies and media agencies since the alternative would be they will be left with a low-margin business model.
The report looks at integrating native advertising content, the effect on the bottom line, native advertising solutions and sources, measuring the effect of native advertising, opportunities and threats.
"Native Advertising Trends in News Media" is punctuated by best-practice case studies from CNN, Helsingborgs Dagblad, and Bild.