World Congress kicks off with 14 case studies, boot camps on key topics
World Congress Blog | 28 April 2013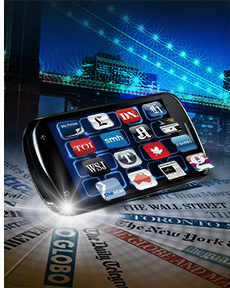 Starting with fast-and-quick "Brainsnacks" — 14 case studies from news media companies all over the world — INMA's 83rd-Annual World Congress in New York gets right to the point: What is working?
In 7-minute presentations, news media executives share their company's best practices in growing audience, engagement, revenue, and brand.
The day continues with deep dives into two of the most important topics facing news media companies: digital fluency and second-wave mobile.
Kirk MacDonald, executive vice president of Digital First Media, discusses the rapid development of alternative revenue streams for news publishers and what it means for the industry.
Mark Challinor, director of mobile platforms at Telegraph Media Group, takes us on a mobile journey across the globe, looking at the latest thinking and strategy in the mobile arena.
Stay tuned with up-to-date blogging at our World Congress blog. And enjoy the ride!