Washington Post, Irish Times inspire, engage women with smart, targeted content
World Congress Blog | 03 June 2018
Female-focused platform The Lily is a product from the emerging news products team at The Washington Post, but it has a striking and unique identity, Art Director Amy Cavenaile told the audience at INMA's World Congress Sunday morning. 
"We want Washington Post content in front of as many eyes as possible," she said. "And we're doing that in a few different ways." 
About 75% of content on The Lily is from The Washington Post, but a specific visual voice, with new art and graphics, helps give the content new life on social media and The Lily's newsletter in an effort to better engage Millennial women. The other 25% of Lily's content comes from The Post's freelance network.  
"Our mission is to empower women with news and information and to expose diverse voices and perspectives," she said. 
The company's editorial voice is a crucial part of the platform, as well. The Lily creates a balance between trustworthiness and relevance to authentically connect to readers. 
"We want to create a community so we are direct, we're conversational, and we're engaging," Cavenaile said. "We do not use headline speak. We firmly believe with our product its bad for the soul." 
The company has also created guidelines on emoji use. Challenging assumptions about Millennials, Lily significantly limits its emoji use. 
"We use the peace sign to occasionally say hello and goodbye," Cavenaile said. "And we use the black heart a lot. It's kind of become synonymous with our brand. We like to say that it stands for healthy skepticism." 
While The Lily is part of The Washington Post, its unique branding and voice gives it a life that reaches those who may not have a relationship with The Post. 
"I think it's an interesting strategy to target people who don't have The Washington Post on their radar," she said. 
In a similar fashion, The Irish Times' "Be One Inspire One" women-empowering-women campaign was described by Eimear Moran, the publisher's media solutions director, as an example of both how media can make a difference and how they can "catch a wave," i.e. use issues high in the public's consciousness to frame and benefit their brand.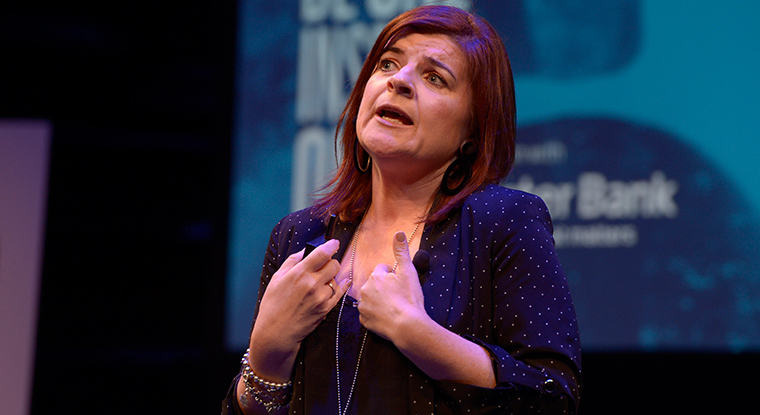 "Brands are losing the opportunity to create a halo effect," Moran told the INMA audience. "My mantra is 'Know your brands.' Get under the bonnet of what it is they [your public] want and then understand who you are as a news publisher. Combine the two and catch the wave.
"Never has there been a greater opportunity for trusted news publishers to step up and say 'Truth matters. Facts have no agenda.'"
"Be One Inspire One" is "a campaign created predominantly by women for women," Moran said. It encompasses a mix of content ranging from articles and video, in print and online, to a mentorship programme and ticketed experiential events such as discussion panels. 
"And I wish I could give you tangible evidence of how exciting and passionate those events were — what it really did in terms of a halo effect, bringing in women who were starting out and did not know where they wanted to go, or did and didn't know how they got there," Moran said, "And bringing together women who weren't afraid to stand up and say, 'You know what? I'm really good at what I do and I'm going to help bring you there.'"
She cited results in the campaign's first phase of more than 71,000 views and nearly 3,000 hours of media consumption. 
"What were our key learnings? Truth, trust, and transparency," Moran said. "It matters to every single one of us in this room. But it also matters to our brands. Get that right, know your brands and, together, you can catch a wave."