Retail winners from pandemic point to consumer trends that are here to stay
World Congress Blog | 06 May 2021
As executive director at the Marketing Science Institute and a professor of marketing at University of Pennsylvania Wharton School, Barbara Kahn has studied the retail sector for years. In the opening session for this years World Congress of News Media, she spoke to INMA members about the ramifications of COVID-19 on the retail industry and the lessons news media companies can take away from that.
2017 was the year of the retail apocalypse, she said, with more than 8,600 stores closing. It was the worst year of retail on record … until the COVID-19 pandemic hit.
After the 2017 retail nosedive, Kahn wrote The Shopping Revolution, which shared what successful retailers did to survive and thrive during that era of constant disruption.
"What I was trying to say was, I don't think physical retailing is dead, I think bad retailing is dead," Kahn said in her World Congress presentation. "Let's look at the winners and the losers, and see what the winners did to succeed in a changing environment."
All of that was before 2020. When COVID lockdown hit, 250,000 stores closed. By the end of that year, 12,000 stores had shuttered permanently. 
"The year of the retail apocalypse was nothing compared to what the pandemic did," Kahn said, adding that everything in the 2018 edition of The Shopping Revolution held true during COVID.
"The acceleration [of the retail apocalypse] built on trends we already knew going into the pandemic."
Post-COVID trends that are sustainable after the pandemic
A number of trends established during COVID are likely to remain, in some form, afterwards.
Focus on safety.

Buy online, pick up curbside.

The digital shift is "sticky."

Sustainability and social movements have become a more important focus for brands.

The move to more customer-centred data, i.e. personalisation.

Work from home.
"The habits we've developed will obviously still be sticking" after COVID, Kahn said, digging into how these habits helped pandemic winners like Amazon.
These sustainable trends offer numerous opportunities for companies. One is the importance of building trust with the customer. Another is through the customer experience. A good in-store customer experience builds loyalty across channels, including online.
"It increases your likelihood to spend more time in the store, and increases your likelihood to go to that retailer online," she said.
Customers are loyal to their favourite businesses, but they also want something back. They want businesses to acknowledge their loyalty and trust, and show that they value it. This has changed the way winning companies do customer engagement and experience — and it has to be 24/7.
Every one of the pandemic retail winners capitalises on this, Kahn said: Costco, Amazon, Target, Lululemon, Walmart, and others.
Two principles of customer experience success
Instead of focusing on product and supply chain, companies need to focus on the customer — and doing that better than the competition.
What does it mean to deliver to the customer? It means delivering them a better product and a better customer experience, Kahn said. Increase pleasure or trust, and eliminate pain points.
Customers want to buy something they value from someone they trust.

They buy from those companies that provide superior value.
She shared her Retailing Success Matrix, which outlines the four areas that winning companies must succeed at: good brand, good price, good experience, and frictionless.
"Think about these as ideas, product price and experiential, and what it means to deliver in particular this customer experience," Kahn said. "That's what consumers really respond to."
Digital content marketing post-pandemic trends
Digital content marketing offers some lasting trends:
The connection between storytelling and commerce: consumers look to social influencers and authentic sources for product recommendations.

Entertainment and shopping intersect. Shoppable video experiences connect brands with consumers.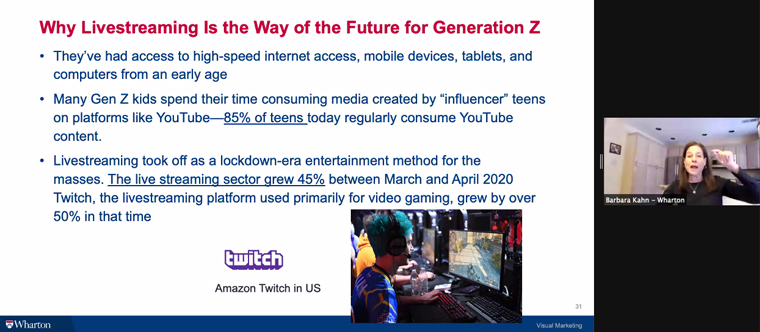 Kahn said there is a lot to learn by looking at China, which had an incredible pandemic boom with livestreaming. 
"They were way ahead on this platform. Instead of multiple apps, they have mega-apps with content, entertainment, payment, etc. all in one app instead of several."
Livestreaming creates relationships and trust, and also sells product. That is what shoppertainment, a rising trend, is all about. Livestreaming and shoppertainment are particularly important for Gen Z, Kahn added.
They've had access to hi-speed Internet, mobile devices, tablets, and computers from an early age — they're fully native.

Many Gen Z kids spend their time consuming media created by influencer teens on platforms such as YouTube; 85% of teens today regularly consume YouTube content.

Livestreaming took off as a lockdown-era entertainment method for the masses. The livestreaming sector grew by 45% between March and April 2020. Twitch, the livestreaming platform used primarily for video gaming, grew by more than 50% in that time frame.
Advice for news media companies
For news media specifically, Kahn thinks companies need to worry more about the younger consumers. For Millennials and Gen Z who are digital-native and grew up in this shoppertainment world, they expect it. 
"If you're engaging and your expectation is 24/7, that is a challenge for the traditional model of news media." 
This is fundamentally different from older generations who might not have been digital-native but moved online with ease. The difference with the younger, digital-native generation is that they don't think of news as something separate from their other online experiences. For them, it's a merged world, entertainment, community, news, etc. They expect it all in one experience, and news media publishers must deliver that to capture this audience.
The World Congress continues Tuesdays and Thursdays through May. Register here for future and recordings of past sessions.