Mobile driving increases in reading, yet consumption patterns radically changing
World Congress Blog | 15 May 2019
Articles written specifically for mobile consumers are simpler, shorter, highly modular, much more visual, and basically the only type of storytelling that matters for the news industry moving forward.
"The research shows up to 80% of people get their news now by mobile phone, so we as an industry need to be taking this platform seriously," said Jacob Gjørtz, vice president for marketing at publishing systems supplier CCI Europe. It was Gjørtz's company that sponsored Wednesday's Editor's Retreat focused on mobile storytelling at the INMA World Congress of News Media, where he and a half dozen other experts on small-screen formats reinforced that message.
"This is a revolution that really affects the heart of journalism," said Mario Garcia, CEO of editorial design and digital strategy firm Garcia Media. "Colour in the newspaper never affected the way you would write your stories, the way you would edit your stories. It (mobile) cuts to the heart of the operation."
"Readers' habits are changing," said Tyson Evans, senior editor and director of strategy at The New York Times. "Readers are actually spending more time with media these days. It's just different types of media. It's podcasts. It's Snapchats. It's apps. It's just not so much traditional media formats."
"Everyone here should probably be on TikTok (the hot Chinese-launched, now world-expanding short-form video platform) just to see how it works and how people use it," said Zainab Khan, Evan's colleague and the New York Time's audience engagement editor.
"Change everything! Change everything for the small screen. This is how you free our newsrooms from the tyranny of print," said Vasantha Angamuthu, chief strategy officer at Independent Media in South Africa. She strongly promoted widespread video adoption and what she termed the Harry Potter-isation of newspapers through modern interfaces.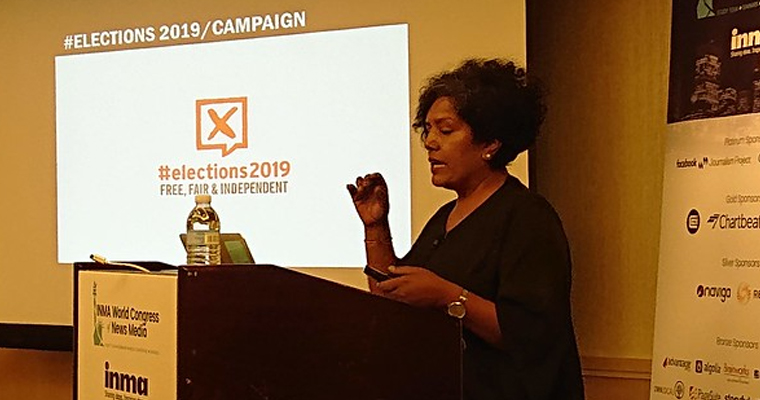 "Where the eyeballs go, that's where the money goes. And everything points to mobile," said Mark Challinor, CEO of the London-based Media Futures Ltd. consultancy. "Mobile will continue to dominate the news media this year and for all the years to come for a host of reasons ranging from more powerful phones to super fast 5G networks. So, get on board!"
A lot of specific how-to tips and more than a modicum of chiding of obstructionist editors were woven throughout the half-day workshop in New York. The workshop was led by Alan Mutter, managing partner at Tapit Partners, a technology research and investment group,
"The most important thing I am going to tell you today is how you write for this," Garcia said, while pointedly telling the audience to ignore a lot of his much-touted news design and storytelling books published in the 1970s and 1980s.
"Why is it that, when you turn to writing your stories today, you do it the way you did 100 years ago?" he asked rhetorically. "Mobile storytelling is linear storytelling. Children do it intuitively. Read Winnie the Pooh again. Read children's books. Because they have the right ideas on how to tell stories in this kind of environment."
"And three scrolls is the ideal length of a story on mobile," Challinor said.
"Short and focused stories of up to 500 words perform extremely well in terms of snackability," Gjørtz said, citing research by digital-only business news publisher Quartz. "And stories longer than 800 words have particular success with certain audiences in certain 'lean-back' situations, but they don't work well for the average 12-minute news session."
Stories between 500 and 800 words are the least successful, he added — too long for snacking, too short for depth.
Which means this article should probably end now.