Lessons learned from London's Silicon Roundabout on INMA Media Disruption Study Tour
World Congress Blog | 21 May 2016
Leading up to its World Congress in London next week, INMA took global leaders on two two-day study tours throughout the city Thursday and Friday. The Media Disruption Tour lead participants on an in-depth tour of several digital start-up media companies, discussing the current state of media and where it is headed.
Hosted by The Drum, Europe's largest marketing Web site, the tour began and ended near the Silicon Roundabout, focusing on an array of topics designed to help traditional news media leaders learn from their digital start-up peers, ranging from branded content to native advertising. 
One of the main points of discussion revolved around content and audience. 
"What's really important for us is shareable content," said Richard Beech, editor of Joe Media UK, a social platform aimed toward younger British males, or average Joes.
The platform uses a combination of videos and relatable articles to attract readers on social media. The key for Beech and the company is to make their content conversational, positive, and guy-to-guy. 
Mashable, a global multi-platform media and entertainment company, retains its readers by producing content that creates new angles and adds value to conversation rather than reiterating current content.
Ben Maher, Mashable's executive director of advertising for Europe, the Middle East, and Africa (EMEA), told study tour participants that for the company's readers to return, it must produce content that interests its target audience. Since their main readers are early adopters, Mashable is there to cover the beginning of new technology.
Though it doesn't always last or become the next trend, Mashable covers it first to cater to its audience.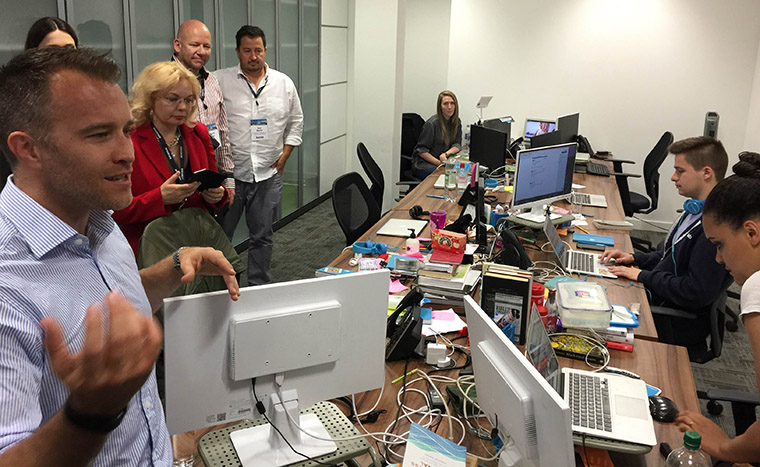 Business Insider's managing director for the UK and EMEA, Julian Childs revealed the company's keys to success are distribution and telling great stories.
"Great digital stories drive everything," Childs said. "These stories bring readers back." 
In 2007, the company had 1,000 readers per day. Today, its daily readership has expanded to more than 2.4 million readers, topping other business sites such as Forbes, The Wall Street Journal, The Economist, and Financial Times. Readers share great stories, he said. 
Another topic discussed was the rise of influencer marketing. 
Pete Longhurst, CEO and co-founder of The 7th Chamber, gave the example of the power couple that coined themselves as "Zalife" by combining their names. Together, they are worth more than £5 million because of their considerable influence on their social media followers. 
True influence drives action, Longhurst said. The example he gave was a tactic used to boost Hawaiian tourism: relevant Instagram users were asked to post pictures of Hawaii with the hashtag #lethawaiihappen. These posts reached 54% of U.S. travelers, 65% of which said they will visit the state within the next two years.  
"It's very authentic," he said. "It's real people taking real photographs."
As its last stop, the tour visited the company Inition, which specialises in the development of immersive, installation-based experiences and brings content to new technology platforms.
Conference attendees were given the opportunity to play around with Augmented Reality, Virtual Reality, 3D printing and scanning, holograms, and haptics.
"These conferences are fantastic because you are exposed to so many different ideas from so many different people," said Ben Martin, assistant editor of The West Australian in Perth, Australia. "When I go back ... there will be things that I have learned that I need to pass on to a whole range of people in our business."
Other companies involved in the Media Disruption Tour included: TCoL (The Church of London), Trint, Here/Forth, and Tan Media.