INMA CEO outlines 13 growth paths to media's profitable future
World Congress Blog | 27 May 2021
As the 2021 INMA World Congress of News Media came to an end, what emerged was a clear path forward for news publishers. The path to profit and revenue growth means adapting to a new way of thinking.
It's no secret that 2020 was a great stress test for news media companies, said Earl J. Wilkinson, INMA executive director and CEO, during his final wrap-up of the World Congress. The virtual conference drew 368 delegates from 44 countries to its seven hours and 20 hours of programming (still available here for viewing).
Although media companies fared better than they had feared as the pandemic began, balance sheets tell the real story.
"I don't think anyone is going to take note of how good they are, how positive they are," he said. Although there were victories worth celebrating, there were also losses, he noted. Not all advertisers survived the pandemic, and employees continue to be under a tremendous amount of stress, both personally and professionally.
"All is not well in a world where subscriptions solve everything," he said, reiterating the message he emphasised as the congress began. The purpose of the presentations at this year's World Congress was to present a way for companies to transform themselves by bringing in elements beyond subscriptions — such as:
Digitally transforming operations.
Employing the use of smart data.
Advertising.
Audience development.
Product.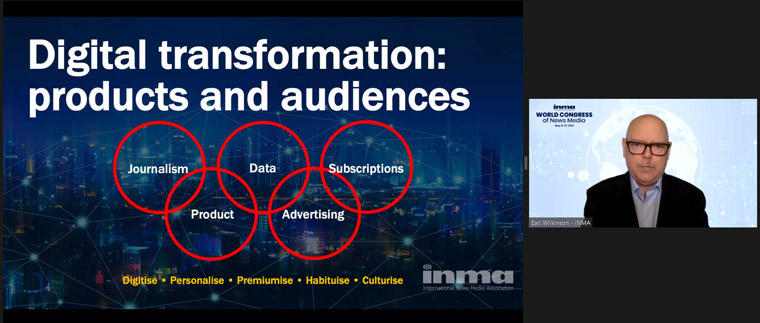 "I'm proud of the fact that our journalism met the moment," he said. But, moving forward requires new strategies and ensuring they're in line with the changed environment. It also requires identifying the new growth path to profitability, which Wilkinson outlined:
Settle with Google and Facebook. "Big tech platforms right now have massive incentives to reach settlements, and some settlements … might cover one-third of the cost of the newsroom."
Digitise operating models, but tie it to strategy. "That, in all industries, absolutely shifts the growth curve."
Invest in AI and automation for scalability.
Shift subscription efforts from heavy to light readers.
Prioritise personalisation.
Democratise data access to build a customer-centric culture.
Focus on first-party data strategy to change the game.
Play defense vs. retargeting decline. This means looking at a post-cookie world, in which a 30%-40% decline in retargeting revenues is expected: "What's coming out of that privacy sandbox? How are you going to play in that sandbox?"
Reposition as a full-solution marketing services provider. "The days of selling advertising space are done."
Deliver value beyond journalism.
Improve the customer experience. "Maybe we don't need more products; maybe we need to improve the customer experience with the products that we have."
Market yourself smartly when the news cycle is no longer a big trigger. "We've had Donald Trump and a global pandemic … but what happens if the news cycle is no longer your friend? How do you keep the subscription momentum going? It's about marketing. Don't forget marketing."
Perfect the art and science of product for better, more consistent outcomes.
Data, which equires benchmarks and transparency to succeed, is central to transforming operations, but companies should be realistic about their expectations. 
To help publishers navigate the path going forward, INMA has invested in a series of initiatives, which Wilkinson presented:
Readers First Initiative: Focused on habituation and led by INMA Researcher-in-Residence Greg Piechota, this initiative looks at such things as habit vs. churn vs. feature adoption, how to adjust products to light-reading subscribers, and how to open the doors for casual readers.
Product Initiative: Just a few months old, this initiative, led by Jodie Hopperton, looks at how product can bring organisations together. "There clearly is a lot of interest looking at the concepts behind product."  
Smart Data Initiative: "What we're focused on is, what does that first-party data structure start to look like? What do the privacy sandbox alternatives look like? And how do you approach that, especially from an advertising perspective?" This initiative is also led by Piechota.
Digital Platform Initiative: This looks at the many new challenges and changes facing the industry, including questions about settlements, regulations, legislation, and the best approaches for publishers. This initiative is led by Robert Whitehead.
"We have spent the better part of a decade migrating our products and our audiences from print to digital," Wilkinson said. "We heard at this World Congress that it's not just about technology; you've got to do this in conjunction with innovation in your organisation."