Independent Newspapers shifts brand focus to stakeholders in face of disruption
World Congress Blog | 10 May 2015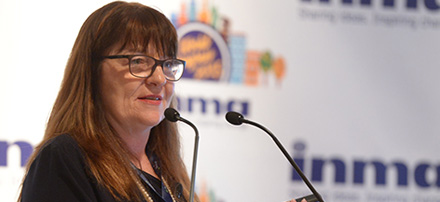 Sandy Naudé, general manager of Independent Newspapers in Cape, South Africa, kicked off the Brainsnack portion of INMA's 2015 INMA World Congress with a discussion of re-focusing your brand and evolving with the changing times.
Naudé highlighted Independent Newspapers, which, at the end of 2013, had a new local owner and disruption in every way possible. Naude knew that Independent Newspapers needed to take a new path: "Now, any new journey needs a new brand to start that journey," she said.
With this new journey, Naudé noted the company wanted to shift focus to readers, advertisers, and stakeholders — anyone interacting with the brand. She wanted something solid to provide to the followers of the brand.
"We decided we had to have a promise for all our stakeholders," Naudé said. "We've got your back."
It was important the brand be consistent and comfortable in a vast variety of platforms, which led Independent Newspapers to its new logo. With 24 different brands within the group, the new logo had to move from the original serif font to something timeless and recognisable by the many people of South Africa.
"We've got 13 official languages in South Africa, and we celebrate all those," she said.