Final day of INMA World Congress continues the conversation, celebration
World Congress Blog | 29 April 2013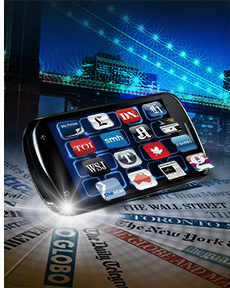 Still high off two wonderful days of conversation — and a memorable presentation by Arianna Huffington — the World Congress wraps things up with a full day of speakers, more thoughtful discussion, and a much-deserved celebration.
Today, we will hear from presenters representing McKinsey & Company, Fairfax Media, NBCNews.com, News Corp., Verdens Gang, Expressen, NewsCred, The Atlantic, as well as our own Earl Wilkinson, CEO and executive director of INMA.
The World Congress will come to a grand conclusion at this evening's awards dinner and reception, where we will announce the winners of the INMA Awards 2013 competition, representing the top campaigns from the past year, as well as the winner of this year's Silver Shovel Award, which rewards individual achievements in the news industry.
What a wonderful few days it has been. But the action continues until the very end, so stay tuned — whether you're here with us in New York or following along on our World Congress blog.