Daily Telegraph drives print engagement with Augmented Reality competition
World Congress Blog | 10 May 2015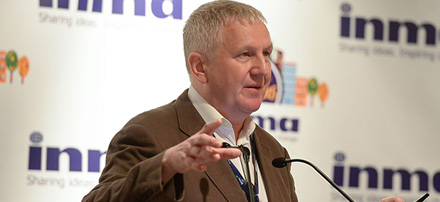 During the final speech at the INMA World Congress Brainsnacks session on Sunday, Mark Challinor, CEO of Media Futures Ltd., discussed an exercise performed with the Daily Telegraph in London about driving interactivity within print.
Challinor had been speaking to a lot of big agencies and continued to notice a common problem: "There's a real lack of understanding about print and digital together."
Challinor noted that a big problem related to this includes the head of mobile position being given to a new person, someone who is not exactly sure what to do or what questions to ask: "They don't educate the staff well," he said.
No media owner had created the sales tool to easily showcase cross platform opportunities combining different types of media, he said. That is until the exercise created an interactive mock-up of newspaper using augmented reality to bring digital aspects to life through print.
"We produced 1,000 of these newspapers," Challinor said.
A competition was created where the agency who best showcased these skills would win a top prize of £100,000 to use for a campaign. With nearly 100 entries, the competition was extended to five teams instead of just one being able to win the top prize.
With the multiple entries and awareness of combining print and other forms of media into print, feedback on the campaign was positive and influenced views on these types of media.
"The campaign actually helped change the perception," Challinor said.