Lessons from leading news publishers on enhancing digital experiences
World Congress Blog | 29 April 2013
Leading news publishers are taking steps to enhance digital experiences for consumers. Today, presenters representing Forbes Media, Financial Times and Helsingin Sanomat provided insight into what their companies are doing to remain top players in the digital media realm, explaining digital disruption, how it is evolving, and how it affects their companies.
The new newsroom for the digital era doesn't include editors, said Lewis D'Vorkin, chief product officer at Forbes Media.
D'Vorkin showed a diagram with a new workflow for newsrooms that eliminates editors and gives readers content they want to consume and the power to create their own.
"We built the tools for them to publish," he said. "They publish text, they can insert their own photos, they can make their own photo galleries, video — they do it all. They write, they produce the programme, they promote, and best of all, they hit the publishing button."
With the new model, the company must change production, which results in a change in the way that consumers pay for the content and how news companies pay to produce it.
D'Vorkin said national, brand name newspapers used to run at a cost of about US$30 per minute. This amount is considerably more than the US$2 per minute spent by digital companies per minute today.
"You can not run a US$30 newsroom in a US$2 world," he said.
The desire to become a top competitor in the digital market is what keeps Forbes working to improve and remain an "authentic voice" to the social world.
"We are a relentless product machine," D'Vorkin said. "We have something new we're doing once a week."
Digital success comes from not being tied down to tradition while at the same time staying true to the heritage of a brand, according to Rob Grimshaw, managing director the Financial Times.
Branding is important, but many other aspects of the business need to change.
Business models need to change. The traditional print model is about distribution — a model that does not work in the digital realm, he added: "In a digital world, distribution is worth almost nothing." 
These changes are a part of a process that Grimshaw describes as necessary to become a disruptor in the media market. Companies should not let go of their brand, he said, but to make major changes within the business. Business models, distribution, and culture need to change.
"The FT of today looks very different from the FT from 10 years ago," he said.
Companies must base digital business off of something else, Grimshaw said. 
"We've created a world where although we might struggle in an advertising market — which is much more challenging than it is in print — we found a way to create a profit in another part of the market around subscriptions. And we've done it by taking, in part taking a share of the pie which was usually there for third parties."
He suggested cutting straight to the customer.
In a personal example, Grimshaw explained how Apple attempted to force the Financial Times to sell its subscriptions through the Apple app store — while taking 30% of all the profits.
The Financial Times already had a loyal subscriber base, and so instead used the new technology of HTML 5 to bypass the middle-men and allow customers to subscribe straight through them.
He emphasised that companies need to have an open mind and be willing to roll the dice. This open-minded nature includes being willing to borrow already well established ideas.
"Some of the ideas you need to change your business in the digital space are already out there," he said.
Although the ideas may be reused, the notion of rebuilding companies remains: "We're going to have to change our outlook on the world to change our organisations." he said.
As the market and consumption of news evolves, so has Helsingin Sanomat, said Petteri Putkiranta, commercial director of the company.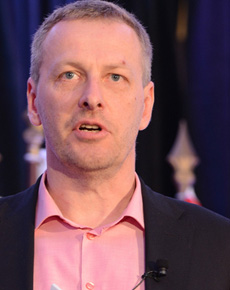 The print subscription holds a majority of readers for the newspaper, but it has dropped slightly since 2012, Putkiranta said.
As focus has shifted to digital media, Putkiranta said that a paywall and a limited number of free articles kept many consumers from purchasing subscriptions.
The major change came with the introduction of the tablet. Consumers started paying more attention to online content: "The engagement level of the users on the iPad could be on the same level as the print."
The company focused on explaining the value of the online content to customers, he said, which will help them reach their goal of increasing subscribers.
Because of the digitization, there is more content being produced and gathered by readers, which has pros and cons for Putkiranta and the company.
"The market is soft, it has been soft," he said. "But at the moment it's nice to be in the situation where you have news to tell."