3 media companies pivot advertising strategies in the face of the pandemic, Big Tech competition
World Congress Blog | 13 May 2021
Advertising expectations for the next year are all over the board, but slightly more positive than negative in an informal real-time online poll of participants on Thursday during the third module of the INMA World Congress of News Media.
INMA Executive Producer Mark Challinor noted there's lots of uncertainty and how you view things depends on level of optimism — you can choose to be either scared or excited. COVID is still an enormous factor in many parts of the world, and it's hard to make a prediction at the global level. 
Challinor shared sobering data from the PwC Global Entertainment & Media Outlook report, UK Market 2020-24, showing consumer habits have changed dramatically:
Global entertainment and media ad revenue fell 6% on 2020 after a solid 4.7% year-on-year growth in 2019.
In the United Kingdom, national news brands saw ad revenues down 24%.
Regional news brands were down 35%.
Magazines, 29%, radio down 13%, and TV down 12%.
In other countries, such as India, numbers were even greater. 
The picture is rosier when you look at social media platforms such as Instagram, Google, and Facebook. Search for Google and online display for Facebook and Instagram grew, Challinor said. And advertising spend is also expected to grow this year in the UK by over 15%., with a further 7% rise for 2022.  
The future opportunities are there for ad diversification and ad creativity and new potential ad sources if we want to see them, he said, pointing to trends we are seeing despite global interruption:
Fixed broadband reached 1 billion households in 2020.

Data consumption strong growth: usage of smartphones showing large jump and 5G next year.

OTT (over-the-top) media all thrived in 2020. (Netflix, Hulu and YouTube, although of cinema and traditional TV suffered.)

SVOD (subscription video on demand) revenue overtook box office, with an expected surge in next five years, reaching more than twice the size of box office by 2024.

Shifting performances and other live events online, as most live venues closed due to 2020 lockdowns and social distancing.

More consumers are interacting with AI assistants on mobile phones. By 2024, more than a half-billion smart speakers predicted across the 20 countries covered in the PwC forecast.
What media companies need to do, Challinor said, is follow the advice of the Boston Consulting Group (BCG): "The winners in the future will be the companies that succeed in 'supersizing' the serving of their clients."
Here are three of those companies: 
Axel Springer, Media Impact (Germany)
Like many news media companies around the world, Axel Springer is facing multiple challenges in the advertising market, Julie Wehrle, managing director of the company's Media Impact division, told World Congress attendees.
To face these challenges, Axel Springer has bundled all activities close to the advertising market under the umbrella of Axel Springer All Media (ASAM). ASAM's goal is to combine the trusted environments of journalistic brands with creative ideas and technology to offer solutions to advertising customers.
Though Axel Springer's digital revenue is growing, it is not growing fast enough to make up for print declines. Growth in the market is also being increasingly absorbed by GAF (Google, Apple, and Facebook). As the U.S. players dominate the market, the share for publishers is getting smaller, Wehrle said. The platforms have unlimited content and rich tech resources.
"We think it's very important that we merge among the local players to stand up to the superiority of the big players," she said. 
GAF are not the only disruptors, she added. New players like Outbrain and TikTok are trying to disrupt the old media triangle of advertiser, agency, and publisher to grab a share of advertising revenue.
To stabilise advertising revenue in the long-term, Axel Springer has developed a strategy based on three horizons that aim to balance shrinking classic media revenue and foster investments in digital growth. The three horizons, shared in detail with World Congress attendees, include leveraging client proximity, the power of Axel Springer's inventory by combining services under one roof, and ASAM's media assets and service providers to develop new revenue streams beyond media.
It's critical to create opportunities for people to learn from each other and to break down silos, Wehrle said. ASAM hosted its first hackathon three weeks ago, which has already produced two potential ideas being explored in sprints. New ideas like these will power the company, she  said: "We really hope that new business innovation is coming out for us." 
Infoglobo (Brazil)
Branded content strategies are having more impact than ever at Infoglobo in Brazil. Infoglobo is delivering "brandformance" (performance in branding) to its advertisers, with successful results shown through real-time measurements, chatbots, brand lift research, link-building, and SEO techniques.
Tiago Afonso, sales and digital development director at Infoglobo, said brands are using content for different purposes today, in line with changes in technology and consumer behaviour. Afonso explained publishers can expand their participation in advertiser strategies — as long as they evolve data measurement, SEO techniques, and audience engagement tools.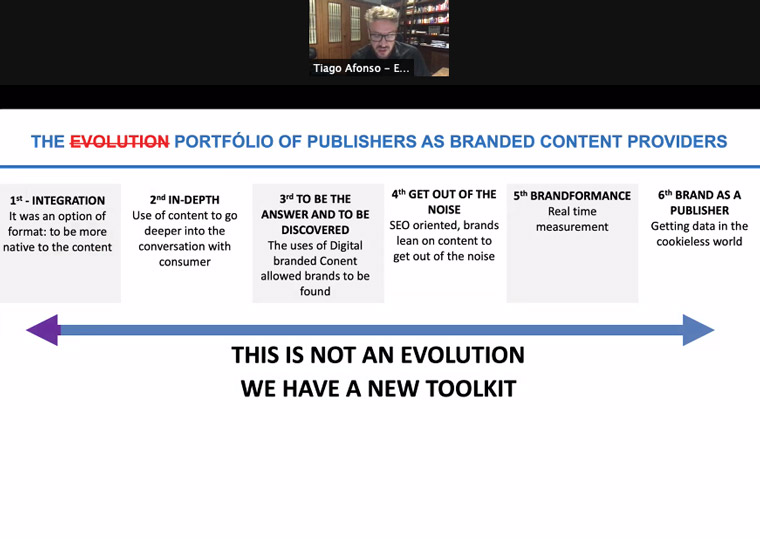 Infoglobo partnered with Bradesco Bank to deliver in-depth content to the consumer (step two of a six-step branded content evolution Afonso shared with World Congress attendees). Over a period of six months, Infoglobo delivered 56 pieces of content in digital, social, and print. The goal was to influence the public's perception of the brand's connection with the themes of innovation and entrepreneurship.
Afonso explained that his team conducted research before the content was published to see how people connected with Bradesco in comparison to other banks. Then after the content was published, the team researched people impacted by the content to compare the results.
"The result was a 20% growth in perception of the public [to Brandesco]," he said. These people had more of an impression of Brandesco as a leading bank in innovation and entrepreneurship.
The ability to measure the changing perceptions of the client was the key factor behind this successful campaign.  
MediaNews, Skyline (United States)
As the branded content division for MediaNews' Southern California News Group, Skyline has played a key role in developing new ways to generate revenue for the 11 Southern California publications owned by the news group. Although it is less than two years old, it has played a significant role in helping recover lost revenue lost by providing innovative new storytelling methods, Lindsay Benton, branded content account executive for Skyline, told World Congress attendees.
"We created Skyline studio as a content marketing division," Benton said. One of its purposes is to "provide advertisers with unprecedented access to a very diverse and dynamic audience" and it does that by taking a 360-degree approach that encompasses traditional media, digital media, social, and experiential opportunities for advertisers.
In expanding the opportunities for advertisers, Skyline has also boosted the revenue for its newspapers.
The combination of custom content and expert storytelling has generated over US$350,000 in new revenue since its inception, and Skyline now has more than 160 clients across sectors including entertainment, healthcare, education, non-profit, automotive, restaurants, and more.
"These clients have helped us to thrive, with over US$630,000 in total revenue," she said. "We've run over 550 campaigns with these advertisers and are growing our repeat and referral business with multi-channel solutions."
When a high-profile thoroughbred racetrack prepared to reopen after the pandemic, Skyline stepped in. "They wanted to find innovative ways to swiftly publicity and buzz for their upcoming racing events and drive higher traffic to their website, as well as introduce audiences to their new virtual capabilities," Benton said.
Skyline launched a complete digital marketing advertising campaign using branded content articles and video, branded content social posts, native and display ads on Web sites and in newsletters, and a print and online sports section takeover. It resulted in 4.3 million total impressions across multiple digital platforms.
"To date, these campaigns and this racetrack were able to reach new users, with over 4,500 unique clicks. Our strategic planning and implementation helped reshape this client's promotion of their new business model."
The World Congress continues Tuesdays and Thursdays through May. Register here for future and recordings of past sessions.