12 news media executives named to INMA Board of Directors
INMA News Blog | 11 May 2014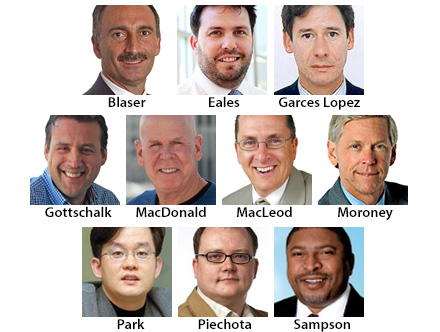 INMA named 12 members to its global Board of Directors, the fiduciary body of the association.
Elected at the INMA annual business meeting in conjunction with the INMA World Congress in San Francisco, effective June 1, were: 
Chris Blaser, vice president/circulation, Advance Central Services, United States.
Damian Eales, group marketing director, News Corp. Australia.
Eduardo Garces Lopez, general manager, El Espectador, Colombia. 
Pit Gottschalk, director of content management, Axel Springer, Germany.
Kirk MacDonald, executive vice president/sales, Digital First Media, United States.
Sandy MacLeod, vice president/consumer marketing and strategy, The Toronto Star, Canada.
Jim Moroney, chairman/president/chief executive officer, A.H. Belo Corp., United States.
Changhee Park, chief financial officer, JoongAng Ilbo, South Korea.
Grzegorz Piechota, news editor, Agora, Poland. 
Fergus Sampson, chief executive officer, Media24, South Africa.
Meanwhile, new presidents were announced for INMA division boards, which look after association affairs regionally:
Europe Division: Harold Grönke, managing director of Verlag Dierichs in Kassel, Germany, will take over as president of the Europe Division Board.
North America Division: John Newby, publisher of The Times in Ottawa, Illinois, USA, will become president of the North America Division Board.
South Asia Division: D.D. Purkayastha, managing director and CEO of ABP in Calcutta, India, will succeed Sanjay Gupta, editor and CEO of Jagran Prakashan Ltd. in India, as president of the South Asia Division Board, on September 1. Gupta will then join the International Board.