Stop reading this if you're squeamish. Seriously. I'm about to say something that editors, publishers, and journalists will never believe. Are you ready? Here we go …
The pivot to video … works.

Please take a few minutes to regain your composure, because I'm going to prove it.


Over the past few years, the phrase "pivot to video" has been synonymous with newsrooms shifting focus, reallocating priorities, and even embracing layoffs. And, in certain instances, the results just haven't followed.

The problem comes down to truly thinking about who your competition is online. Publishers tend to think they are competing against one another. But the truth is competition is much broader. When you put anything on the Internet, especially video, your competition is now the Internet.

People have a finite amount of time to spend browsing video content. Users in 2018 will spend about one hour and 22 minutes per day with digital video. When considering short-form video only accounts for 38% of video watched on desktop and mobile, that number shrinks to just over 31 minutes per day.

Video on your site is fighting for those 31 minutes against every short-form video online, including the latest Marvel movie trailer, the newest viral YouTube sensation, and highlights of last night's game. To compete, your video needs to be of the same quality and provide the same value to your users.

So, as promised, here is how to win at the pivot to video — and it starts with taking a hard look at the video you are delivering to your audience.
Can you say, with confidence, that what you are posting on your site is of the same quality as official video, direct from trusted content providers? Or are you just posting a semi-related video because that's what you think you should be doing?

If it's the latter, you have a massive opportunity.
Take the example above of users looking for the highlight of last night's game. Such videos — when done professionally — have proven results in improving user experience and revenue because they are of a quality that a sophisticated online audience now expects.

Take the following example from the New York Daily News. We partnered in a case study with the New York Daily News to measure user engagement metrics and revenue increases after full integration of a player using Artificial Intelligence named STN Smart Match.
Smart Match intelligently reads a publisher's article for keywords and phrases, and instantly populates it with the most relevant piece of content in the STN library of more than 400,000 highlights and videos. The AI allowed the Daily News to automate the video player in every article across its sports section, including its AP feed, with full confidence that a relevant video will be produced.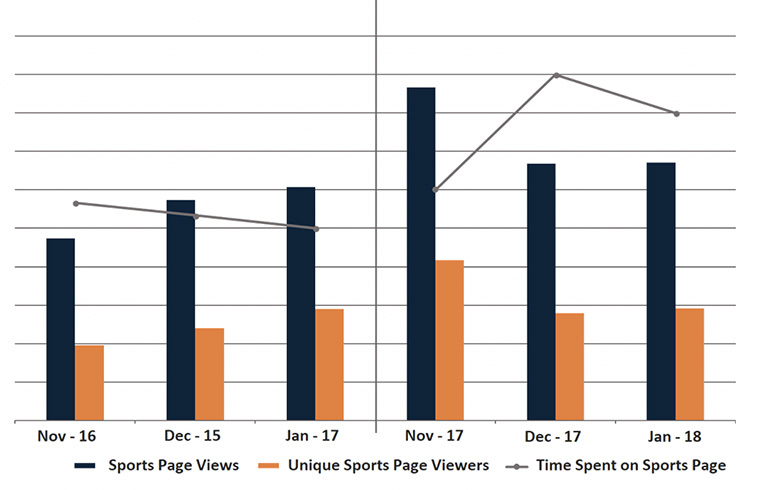 Year over year, metrics were fantastic. In-article impressions and revenue from STN increased by 1764% and 1107% respectively. User engagement metrics saw the same results with sports pageviews increasing by 33%, unique sports viewers increasing by 36%, and time on sports page growing by 44%.

By exclusively using official highlights and content from its users favourite teams and combining that with quality editorial, the Daily News was able to increase numbers across the board using the pivot to video. 
I'll say it again: The pivot to video works. But only if you give your users value for the time they spend with you.