One of the joys of spending time with children is rediscovering simple pleasures from our own youth. A few weeks ago, I was visiting my family in Indiana and relived one of those pleasures with my daughter and nieces — chasing lightning bugs.
It was a beautiful summer evening, and my parents' wooded, three-acre backyard was twinkling with fireflies.
If we paid close attention, the girls could observe bright yellow tails quickly lighting up and then fading, traveling through the trees and brush. Sometimes the bugs were really hard to spot, given their quiet flight and intermittent glow. Even when a bright lightning bug was directly in front of our faces, we couldn't grasp it fast enough or even see it in our midst until it was too late.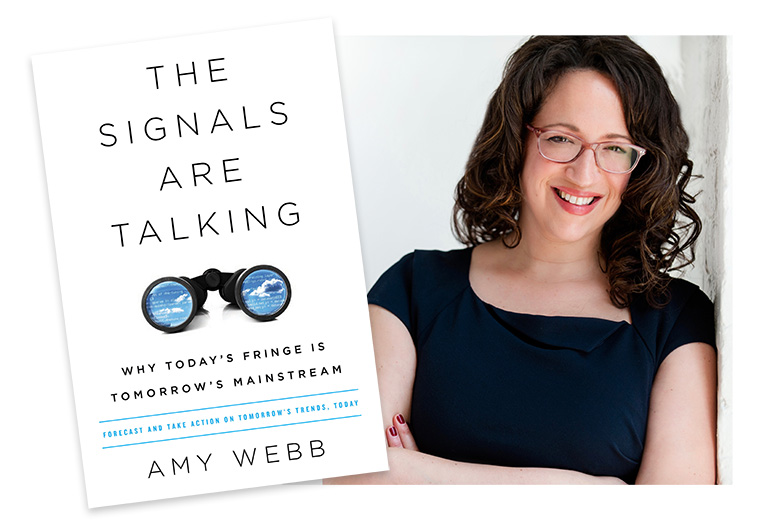 "Where did she go, Aunt Laurie? What happened to her light?" As much as we wanted to appreciate the bugs' unique beauty, we missed that moment.
At this year's INMA World Congress event, we heard a keynote address from Amy Webb, CEO and founder of The Future Today Institute. Amy is a highly regarded futurist, consultant, and author. She shared her perspectives on technology and our business landscape. Amy challenged us to see the "signals" that surround us.
Signals are everywhere — in the trends derived from our data, in the strategy put in place by our "frenemy" competitors, and in concepts that live way out on the edge of possibility.
Amy's hypothesis in her new book, The Signals are Talking, is that we all can be futurists. It is the responsibility of good leaders to pay attention to what is going on around them and learn to answer the questions brought from change. To shape new possibilities by anticipating what's ahead before it's too late. To see the lightning bugs glowing in front of our noses, find the patterns, and begin to understand the beauty all around us.
Not only did Amy explain how to identify trends and forecast disruption using a methodical and repeatable process, she implored our industry to collaborate with each other. To work together to address our technology gaps and answer how current and future developments will impact us. To find new solutions and harness the collective resources and talent among all newspapers to chart a course for our businesses.
Simply put, we need to get out of our own way and lead with intention, empathy, curiosity, and pragmatism.
Amy's talk reminded me of a concept I learned in a leadership programme created and managed by Cox Enterprises, our parent company. The programme candidates are placed into teams and at the end of the year present a business strategy to the Cox Enterprises executive leadership team. The concept has to be based on an emerging trend or business innovation.
My team chose to work on how to cultivate innovative thought, skills, and processes that could then be mined from all levels of an organisation. To frame our idea, we used the symbolism of stadium waves that started spontaneously at sporting events in the 1980s. Just like spotting signals in business, stadium waves require proximity among the participants, someone to initiate the activity, someone to follow, and the right atmosphere or environment.
In our theory, the innovation occurs when the known signals are married up with the right skillset. So employees who experience the signals from customers, processes, or operations need to impart that knowledge to others who can help turn those insights into an actionable business strategy.
As marketers, it is our role to anticipate customer needs and represent the voice of the customer inside our businesses.
Now more than ever, the clutter and noise of the marketplace is deafening. We have a unique opportunity to engage our readers with relevant, meaningful content and information. We have access to advanced digital platforms that enable us to "listen and observe" customers as they interact with our products and digital brands. We have marketing technology tools that marketers before us only dreamed of.
And yet, we are challenged. Amy Webb's book teaches us how to turn the "fringe ideas of today into the mainstream solutions for tomorrow." I hope you'll give it a read or review her presentation while contemplating all the signals that surround us — even the ones that might just appear to be lightning bugs at dusk.