The past few months have been challenging and, as we have heard so often, unprecedented. Throughout the pandemic, as cases of COVID-19 spread globally and governments at every level aim to address the pandemic and citizen concerns, the demand for news has been clear.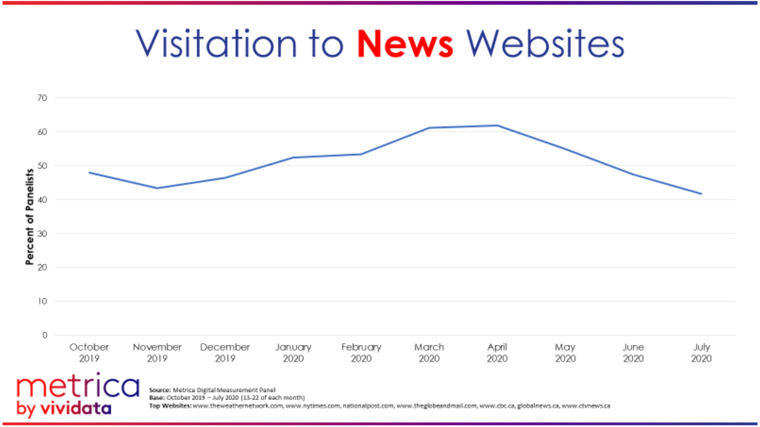 Canadians specifically have been actively informing themselves on the pandemic using multiple sources, including Web sites of government or global health institutions, YouTube, or, most importantly, news organisations. News has been in demand during these times, especially from reliable and trusted sources.
With data from Vividata's digital measurement panel, Metrica, an aggregate of top news Web sites in Canada indicates increasing visitation to these Web sites in March and April during the initial period of the pandemic.
During these months, our lives were changing. As citizens, we all needed to be cautious and adjust to new restrictions and circumstances. And it has been news organisations providing us with the information we need to navigate this new environment we have lived in for some months.
Even though the demand for news has returned to pre-COVID levels, let us not forget how relevant and important news organisations have been and continue to be for us.
As we heavily rely on news brands to keep us informed during critical times like this pandemic, we need them to survive so they are still around long after this pandemic is over. More media buyers and planners need to understand the role news organisations play in society, as it is advertiser support that is heavily needed for many news organisations to get through these difficult times.