This spring, Vividata released its first full year of fieldwork, surveying 38,000 consumers across Canada from January-December 2015. As the media landscape goes through massive changes, our research found strong readership, and that growth in digital readership is engaging new consumers of all ages.
This research, conducted through a probability-based sample, reports on 153 publications (72 daily newspapers) and captures the evolution of how consumers are using print and digital media to inform what they buy, do, and think.
Results: Canadians love reading!
Perhaps it's our interest in all things global or simply our cold winters, but Canadians love reading daily newspapers. Daily newspapers continue to play an important part in Canadian lives, reaching eight out of 10 adults per week.
However, as we noted in our last post, the way Canadians read continues to change. The most recent Vividata fieldwork reported significant growth in digital platforms of newspapers, with 54% of Canadians now reading their daily newspapers on a digital device during the week.
Millennials read newspapers, too
Consider these statistics:
Over half of Millennials read a daily newspaper (see Figure 1), just slightly lower than the daily readership level for adults 18+ (58%).


41% of Millennials read only on a digital device, 25% read only a print copy, and 34% use both digital and print (cross-platform).


Adults 50+ are still heavy readers of newspapers, and while print remains their platform of choice, 29% read newspapers on a digital device daily.
Growth of cross-platform readership (print + digital)
Readers of all ages are engaging with newspaper brands on multiple platforms (see Figure 2). In fact, for adults 18 to 64, more than 50% of their newspaper readership is now cross-platform — a significant change from five years ago.
 

Cross-device digital usage
Digital readership has more than doubled since 2012 (see Figure 3). The shift to mobile is significant. Readership via a desktop/laptop continues to decrease as mobile and cross-device readership continues to grow exponentially, with more than 70% of digital readers now using multiple devices to read newspapers.
Since 2012, cross-device readership has increased more than 400%.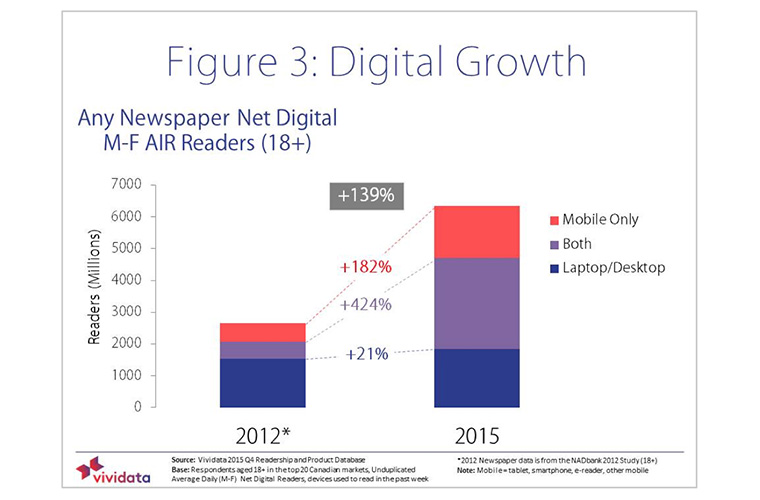 Profile of cross-device newspaper readers
Nearly 60% of cross-device readers are male, under 39, and much more likely to have a bachelor's and/or postgraduate degree than the general newspaper reader.
The ability to read newspapers on a digital device has attracted a different reader. The challenge for Vividata is to measure the what and the why of cross-platform and cross-digital readership.
How and what we measure
In terms of what Vividata measures, the first six months of data from our new study identified a number of issues related to respondent confusion and fatigue with the readership questionnaire. As a result, we conducted a qualitative test of the questionnaire in late 2015. Findings from this test resulted in revisions to the 2016 readership questionnaire.
Due to the online modality of the study, we had the flexibility to incorporate these learnings quickly, incurring minimal delay in the 2016 fieldwork schedule. The revised readership questions are now based on two formats: print and digital with type of device incorporated into the digital questions.
While the shift to mobile offers newspaper publishers significant opportunities to expand their readership audience, it is a unique challenge in terms of how we measure that audience.
Canadians, particularly teens and Millennials, spend significant time on their mobile devices, but there are limitations with regard to offering surveys on those devices — e.g. length of questionnaire and screen format. We are currently exploring options that would offer customised surveys to respondents based on the device used to access.