From time to time, I get together with my friends for a game on Whisthub. It's a card game that can easily last four hours. The fine selection of Belgian beers we have during the game might have something to do with that.
In this period of confinement, we're curious about the trends and habits in the daily lives of our customers. Are these habits going to stick, or are we just witnessing a temporary phase while we sit this one out? Are UberEats, Deliveroo, the Belgian Mail, and Web shops for do-it-yourself and sewing equipment exploding durably? Are the retailers and restaurants desperate to open again losing the game?
After more than two months in lockdown, you wonder what trends will remain in a permanent state.
One curious phenomenon of this awkward spring is the trend of fighting boredom. A large portion of the population has been staying home, some of them without jobs because they can't work from a distance. With schools closed, mothers and fathers are tending to their childrens' education or at least helping them structure schoolwork.
They are spending more time cooking. And, if we can believe the news (and I do!), they are cleaning their houses like never before. Luckily for Belgians, the waste disposal sites have already reopened so we can get rid of all our junk.
As many recent blog posts mentioned, news media Web sites and apps are experiencing a soar in visits, pageviews, and subscription sales. The attention time at De Standaard went up 50% in the last six weeks. Our subscribers' engagement has increased tremendously, and we've welcomed lots of new readers. And they stick around.
But as coronavirus-related content tends to repeat itself, and as we seem to be looking at the same charts week after week, what else can news media offer? What else is there to do for people at home? Not all of us are keen Fortnite players or avid novel readers.
From different sides of the sector you hear puzzles are back in full swing. In the United States, jigsaw puzzle maker Ravensburger, a household name in the business, reported a 370% soar in sales.
The search term "buy puzzles" has skyrocketed in Google in the past few weeks, and kiosk sales are reporting a big increase in puzzle and sudoku books.
Our sites and newspapers have a privileged position to fill the gap of boredom by offering entertainment and games. We already do so historically, but a number of media brands seem to be increasing their offers.
The Nordwest Zeitung in Germany, for example, saw an impressive increase in reading time of its newspaper. On average, readers have spent 30 minutes reading it. The company publishes additional large crossword puzzles on top of its current offer together with a novel, which appears in sections.
HLN, an extremely popular app in Belgium, launched a gaming competition, where readers can compete against each other in Fortnite, Mario Kart, and Tetrix to win €2000 worth of prize money. These games are a rare diversion to the seemingly monolithic pile of coronavirus articles. Puzzles are an antidote to the single-topic news sites the industry is becoming.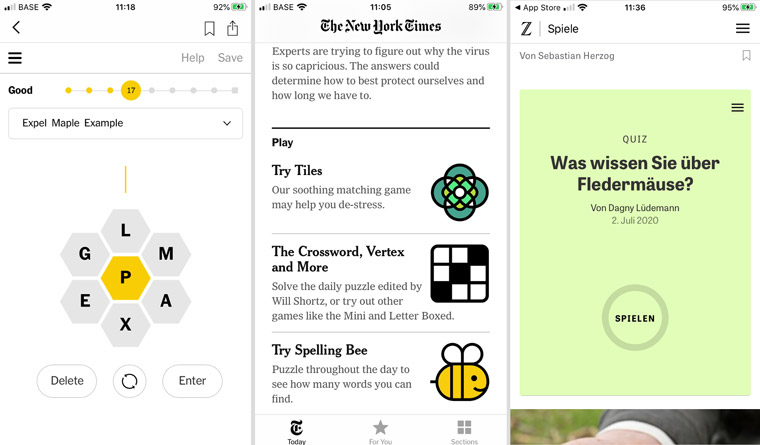 A legendary example of a state-of-the-art product is the New York Times crossword: "experience life in the grid." The New York Times offers a daily crossword, a nicely designed tile game, and a spelling bee game, which it also offers as a standalone product to which you can subscribe for 81 cents a week.
Die Zeit is also quite diverse. It has a sudoku puzzle, a chess game, and Scrabble, and it hosts a quiz community. A recent quiz asked: What do you know about bats?
And De Limburger in The Netherlands launched the "Stay Home Quiz," which is hosted by video by a presenter who invites users to play with family and friends.
Attributing data on the increase in engagement, pageviews, or attention time due to puzzle offers is not easy. This is certainly true when we are confronted with a tsunami of news interest from our readers. But if consumers remain cautious and don't pick up old habits again in the next couple of months, you can predict they will continue to appreciate this kind of entertainment, and your media could thrive with it.