Getting closer to your readers and seriously trying to involve them in the journalistic process is an excellent way of strengthening relationships with your subscribers and leveling up reader engagement. At the Swedish conglomerate NTM, we have done a few interesting experiments in combining different kinds of live experiences to achieve that kind of close interaction.
One of our smaller newsrooms, situated in northern Sweden in Piteå, has tried working like this several times and seen great results. Instead of just traditionally letting reporters pose questions to interviewees or write content for the Web site, the newsroom's reporters tried something else. They have combined two different live streams to actually connect readers with interviewees.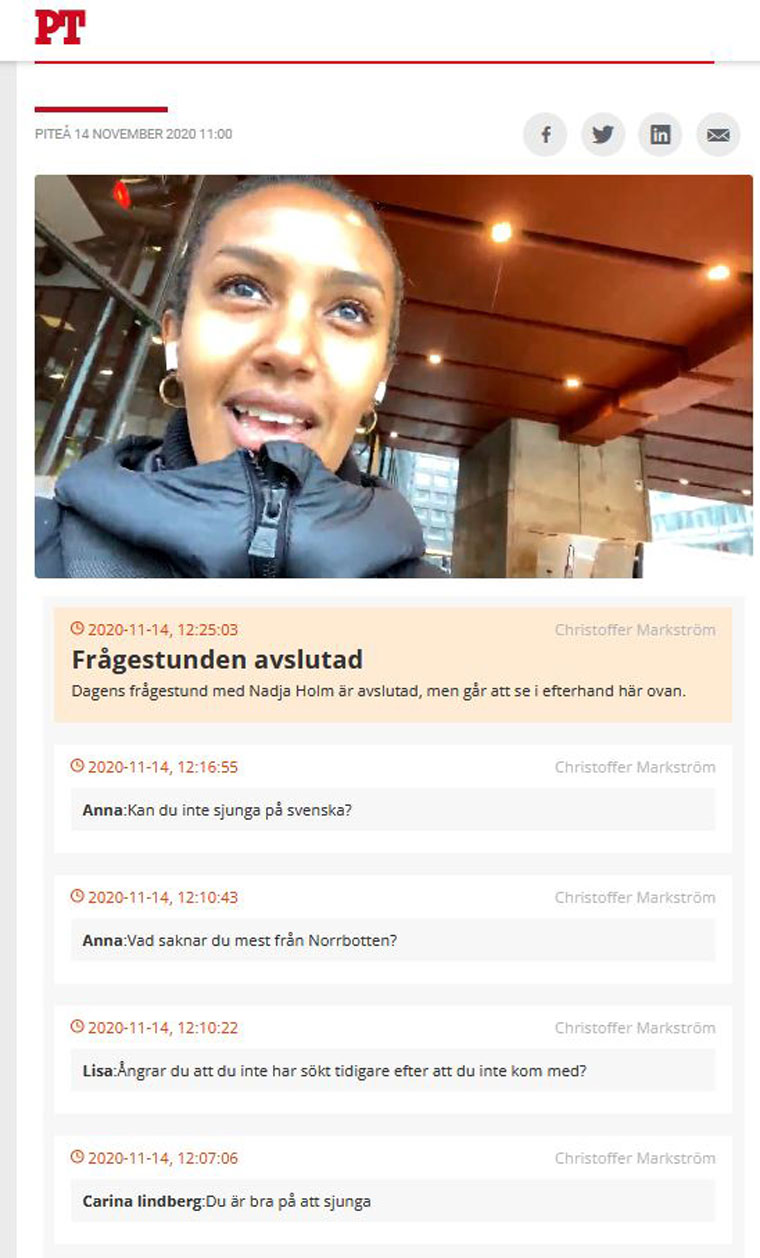 Nadja Holm and Fredrik Lundman are both local artists and were participants on the Swedish TV show "Idol." While they were on the show, reporter Christoffer Markström set up a live feed for "exclusive question time with your idol." This prompted readers to pose questions in the live feed. Simultaneously, he also ran a live TV stream with the artists who physically were located down in Stockholm preparing for the TV show.
In this way, we let readers decide in real time what questions should be posed to the artists, and we let the artists answer the questions live on TV on the news site in the same article.

After each conversation, the reporter wrote a summary and published it, reusing the material and giving readers a chance to engage with the journalism in a more traditional way as well.
I asked Markström about this way of reporting.

Q: What are the benefits of this way of working?
Markström: The best thing about the way it works is that you can do it just about anywhere in the world, and it is very simple. The simplicity makes it easy for those you interview to say yes to begin with. They just need a phone and a decent connection.

Q: What have you been trying besides interviewing artists?
Markström: In addition to the live chat with our idols Nadja and Fredrik, we have a Piteå emigrant living in Stockholm in one of Sweden's smartest homes. We talked to him and got a tour of his apartment.
I have also interviewed a person from Piteå who runs a riding school in Saudi Arabia. She showed us around and told us about her everyday life among princes and princesses. Being able to be in place with a TV stream down there really increased the value of the reporting.

Q: What have the reaction been from subscribers about this kind of reporting?
Markström: The readers' response has been really good. However, it is noticeable that it is quite new, for our readers in any case, so every time we do something new again, the response is even better. We also learn more every time.
For example, we got quite a few reader questions when we had a live chat with Nadja Holm. But when we did the same thing with this year's Idol, Fredrik Lundman, we went out and asked questions earlier and also on Facebook, so then we got more questions and even more viewers. We also had two people at the controls that time, which made it easier.

Q: What's next?
Markström: We aim to take readers' questions to New York and have a virtual visit with Piteå's latest NHL professional hockey player, Nils Lundkvist.
All in all, this kind of experimenting in newsrooms is necessary to level up on engagement for us. It also makes it easier to get up close and strengthen relationships with subscriber. This is in line with our overall audience-centric subscription strategy, "Let's get ready to double," which is intended to increase value, build stronger relationships, and strengthen reader habits so that they turn to our brand.