With spring comes the annual release of the NADbank readership results in Canada. Once again, we see that daily newspapers are a staple in the lives of Canadians. Each week, nearly eight in 10 Canadians (79%) read a newspaper. Newspapers have maintained loyal readers in print and at their Web sites.
News of the "death of newspapers" continues unbridled, but the reality is a different story.
Are the newspapers of today the newspapers of our parents and grandparents? Of course not; very little today resembles the past, and Canadian daily newspapers are no different. Technology, lifestyle, and the changing economy have altered how Canadians consume media in general and newspapers in particular. Today's newspaper is only part-paper, a "once-a-day print edition" strengthened and enlarged by its digital content. Web sites and, therefore, newspapers are available anytime and updated as the news changes and flows throughout the day.
It is the steady growth of Web site audiences that has bolstered and changed the newspaper industry. In the past 10 years, print readership (reach of adults 18+) has declined, from 85% to 72%, but Web site readership has grown to 33%, and total weekly readership has been steady at 79% for the last five years.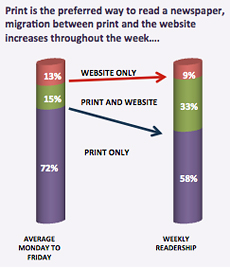 Print continues to be the preferred format for consuming news: 58% of weekly readers read only a printed newspaper; 9% read only at a newspaper Web site; and 33% read both throughout the week.
New questions in the most recent survey provided us with data on Web site readership on the average weekday and frequency of reading at the Web site in the average week. This new data, along with the traditional print readership, provided interesting insights into reader behaviour. As a percentage of total readership, "only at the Web site" is higher on the average weekday than over the week. It appears that on the average day readers are more likely to choose print or digital and the migration occurs throughout the week. It even suggests (again) that print is the preferred format, with Web site a second choice if there is no time for the printed edition or it is not available.
Newspapers are unique, each publishing and distributing content differently to suit the timing and interests of readers. The Globe and Mail, a national newspaper, and Metro, a network of free dailies in major markets, are targeted to different audiences and distributed differently but have similar size audiences. Web site readership across all newspapers is highest for the national newspapers, followed by the balance of the paid dailies. Free dailies are overwhelmingly read in the printed format.
Another key insight is the quickly changing readership behaviour of younger adults, those 18 to 34, and key target groups such as managers and professionals. Readership habits have always differed by age and occupation. Older adults' (and managers' and professionals') lifestyles and habits resulted in higher readership than those of 18-to-34-year-olds. With newspapers now having a strong presence online, we see young readers, managers, and professionals gravitating quickly to digital formats. This behaviour augments what appeared to be declining daily readership for these groups.
While average Monday-to-Friday readership of printed editions declines, total daily readership (print and Web site) are similar to those seen five years ago.
We know print and digital editions are different "beasts" and readers use them differently. It is the brand loyalty and credibility of the newspaper that is important. Readers spend twice as long reading print content than at the Web site. The Web site editions tend to be more "destinational" in nature, for gleaning targeted information. The printed products continue to play a more "explorational" role in their readers' day — the serendipity factor.
Nearly 80% (78%) of Web site readers read a printed newspaper each week, and they tend to read more issues Monday to Friday than print-only readers. Rather than being the death knell for newspapers, digital content throughout the day is reinforcing the value of the printed product and the brand as a whole.
The "transformation of newspapers" is the reality, not the "death of newspapers." And technology is the key driver for publishing newspapers for today and forever!