In crisis and normalcy, why measuring and maximising subscriber lifetime value is key
Conference Blog | 18 March 2020
On Wednesday, INMA Researcher-In-Residence Grzegorz (Greg) Piechota hosted a members-only Webinar to discuss the best practices to speed the acquisition of news subscribers, increase revenue, and delay churn — but, like any discussion these days, the converation quickly turned to COVID-19.
The COVID-19 pandemic has resulted in a 50% surge in online traffic to news Web sites, Piechota shared. 
"When we look at topics, you can see it," he said. "No. 1 is coronavirus, No. 2 is coronavirus, and No. 3 is coronavirus. No. 14 is toilet paper."
In addition to these important and new statistics, the Webinar addressed questions such as: What should the price of annual vs. monthly subscription be? Which acquisition channels attract more profitable customers — desktop or mobile Web, social or search? Guest presenters on the topic were Patrick Appel, director of research at Piano, and Yasmin Namini, digital transformation consultant.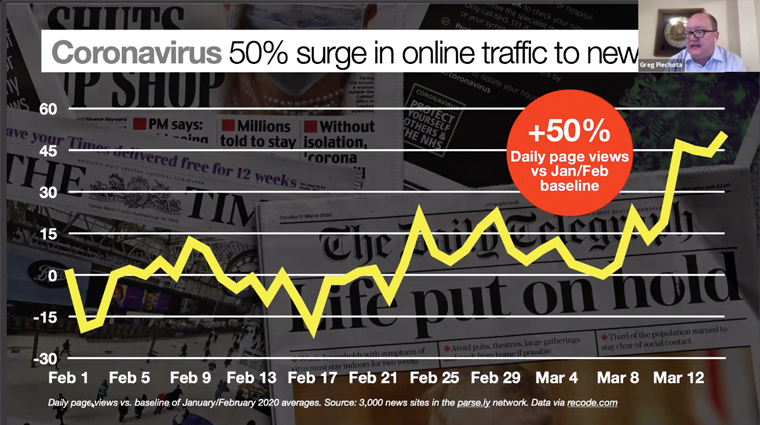 Many leading news publishers have lifted their paywalls in light of the current situation, including Dagens Nyheter in Sweden, The Washington Post in the United States, and Wyborcza in Poland.
Piechota took a poll of Webinar attendees, asking who has made changes to their paywall to provide quality news coverage to non-paying readers during the coronavirus epidemic. The results revealed that some publishers have removed or loosened their paywall, while others have kept it, but publish COVID-19 related content outside the paywall.
Appel pointed out that in addition to direct coronavirus coverage, business news has surged as well, as people are interested in the business and economic effects from the virus.
How to market in a downturn
The current health pandemic is an extreme example of an issue that publishers constantly face: how to market to consumers during difficult business climates, Piechota said.
"We all face a very similar challenge," he said. "We have a spike of interest in our services, of course, but we have to expect that consumers will eventually lose interest."
He cautioned that the economic downturn caused by the current pandemic will not be the same as previous downturns. With that caveat, he shared some historical learnings from a 2009 article in the Harvard Business Review.
Some consumers slam the brakes on all unnecessary spending, while others have a more "live for today" attitude — and consumers fall between these two extremes as well.
"We know that when people change or reevaluate their consumption priorities, they actually move products into different brackets," Piechota said.
Essentials that are necessary for survival.
Treats — the small things that make us feel better in a bad environment.
Postponables are things that people desire but can reasonably put off the purchase.
Expendables — things that people can no longer justify paying for.
"We know that this will not hit people in the same way," Piechota said, adding that how to segment these consumers and position for them is the key that publishers must figure out during those times.
He conducted another poll asking attendees what the priorities are at their companies at this very moment. The top answer was speeding subscriptions, followed by reducing churn. Many reported that they are seeing an increase in digital subscriptions, as well as cancellations from advertisers.
Lifetime value measurement approach
This is the approach publishers can use to help them make those decisions, Piechota said.  For the purpose of the Webinar discussion, a simplified method for measuring LTV was used.
This is subscription price multiplied by the expected number of purchases, then the subscriber acquisition cost is deducted from the accumulated revenue.
"When we think about the ways to maximise the customer lifetime value, there are three factors that we might wish to consider," Piechota said.
Speeding the acquisition — the sooner a customer is acquired, the sooner a publisher receives revenue.
Increasing revenue over time through price increases or upselling.
Delaying churn.
"Delaying churn and speeding the acquisition are the two most important things we can do to maximise the profitability of individual customers," Piechota said.
He referred to the recent Media Subscriptions Summit in New York, where common use cases were discussed, as well as the segmentation of customers by profitability. "We talked about optimisation of the marketing mix and investment based on the profitability," he continued. "We don't just look at the conversion rates. We also look at the retention rates."
The Subscriptions Summit also looked at the optimisation of editorial and new product investment, building product features that optimise for lifetime value, and ways to value the whole subscriber base, and therefore the company.
Length of subscriptions = value
Appel looked at data showing annual subscriptions can be cheaper, and have more value, for publishers.
"When looking at lifetime value, one of the first things to look at is, how long is someone staying a subscriber," Appel said. "What we know from our data is clearly that longer-term commitments, those people retain a lot better."
In the data chart shared, he explained that for new subscriptions, a large percentage of those are monthly (54%). But when it comes to tenured subscriptions of a year or longer, annual subscriptions take a jump, to 60%.
"Because of that difference, it means that I can offer a really attractive price on annual and not lose overall value to my business," Appel said.
In the current moment, when many publishers are changing their paywalls or removing COVID-related news from behind it, there is an opportunity to offer deals on annual subscriptions without losing value, he said.
He looked at why monthly subscriptions had a worse retention rate: "The core thing is that churn happens fast with monthly. In that first month, you have a median 18% churn. It goes down to about 11% in the second month, then starts to flatten out around month six. So getting people through the first three months is really critical if you're going to bend the curve beyond those monthly subscriptions."
In most cases, it's still worth offering monthly subscriptions, because they tend to increase conversion rates significantly, he said.
"It's about, how can I steer people towards longer-term commitments while still offering monthly for people who want to take that option," he said.
Appel looked at what the drivers are for that early monthly churn, considering both active and passive cancellations: "It's almost all active churn that's driving that initial loss." In contrast, almost all annual subscriptions are retained until the first renewal. The lifetime value of annual subscribers is much higher, he said.
Prospecting for subscriptions on social
Appel also discussed the way in which people become subscribers.
"Direct and Google are both the main drivers of paid offers and conversions," he said. The two together represent more than 57% of paid offers and 60% of conversions. "Facebook is a major source of paid offers (20.4%), and a very small actual conversion, only 4% or 5% generally."
When it comes to LTV, this is important because these audiences are hard to convert. However, it's a different story when it comes to retention. "They retain quite well," Appel said. "I wouldn't say this is necessarily true across the board. But thinking about both the acquisition side and retention side is important."
Mobile is similar to Facebook in that the conversion is lower, but also less likely to churn.
Trial models
Trials are more popular for monthly subscriptions than annual for a good reason, Appel said. While fewer trials convert to full price, they can still be worth it.
"While retention is significantly worse for these trials, this generally does improve revenue overall," he said. "We've seen cases where trials double conversion rates."
There is an exception to that, he added, which is free trials on annual subscriptions. He doesn't recommend those, because they tend to backfire.
"You have a lot of people who cancel in that first month on a big annual price point they're about to pay, and it dramatically lowers the lifetime value."
Engagement is closely related to retention
With subscribers, about one-third are "sleepers" (no activity over the past 30 days), while another third have high activity of 10 or more active days in the past 30.
"There is a close relationship here between more active and retention," Appel said. "However there is an interesting segment in that very low engagement group, who have low churn rates." These people are probably price insensitive, he added.
Engagement is important, but not as important for every segment of the audience.
While most active churn is related to cancellation, Appel said the easiest churn to reduce is passive churn. The simplest tactic is credit card retries — this can save one-third of initial payment failures.
Digital transformation to consumer revenue
Yasmin Namini began her presentation on how publishers can transform their business models to one based on reader revenue.
"The most important aspect of making the decision of what the subscription model should look like is taking into consideration the impact that all the various parts of it will have on the whole business," Namini said. "My most important words of advice when it comes to business modeling is, look at your business holistically, not just one piece of the business. You want to look at the impact to subscriptions, to advertising, to print, and then you want to maximise for profitability of the overall business."
When media companies work in silos, that makes this extremely difficult.
"Where customer lifetime value becomes really useful, once you've built the model, is down the road making investment decisions," she said. Whether those decisions are about investments in marketing, technology, or other areas of the business, the LTV is key.
For publishers who already have a reader-revenue model in place, using customer LTV and return on investment (ROI) to convince executive leadership to make these investments is a good strategy.
Considering the current coronavirus situation, Namini had some advice for publishers. "It's a really sad and unfortunate situation that we're in right now, but it is a unique opportunity for publishers because I would suspect that you're all seeing a lot more traffic. And you're probably getting a lot of repeat traffic."
Over the coming weeks and months, these may become highly engaged readers.
"My recommendation to all of you is to use this as an opportunity to get more people to sign up for newsletters, get them to sign up for news alerts, capture their e-mail addresses, send out thank-you e-mails to your subscribers," she said.
Thanking subscribers for supporting journalism during this time is important and effective.
"It's a unique opportunity to not only drive your acquisition and retention, but to really focus on your engagement strategy," Namini said. "You're getting a lot of new readers that you haven't had before, and what normally would be a one-and-done, you have a real opportunity to drive engagement around those people. And as we know, engagement is the best driver of customer lifetime value."
Piechota added that a huge spike in traffic due to coronavirus is not going to be profitable in the short-term — advertisers don't want to be next to coronavirus content, and removing related content from behind the paywall can have a negative effect on conversion. He encouraged publishers to at least attempt to have users to that content register so they could be contacted and possibly converted into subscribers in the future.
"Of course we want to present the best content we have right now, but at the same time, sooner or later we need to be able to acquire them as customers," he said.
He added that this is a time for publishers to think about their future investments, as well.
"A lot of publishers are reevaluating their content," he said. "We were investing in some type of content because we believed it would drive readership or drive advertising, but now we need to reevaluate. We need to do like a content audit."
When doing this, Piechota said publishers should consider which content actually drives profitability, subscriber engagement, and retention. He asked Namini how they did it at The New York Times when she was there.
Ultimately, it's editors and the newsroom that decide what content to publish, she said. If COVID-19 was not profitable, newsrooms would still be covering it.
"We shouldn't lose sight of the fact that there may be some content that may not technically be profitable, but as journalists and as publishers, we have to cover it. My personal belief is that we should not be using customer lifetime value as the sole decision-maker for what we cover and what we don't."
With that said, publishers can use LTV to inform publishers on what content converts better and drives engagement and intention. "Being data-informed is really valuable, but leave it to the editors and the newsroom to decide what they continue to cover and what they don't."
Any business needs to know the lifetime value of new and returning customers to grow the business, Namini said.
"If you build that practice into your business and into your decision-making, then over time you will have a more profitable business, because you will be making decisions based on driving customer lifetime value. And, by the way, you drive that value by selling them something that they really find valuable."