Fake news is not necessarily a new thing, but it certainly has been getting a lot of attention lately.
Obviously fake news is detrimental to readers — especially if the audience takes the bait and believes the story.
Fake news can also be detrimental to traditional news media.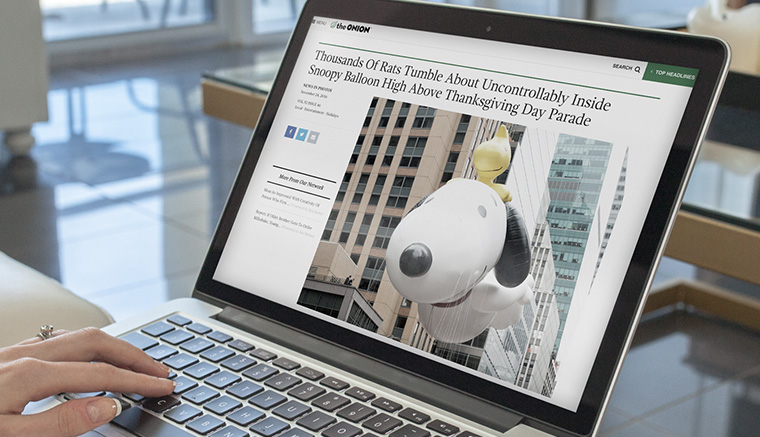 For one, it draws away online audiences and puts digital impressions and advertising dollars in the hands of the fakers.
Further, fake news distracts from the real news. When we focus on fake news it can reduce the legitimacy and trustworthiness of all media.
And perhaps the most critical implication: it intensifies the race to the bottom. Click bait trumps substance and ultimately we are bombarded with "a deluge of crap" (Journalist Michael Wolff's words, not mine).
To paraphrase Gresham's law: "Bad news drives the good news out."
There are a few sources of bad news. For now, I'll focus on the groups that are making real news.
Satirical news
There is a kind of fake news that is clearly just for the fun of it.
The Onion, which bills itself as "America's finest news source," is very good at publishing funny (and fake) news stories.
The Onion excels at satire.
"Thousands of rats tumble about uncontrollably inside snoopy balloon high above thanksgiving day parade" is obviously a fake story and is intended simply for laughs.
You'd believe The Onion as much as you believe the news on Saturday Night Live. Well, mostly.
There have been some famous mistakes. For example, the story "Kim Jong-Un named The Onion's sexiest man alive"
was picked up and rerun by media companies in China and South Korea as being real news.
There is a growing chorus of news sites that also claim satire, but with much less subtlety than The Onion.
RealTrueNews.org published numerous satirical news stories that were taken for real during the presidential election. For a complete account of how blogger Marco Chacon spent the run up to the election, read his story in the The Daily Beast, "I've been making viral fake news for the last six months."
This is the fake news at the edge of satire. It's the kind of fake news that can go viral and take the real news media for a ride.
Deceptive news
If you think that satirical news is bad, even worse is the rise of really fake news — the type of fake news that intentionally aims to deceive.
And in the recent election there was plenty of this kind of fake news to go around.
A widely circulated story about Hillary Clinton's health — she suffers from "decision fatigue" — was ultimately sourced to Russian media.
It's estimated that the propaganda type of fake news was viewed more than 200 million times by 15 million Americans during the election period.
Another round of really fake stories were coming out of Macedonia. These are designed to drive clicks and ad revenue. It is reported that four fake stories alone generated more than one-million shares.
Clearly this kind of fake news is popular.
This popularity is not good news for purveyors of real news.
Good news
If there is good news, it is that there remains strong demand for real news.
A recent blog post by INMA Senior Editor Dawn McMullan details how and why some trusted traditional newspaper Web sites recently experienced an increase in online subscribership. The New York Times and the Guardian U.S. both reported a positive uptick right after the election.
And Google and Facebook are talking tough. Both companies are disabling ad-selling services to purveyors of fake news stories, thereby making fake news less profitable.
Whether they mean subtly satirical fake news or really, really fake news is unclear.
Either way, expect to hear more about fake news as real news fights back.