Do you share well with others? How news sites can get an "A" in social media sharing
Satisfying Audiences Blog | 15 September 2011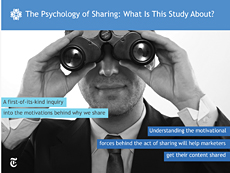 As September rolled in, first-day-of-school photos were snapped and shared on Facebook newsfeeds, Twitter, Google+ circles, Instagram, and more. Friends proudly passed along images of their children meeting this next milestone. The photos of the youngest students, the new kindergartners, remind me of a lesson carefully taught in kindergarten classrooms — share well with others.
A useful lesson for life, "share well with others" is a critical lesson for news sites. Do you make it easy for users to share articles with others? Do you know what motivates consumers to share content online? Do you know which users are most likely to share articles on Facebook, or Twitter or e-mail?
A recent study provides valuable data to consider when evaluating and optimising the share experience on your site. A comprehensive multi-phase research study, "The Psychology of Sharing," was conducted by The New York Times in collaboration with Latitude Research. The findings are based on two qualitative research phases and a quantitative online survey of more than 2,500 medium-to-heavy online content sharers.
This study uncovers:
Primary motivations for sharing.
Six sharing personas.
Essential steps for marketers aiming to get their content shared.
Impact of sharing on Information Management.
Cycle of sharing.
Enduring role of e-mail in the age of social media.
As my colleagues in the New York Times' Consumer Insights Group have been sharing their research over the past two months, they most often surprise their audience with the "e-mail is king" finding. Yes, in our #winning world, many often underestimate the importance Internet's earliest form of "social" media — e-mail — still plays today. Many audiences are also fascinated by trying to identify the most appropriate "sharing personality type" for themselves and friends. For example, are you an "altruist" or a "careerist?"
I was most interested in the insights on the impact of sharing on Information Management. "The Psychology of Sharing" provides new and quantitative support to my long-held belief that just as people turn to their chosen news source to make sense of current events, so too do they share news with friends to further challenge and crystallise their own interpretations and opinions of the world around them.
This belief sparked two successful social media marketing campaigns for NYTimes.com:the 2008 presidential election Facebook homepage roadblock campaign and the 2011 Twitter Promoted Trend campaign for The Times's announcement of our digital subscription plan. The campaigns' excellent results were surely driven by users' desire to turn to their friends to synthesize "the news" of each campaign, but we didn't have data directly proving that premise.
With more content, more sources and more people to share with, many users find sharing a useful way of managing information. Sharing clarifies information and events for users. According to "The Psychology of Sharing," 85% of respondents said that reading other people's responses helps them understand and process information and events. 73% said they process information more deeply, thoroughly and thoughtfully when they share it. Sharing is "information management" allowing the sharer to:
Remember more.
Search for more.
Explore more.
Control more.
Read more.
One of the study's deprivation participants, a male said, "Sharing information helps me do my job. I remember products and information sources better when I share them and am more likely to use them."
Knowing your readers will find greater value in your content if they share it, news sites must make it simple for users to share content. Do you have share tools prominently placed on each and every article page on your site? Until recently, we at NYTimes.com didn't make it as easy to share content as we should. In order to share an article on Facebook, we used to require that a user first log in to NYTimes.com using Facebook Connect. To share an article on Twitter, a user had to register with TimesPeople.
That's asking for a large commitment from a user who may have come to NYTimes.com for the first time via a friend's tweet or Facebook post. This could prove especially damaging during breaking news. When a user is interested in finding breaking updates on a developing story, she may want to quickly tweet one link to her friends to start a conversation while immediately moving on to the next article; continue her synthesis of information on this breaking news event.
News sites must empower users to share. When users encounter great content — be it useful, enlightening or simply entertaining — they feel an instinctual compulsion to share it. "The Psychology of Sharing" found that 65% feel that when they find something that is valuable they have to share it. If you fulfill this user need through enabling easy sharing, the first time a user shares an article from your site can be a building block to subsequent shares of different articles on the same topic, greater time spent on your site, an increase in monthly visits and ultimately a new paying subscriber. If you don't facilitate sharing on your site, you risk losing that user, especially new users who may quickly move on to another site to share a competitor's article on the topic.
Consider prioritising placement of the share tools based upon your own user research. NYTimes.com's share tools are aligned with the first paragraph of text of each article. Although I believe it's important to present these share tools above the fold, I also believe we should test placements in other locations throughout the page. For example, many sites including washingtonpost.com, feature share tools directly beneath the last sentence of the article. Isn't that last period a natural point which a user would consider sharing that article? If you make that user scroll to find the share tool, you may risk losing that share action, or worse, losing that user.
A bold share tool placement comes from Mashable — their share tools, placed in a vertical column to the left of the article's text, follow you as you scroll down the page. No matter which point in the text a user decides to share the article — at the headline or a key quotation in the third paragraph — the share tool calls out to the user from the left column reminding the user to share well with others.
The very act of learning and discovering information now seems inseparable from the sharing of it as 76% believe that sharing is half the fun of finding information. News sites must support this user compulsion to share and encourage the enjoyment of sharing. Make sharing simple on your site and your users will remember more, explore more, read more and keep coming back for more.