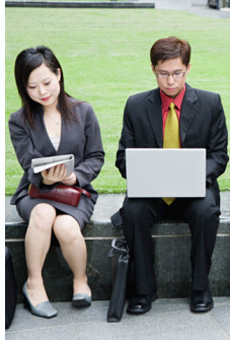 News: Newspapers are talking about plans to move subscribers from print to digital editions by offering free iPads.
News: 47% of Americans say they get at least some of their news and information online (Pew, March 2011).
Not news: Newspaper organisations remain relevant because they publish news and information and get it out to the world when readers want it — now.
The recent tragic events in Japan demonstrate once again that newspapers are there for their readers, providing timely reports of events as they happen. But the headlines and timely reports are only part of the job. Readers want to know not just "what happened," they want to know "how" and "why," and they want to understand the implications surrounding the event.
Newspapers are providing that backstory with explanations of events leading up to the crisis and how the situation is being managed, as well as what readers want and need to know about how the future could unfold as a result of the events. All the information is there: facts, commentary and feedback, as well as contributions from the people on the ground. Readers pick and choose their content, and can contribute to a dialogue in many cases.
What has changed? How the world gets and contributes to the news. Technology allows newspapers to move beyond the printed page and into the digital world to carry their message to their readers. It is not the content that has changed, but how it gets created, distributed and accessed.
Newspapers rely on advertising revenues and subscription fees to fund their operations, and are seeking new and innovative ways to build business models as fast as the technology develops to change how they conduct their business. But at the core of all news organisations is the journalist. You can change how people get their news, but the foundation of the business has not, and will not, change. The world wants content — good content — and news organisations that provide the content are growing their reach and expanding their businesses.
Today, advertisers and communities can get more involved in newspapers in new and innovative ways. New ideas about building readership are being encouraged and implemented across the board. Integrating community events into content by working with advertisers and relevant community groups has been very successful in many newspapers. Content and relevance go hand in hand.
In a recent posting, I talked about the 3 in 4 people who only read their newspaper in print. How quickly can that change? iPads are very popular, and sales are expected to top 60 million next year. They have only been on the market for a year, and they will soon have many competitors. Will the costs come down? They will need to if they are to become ubiquitous. Their success and acceptability will stimulate the growth of apps and new business models for newspapers, but there are still many unanswered questions.
Will content be "app" driven? Closed systems or open "linkable" products? Will the boomers abandon their print habit and replace it with the new tablet? The answer to the latter is likely "yes," but the question will be "how quickly?" Should newspapers, and news organisations, drive consumers to tablets in order to augment or reduce distribution opportunities and reduce costs? Addressing the former question may have an impact on how quickly newspapers move to the latter scenario.
Today's youth seem tethered to their mobiles, and smartphone sales continue to increase. Is this a solution? Are small screens suitable to the newspaper experience?
As an industry, and back to my roots, we need to find new ways to keep up with the technology and find readers no matter how they connect to their newspaper. Half the world is hiding (privacy and better things to do) and the other half is only too happy to tell us all about themselves. We need them all.
It is no longer just about asking who reads a printed newspaper. Fragmentation plagues researchers as we look for all the ways and places readers come in contact with newspapers' content. And we need to look beyond a pure count of readers; we need to understand why people read newspapers, and what makes them choose one device over another. The latter will help publishers understand how to create and relay different forms of their content.
There are many other questions to be answered, many other tests, trials and opportunities to be explored, but one thing hasn't changed: Newspapers are about content and they are always on the job!