Cape Argus celebrates print heritage, becomes twice-daily publication
Ideas Blog | 01 October 2013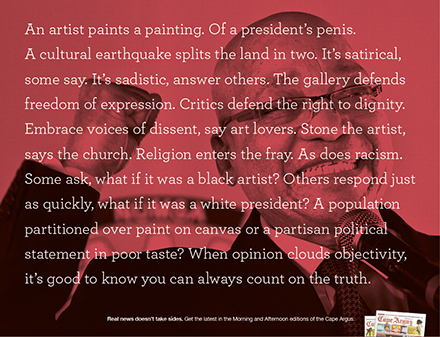 The Cape Argus is one of Cape Town's most established and respected newspaper titles, with a 150-year history of topical and insightful reporting.  
When The Cape Argus decided to become a twice-daily publication in early 2012, it briefed its long-standing advertising agency partner, King James, to come up with a print campaign that not only focused on this new format, but also championed the newspaper as a relevant medium in the face of increasing digital news and social media channels. 
Using highly topical, local and international (and, on occasion, controversial) news stories, the agency created a copy-driven print and radio campaign that aimed to show how the newspaper is still very much a significant and reliable source of news.
Featured stories covered a range of news categories – from current affairs and crime to the latest scandals in sport. Certain executions were created pro-actively in response to real-time changes in news stories, allowing the campaign to be as current as the newspaper it was advertising.
The campaign resulted in a strong level of awareness of the title and the changes made to it.
The newspaper's overall readership grew compared to a previous study (recording an overall readership of 288,000 adults). Most noteworthy and of particular interest given the omnipresence of social media amongst the youth, was a significant growth in the levels of younger readers, with the 15 to 24 age market growing by 21%.