News Corp., Thomson Reuters are sustainability standouts within mostly non-participating industry
Sustainability Matters Blog | 25 September 2013
Earlier this month, two important reports were released that give a general pulse of where organisations are on the sustainability front and if progress is being made.
On September 5, the UN Global Compact (UNGC) released its annual Global Corporate Sustainability Report 2013, and on September 12, the Carbon Disclosure Project (CDP) released its Global 500 Climate Change Report 2013.
I perused both reports to see how our own industry is doing.
The Global 500 Climate Change Report is important because it asked the world's largest 5,000 publicly listed companies (as per market capitalisation) to report on their carbon emissions. Carbon emissions are significant contributing factors to climate change.
The overall response rate for the sector was 77%. The media industry's response rate, however, was only 73%. (Note: Since many publishing companies are privately owned, they would not be asked to report.)
This report is interesting as it gives an idea of some challenges and opportunities highlighted by the major players in our sector. The most interesting finding is the following:
Changing consumer behaviour: Identified by the sector as the biggest risk (47%) as well as the largest opportunity (61%).
Now that sounds amazingly familiar.
Although only the largest companies were reporting, here are the scores of familiar companies in our industry:
News Corporation (USA) with a reporting quality score of A-. (That's very good.)


Thomson Reuters (USA) with a reporting score of B. (That's good.)


Rogers Communication (Canada) with a reporting score of C. (Needs improvement.)
Many of us work for privately held companies, and one might think no one would notice or care. However, the world is changing and we are all moving toward more transparency. Privately held companies of all sizes increasingly will be asked to voluntarily disclose sustainability metrics.
This year, the CDP listed all the non-respondents, causing uproar on the Internet. To give you a flavour of what is to come, here's the last sentence of an article published on the Guardian Leadership Hub by Jo Confino, "Shame on you Apple, Facebook and Amazon," about this CDP report focusing on the non-disclosers.
"It's clearly time for Apple's new environmental boss Lisa Jackson, former head of the Environmental Protection Agency, to get a grip, join the CDP, and help the technology giant to rid itself of its aura of arrogance."
The second report, UNGC Global Corporate Sustainability Report, is a bit more confusing.
The data from these reports most often is organised by sector and sometimes by industry. The Global Industry Classification Standards (GICS) has 10 sectors. Each sector has multiple industries within it, and each industry has multiple sub-industries, as well. 
The sub-industry we are part of is "publishing," the industry we roll up to is "media" and the sector we are part of is "consumer discretionary."
Many reports only slice the data by sectors, while others go down to the industry level. But very rarely do we have data at the sub-industry level, such as "publishing." As such, one must do some data-mining to see a clearer picture. (See chart below for a clear understanding of what is included in the "media" industry group.)
UNGC Global Corporate Sustainability Report is one of the very few large reports that is neither organised by sector or industry. This report is one that organises the data by company size (defined by the number of employees) and is fairly unique in that perspective.
The report's authors claim that "of all the factors that impact sustainability performance, company size has the most significant influence, with small- and medium-sized enterprises (SMEs) more challenged to move from commitment to action."
The report's key findings are the following:
Companies are moving from good intentions to significant action.


Large companies (more than 5,000 employees) still lead the way.


Supply chains are a roadblock to improved performance.


Companies see the big sustainability picture.
The authors highlighted the following findings, which are much more interesting:
90% of company boards discuss and act on sustainability issues either as part of their regular agenda or as needed, but only 8% of company boards link executive remuneration packages to sustainability performance.


65% of companies develop and/or evaluate sustainability policies and strategies at the CEO level, but only 35% of companies train managers to integrate sustainability issues into strategy and operations.
Does any of this look or feel familiar?
I decided to try and find out who in the publishing industry was active within the UNGC initiative.
The online database for the UNGC is actually organised by industry. Of the 7,731 businesses and 4,000+ non-businesses listed as signatories of the UNGC, I was able to pull out 321 media companies.
I quickly found out, however, that only 222 were actually deemed "active." Of those, I checked to see if they were members of large international associations like INMA or WAN-IFRA.
This is what I found: A whopping eight companies that are signatories of the UNGC are among our ranks. (FYI: If you are among the companies listed below, look for an e-mail from me coming soon in your inbox!)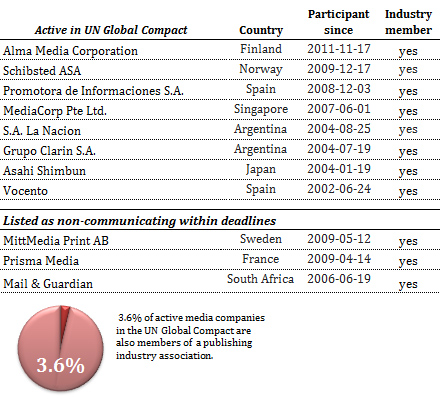 Alright, it's a start. But there is so much more that must be done!