Social media success from London Fashion Week
Social Media | 22 September 2014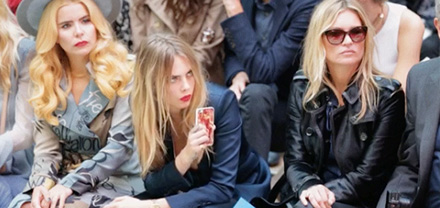 It is increasingly difficult to achieve organic reach through social media platforms, and, increasingly, most marketing strategies are "paid for" strategies. Often posts in an organic feed are missed in a sea of promoted tweets and sponsored posts, not to mention the snaps of cute babies!
News brands waste no time posting news stories and sports updates as soon as they break, making your personal social media feed more dynamic and busier than ever.
As a brand, you might post an organic update and find that it has little traction regardless of how funny/emotive or visual it is. Why? It is likely that due to over-crowding in the news feed, there simply isn't enough space.
Another reason could be that brands are trying to engage users at the wrong time of day, which is hard to pull off. As with traditional media, social media posts absolutely have to be relevant, timely, and tactical; don't get to the party too late or you'll find that it's already over.
Data published by Ogilvy earlier this year suggests that organic reach by medium to large brands had nose-dived to just 6%, down from 12% in 2013.
It is apparent that the big social media players' strategies are focused around selling their social marketing tools to help brands achieve advertising effectiveness. For instance, if you don't have a social media expert on the team, these tools provide step-by-step campaign set-up and analysis.
This is the next step for many social networks, with Pinterest announcing its self-service advertising platform in June for businesses in the United States. Its growth has been extraordinary since it launched just under four years ago, and the monetisation of this business tool will be integral to its continued growth. The company is now valued at US$5 billion.
What we can take from this as marketers and advertisers is that the big social media players will continue to develop their strategies and keep their platforms free for users while growing revenue streams.
A previous post of mine outlined the best features on Twitter, which showed how the global company has been adapting to meet growing needs of marketers and brands that have been fast to adopt the technology, but not all of them so good at actually sticking with it.
London Fashion Week (LFW) has just ended, so I wanted to share with you two of the brands that mastered their social media strategies.
Burberry and Topshop are included in Britain's best known fashion brands. Despite the fact that the number of catwalk shows I attended this year was zero and the same for the after-parties, I did manage to catch some catwalk videos and behind-the-scenes snaps from the fash-pack through social media, largely through Instagram and Twitter.
Over the last week, my attention has not been with my friends' posts. In its place were models, designers, bloggers, stylists, journalists, and brands, which dominated my home page. It has been interesting and at times exhausting to keep up with.
What stood out to me the most was that I felt closer to the action as the content I was absorbed with was in real-time in video or picture form. This demanded my attention more than any articles or still pictures. I was able to get involved by being able to comment on and "liking" the pictures, and tagging my friends in anything I thought they might find entertaining.
This is the first Fashion Week I have been engaged with while it is going on; usually I read about it once it is all over.
Throughout LFW, Burberry racked up more than 20,000 interactions, including tweets and through live streaming of catwalk shows, snaps of models (see the clip of Cara), and unrivaled access to the fashion and celebrities at their shows.
Topshop is another brand deserving of a mention for its clever use of Instagram at LFW. It took blogger outreach to the next level and asked five prominent Instagrammers to attend its shows to capture real behind-the-scenes images of models hanging out and the clothes hot off the catwalk, all posted to Instagram around the world.
Topshop cleverly displayed the posts in the window of its flagship store London, which also included all the posts from their fans who had used the hashtag #topshopwindow.
Earlier, when I started writing this post with my Twitter feed open (you never know when you will be inspired), I noticed that Prada was dominating my feed with constant updates from Milan Fashion Week, including live streaming, which I managed to catch the end of!
So, with the massive buzz around big events and general over-crowding in news feeds/home pages, I can draw the conclusion that paid-for social media marketing is on the whole a must, but organic social reach isn't a thing of the past. Brands that have unique content and good ideas from Fashion Week are showing us how it is done.