Mobile cameras morph into AR devices, forever changing journalism
Social Media | 20 February 2018
You know things are getting crazy when The New York Times app starts to behave like Snapchat.
Journalism is jumping from two to three dimensions without any fancy headset or goggles — simply using our phones. Mobile cameras are not only capable of capturing the world around us, but can be used to consume content, too.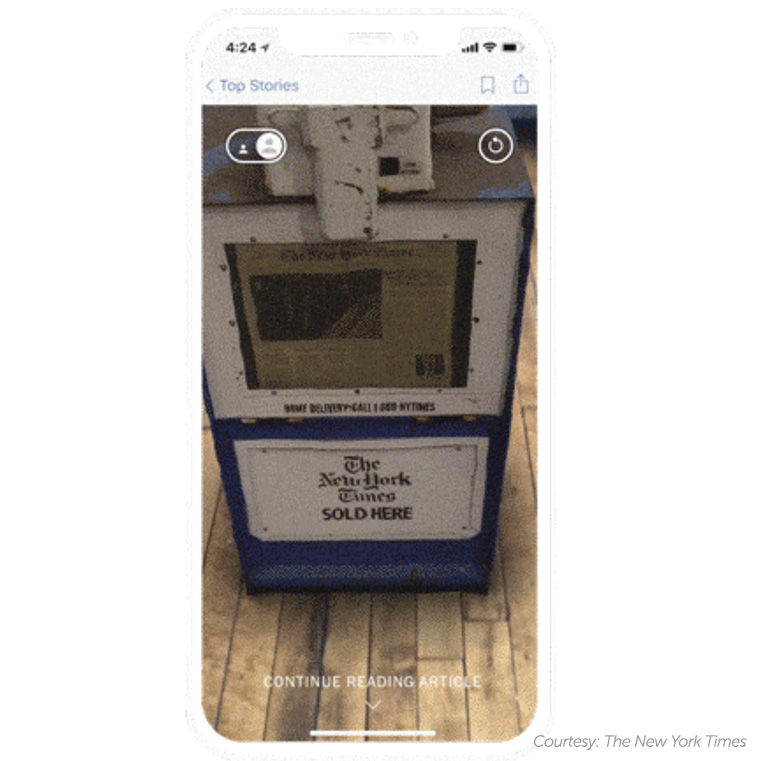 We're talking about Augmented Reality (AR).
Imagine Trump's future military parade rolling missile launchers through our living rooms. Or watching the Olympic Games come to life on the dining room table. That's how the camera is becoming a window into a world enhanced with digital information, bridging physical and virtual environments.
Photos enabled still images, then video let us record sound and motion. AR could be the next major shift. Flat images become three-dimensional, allowing audiences to get a closer look at a story, to walk toward it and around it. To bend down and look up at it. All through the camera on their phones.
Virtual Reality wasn't a golden goose for journalism (or at least it isn't yet). Some said it was the dorky and expensive headsets. Others felt seasick watching 360-degree videos. Either way, it hasn't exactly changed the media world. But AR is different because most people have tried and loved the technology without even realising it.
This started with a few Poké Balls. The now famous Pokémon Go app was most people's first taste of AR, engaging with an artificial world through the lens of their mobile cameras. The app still has millions of young people running around their cities, trying to capture animated virtual creatures assigned to geolocations.
Now we see kids using AR face filters on Snapchat and Ikea helping consumers visualise how virtual furniture looks in their real lounges. The camera may soon become our primary input to technology and AR will be everywhere.
Here's what it means for journalism.
AR will give audiences a fresh, more visceral sense of real-life scale and physicality. Viewers will have more control than ever before to view the story from all angles. They'll zoom in on details by moving closer, walk around to see an image from the other side, and pan out for the big picture.
Building AR capacity in a newsroom will change journalism forever. It will expand stories beyond the inches of a screen, digitally adding objects into people's spaces.