In 2017, The Economist claimed: "The world's most valuable resource is no longer oil, but data." 
News executives looked at the sky-rocketing revenues and valuations of Google, Facebook, and other data-rich tech companies, and many started to believe: Their core business is no longer just journalism; it's journalism and data.
The idea that valuable, rare, inimitable, and non-substitutable resources hold the potential for sustained competitive advantage is well established since the 1990s. But my research while at the Harvard Business School, with Professor Thales Teixeira, found that this resource-centric view of strategy can become a trap at a time of digital disruption.
Readers, not resources, are the MVPs
In the 2019 book "Unlocking the Customer Value Chain," Professor Texeira and I wrote: "Traditional retailers perceive stores as drivers of their revenues. Add more stores, and see revenues grow. (...) In general, incumbents regard growth as a direct consequence of growth in their most valuable assets."
Newspaper publishers used to believe in the advantages of having printing presses, delivery networks, and journalists. Today, some view data as such a key resource: add more data and see revenues grow.
"Disruptors approach their business with a different mindset," we observed. "Uber didn't have cars. Airbnb didn't have hotel rooms. Netflix didn't have stores stocked with DVDs. For disruptors, revenue growth originates in one place and one place only: customers. If their acquisition requires an asset, then the disruptor might want to build, acquire, or borrow that asset from others. But disruptors don't regard the asset as the end game."
Data is not the most valuable resource of news publishers. Customers are. 
Role of data in response to digital disruption
In the book, Professor Teixeira and I described three waves of digital disruption. News publishers experienced them all:
Unbundling: Readers realised they could access news, business information, sports results, and lifestyle advice on millions of Web sites rather than use the newspaper bundle in print or online. As content discovery became harder, the search engines and aggregators grew. Advertisers built their brand sites.
Disintermediation: News makers, such as politicians and celebrities, connected directly with their audiences rather than through journalists. Advertisers assumed they could track and target news users across Web sites and avoided paying a premium at news sites.
Decoupling: Readers saved money, time, and effort with news aggregators and social media apps, effectively decoupling the activity of consuming content from seeing the ads on news Web sites. The ad tech firms decoupled the advertisers' buying process from interacting with news publishers.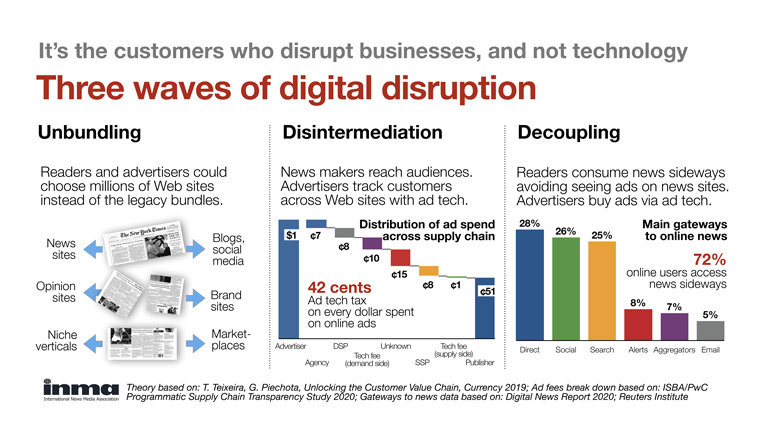 We saw the incumbents successfully responding to disruption when innovated with the business model — and not just products. They changed the way they created, delivered, and charged value. Again, we could find similar patterns in the news media transformation:
Firstly, rebalance the business model: When news publishers saw their advertising efforts disrupted, as the decouplers such as Google and Facebook dominated markets, they asked readers to pay for content. Along the way, publishers had to learn new skills — to log in readers, to study their behaviours, to segment, and to tailor marketing and content accordingly. This required analysing data in new ways, and this, in turn, drove first investments in data architecture and staff.
Secondly, recouple disrupted activities: With new skills and resources, the most advanced publishers upgraded their advertising products and services, e.g., they offered targeting to segments based on the first-party data or context. 
New privacy laws pushed the tech companies to abandon tracking users across Web sites, and advertisers started to search for alternatives. Potentially, this is the biggest opportunity in 27 years since the first banner ad had been displayed. Many publishers are trying to ditch the ad tech intermediaries and regain share in online advertising.