Legacy systems present numerous problems for news media companies, but the question of what to do about them is a challenging one to answer — and one that inevitably raises more questions.
During Wednesday's members-only Webinar, Taking on Legacy Data and Frameworks for Media Companies, led by INMA's Smart Data Initiative Lead Ariane Bernard, two members shared their own journeys to give insight into what considerations had to be made, what teams needed to be involved, and how they were able to update their companies and their structures for the future.
Bernard explained that there can be many different things contributing to the inefficiencies of legacy systems.
"It can be older technology, obviously, that's inefficient — that's often what we think of first in technology, but that's not always it," she said. "It's also that our processes can be siloed or our tools can be siloed, so there's repetition; there's inefficiency or imbalance between two data sets."
Companies may continue maintaining outdated tools or utilities, and frameworks may no longer meet the company's needs. And that's just the tech aspect of it.
"Then there's the people side," she said, noting that reinventing the technology may mean getting people with different capabilities or retraining current employees to provide new skillsets.
With that growing list of obstacles and concerns in mind, Jensen Boey, head of engineering/digital product at SPH Media in Singapore addressed how SPH tackled its taxonomy legacy rehaul.
Standardising efforts
Boey explained that SPH has more than 10 titles, and each publication has its own structures and taxonomies. Its journey began in June 2020 and is still ongoing, he said, because the teams have had to tackle one publication at a time. So far, they have resolved taxonomies within five publications and have five more to go.  
"We knew it was bad because [the publications] all had separate teams, and some of them are not centralised. So there isn't a common standard across the publications and this leads to … inefficiencies in the way we manage the data," he said.
The team began looking at how to streamline and eliminate categories, bringing the number of different categories used for classifications from over 1,000 to less than 100, Boey said: "And this is just one publication. So, as we move to the different publications, we can see the differences, the usage of the field, the definitions, and that makes it a bit difficult. When there's this standardised way of taxonomy it makes it easier for the data to be used."
SPH began looking across all 10 publications and began creating common ground.
"One of my technical leads had to go around to each of the publications to understand how they structured it, and then look at what's the best design across the platform. And then as we went from one publication to the other, the lessons learned from each were then passed onto the next publication."
For its technical upgrade, SPH looked at the system from the perspective of the end users.
"Of course, there's always the advertisers who want to use the data," he said. "And of course, there's also front end, in terms of how the consumer wants to search content, how you group content; that's where you have personalisation on it."
They also had to consider contextual discovery, in which content is grouped to help improve engagement. All of these things, Boey said, went into considering how the system would be structured. They also had to look at how to work with the product and editorial teams to balance their needs as well.
"The challenge is when there are multiple priorities. It's hard trying to get the efforts moving and people here are pulled in different directions," he said. "And ideally we wanted to get this rolled out as fast as possible."
Flattening the learning curve
It became easier with each publication because of the lessons they learned working on previous publications, Boey said. One of the most important things was to get the buy-in of the C-suite; Boey's team gave presentations to explain the need, which not only allowed them to get the financial support but to get the support of the project across the board.
"It's very important to really put a vision out there, to say that this is where we want to go and explain to them why this piece of this project is just one building block of it," he said.
"It's really about exciting them in the vision: We can get there, but this is what it takes to do it. And then just constantly communicating that."
Creating new teams for a new structure
Giulianna Carranza, chief data officer for Peru's Grupo El Comercio, said their journey was about reorienting teams to a new way of thinking and working. She joined the company about two years ago and was tasked with positioning data as a foundational pillar. Although her past did not include the media industry, she had worked in other industries and said it was fascinating to apply her perspective of data management to the news industry.
One of the first things the company had to do was look at what was holding it back.
She outlined five dimensions that needed to be addressed:
Team. Were they ready to take on the challenges they were facing?
Data architecture. Was it suitable for the size of data it needed to handle?
Technology. What technology was needed, and what did they already have? Where would it be hosted?
Data. How many records were there to be stored? Where were they?
Data compliance. How is the company operating in compliance, and how is that being managed?
Carranza said that for her, it all began with the team:
"So actually we started with the team evaluation, based on the existing roles and job descriptions. We built new positions, profiles, and required skills, and also we made it a natural fit with the current team," she said.
A united focus
Keeping the entire team focused on the vision has helped keep them motivated and intent on accomplishing their goals. Carranza said they also went for some "quick wins" to boost morale and show the newly formed data team that it was working on could be accomplished. For this, she chose to focus on building an in-house data storage component for storing all the reader records.
"It was very important for us," she said. "It was not easy to execute, but there was already a life flow of data collection and it was not only a quick win for us as a team, but it's a very foundational type of project, too."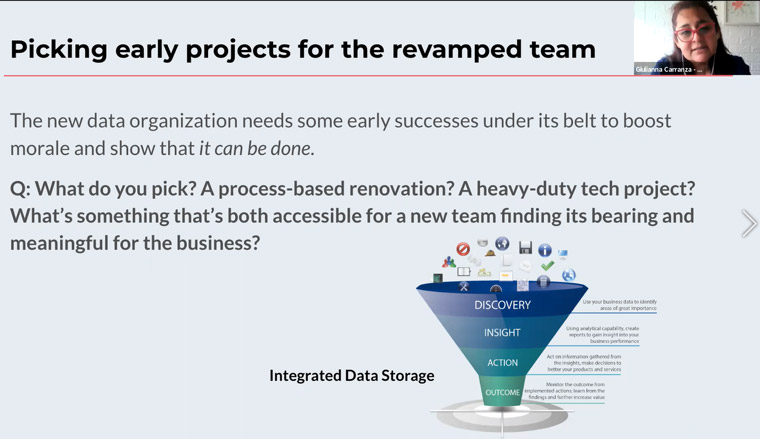 With the data team now in place, Carranza created hubs for different departments, such as subscriptions, digital analytics, data science, and architecture.
"Additionally, my vision is to also have a data advertising hub," she said. "I am a big believer in data organisations being flexible, dynamic, and agile. There is no issue with hierarchical and fixed structures; we need teams that adapt quickly to the challenges that the media industry produces."
She envisions becoming a media tech organisation, not unlike a FinTech organisation, where technology and data represent the basis of its services: "This is our vision; data and technology must come together, and work together, in order to become this media tech industry."