At the INMA Smart Data Initiative's first meet-up in February, Yves Van Dooren of Mediahuis revealed its Belgian newsrooms turned to measuring and reporting aggregated time spent on articles by readers, as this metric was universally understood by editors and well accepted.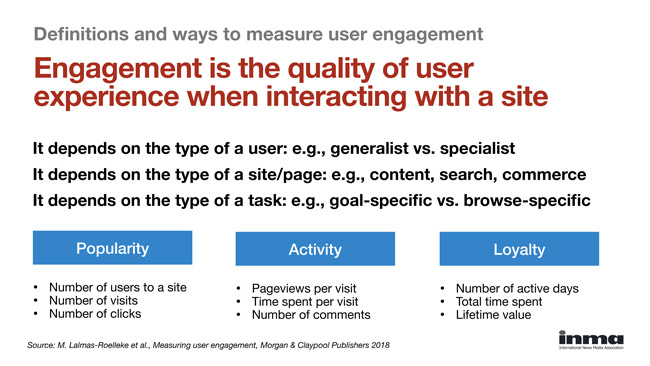 In the follow-up call, Van Dooren explained focusing on time instead of pageviews might help in reducing click-bait, while aggregating time spent by all readers on individual articles captured popularity of the articles, too. 
Mediahuis also found aggregated time spent on the site by individual readers correlated with the likelihood they converted to paid subscribers and renewed.
Benefits of measuring time
Research by news publishers, such as this Deep.BI modelling, confirms time is predictive for a reader subscribing or renewing. In comparison to other signals, time is more predictive than the number of pageviews but slightly less than, for example, visit frequency. 
Academic research, in general, confirms benefits of measuring online engagement with time: 
Time is also widely used in digital media beyond news. For example:
Risks of measuring time 
"Although time is a popular measure," admitted Mounia Lalmas-Roelleke, head of tech research at Spotify, in her seminal book "Measuring user engagement," "there are significant drawbacks in using it." 
Best practices in time analytics
To mitigate the challenges of time measurement during single sessions, Lalmas-Roelleke recommended measuring engagement across multiple sessions — for example, the aggregated time spent by a reader in a month. A version of this is used by German regional publishers who collaborate on audience analytics. 
Another solution could be to analyse time in connection with other metrics, even the vilified pageviews: 
There are benefits in measuring not only engagement time but absence, too: 
What's your North Star engagement metric? How did you choose one? What are the benefits and challenges? E-mail me at: grzegorz.piechota@inma.org.
From the editor: Welcome to the data-positive world!
With the new Smart Data Initiative, INMA aims to help transform the online news business and make journalism sustainable. In my new Smart Initiative Product newsletter, I will be sharing insights and best practices in democratising data and tying it to editorial and business objectives.
I address this newsletter to decision-makers, or simply data insights users, in the boards, newsrooms, marketing and sales, product, technology, research and — surely — data analytics departments themselves. 
Read more on the Smart Data initiative. Check the resources via the Initiative's page. Sign up to this newsletter today and tell your colleagues about this new resource.