Hi! This is Smart Data, a newsletter for INMA members on creating value with data analytics for media companies and incorporating a data-positive culture. I am INMA's researcher-in-residence. E-mail me at: greg.piechota@inma.org.
[BUTTON: CLICK TO SUBSCRIBE]
ANALYSIS: How to connect data strategy to business objectives of news publishers 
News publishers struggle to tie data to business strategy. Resource-centric focus leads some astray, as more data doesn't equal more revenue. Based on the original theory of digital disruption, I propose a novel approach to figure out what data news publishers really need.
The CEO of a large European publisher asked me: "Is data our new core business or just one of many resources?" 
At the time, in February, his company struggled with a decision about whether — and how much — to invest in a new data platform. His team met vendors, benchmarked with peers, but continued to struggle: 
How much data do we really need?
Thinking of new privacy regulations, new policies by tech platforms, and changing consumer attitudes, will data be the source for competitive advantage in the long-term?
Another CEO, of a mid-sized media company, walked me through a data strategy approved in 2018. Two years and a few million dollars later, he had a data department staffed with a few scientists, engineers and analysts, a data lake, a 360-degree view of customers, and fancy-looking dashboards. But what was the overall business impact?
The initiative proved more complex than expected, tied key managers' time, and required tremendous effort across departments. Ultimately, the value was hard to measure. Late last year, the company signed up a management consultancy. 
The CEO wondered: "What return on investment can we expect and when?"
These publishers are no exception.
Disconnect of data and business
In the 2020 survey of 100 U.S.-based Interactive Advertising Bureau (IAB) members, only 16% media and advertising organisations report success in implementing data strategies.
In the report, a Winterberry consultancy observed: "[Companies] are highly optimistic about the likely future benefits of their data-oriented initiatives, but report achieving only modest progress to date in optimising their organisations' use of data across advertising and marketing functions."
The biggest hurdles? Complex implementation, competition with alternative data sources, rising expectations from data-based products, and growing anxiety about privacy in general and regulatory compliance in particular.
In March, INMA and Facebook surveyed 223 Latin American news publishers and found:
48% haven't yet formulated a data strategy.
36% have a strategy but haven't implemented it.
And only 16% started the implementation.
When asked about satisfaction of outcomes, most were not satisfied — regardless of a use case. Efforts to grow the two main sources of online revenue were mostly disappointing:
87% of publishers were not satisfied with the use of data to sell subscriptions or memberships.
83% were not satisfied with the use of data to sell advertising.
The most valuable resource
In 2017, The Economist claimed: "The world's most valuable resource is no longer oil, but data." 
News executives looked at the sky-rocketing revenues and valuations of Google, Facebook, and other data-rich tech companies, and many started to believe: Their core business is no longer just journalism; it's journalism and data.
The idea that valuable, rare, inimitable, and non-substitutable resources hold the potential for sustained competitive advantage is well established since the 1990s. But my research while at the Harvard Business School, with Professor Thales Teixeira, found that this resource-centric view of strategy can become a trap at a time of digital disruption.
In the 2019 book "Unlocking the Customer Value Chain," Professor Texeira and I wrote: "Traditional retailers perceive stores as drivers of their revenues. Add more stores, and see revenues grow. (...) In general, incumbents regard growth as a direct consequence of growth in their most valuable assets."
Newspaper publishers used to believe in the advantages of having printing presses, delivery networks, and journalists. Today some view data as such a key resource: add more data and see revenues grow.
"Disruptors approach their business with a different mindset," we observed. "Uber didn't have cars. Airbnb didn't have hotel rooms. Netflix didn't have stores stocked with DVDs. For disruptors, revenue growth originates in one place and one place only: customers. If their acquisition requires an asset, then the disruptor might want to build, acquire, or borrow that asset from others. But disruptors don't regard the asset as the end game."
Data is not the most valuable resource of news publishers. Customers are. 
Role of data in response to digital disruption
In the book, Professor Teixeira and I described three waves of digital disruption. News publishers experienced them all:
Unbundling: Readers realised they could access news, business information, sports results, and lifestyle advice on millions of Web sites rather than use the newspaper bundle in print or online. As content discovery became harder, the search engines and aggregators grew. Advertisers built their brand sites.
Disintermediation: News makers, such as politicians and celebrities, connected directly with their audiences rather than through journalists. Advertisers assumed they could track and target news users across Web sites and avoided paying a premium at news sites.
Decoupling: Readers saved money, time, and effort with news aggregators and social media apps, effectively decoupling the activity of consuming content from seeing the ads on news Web sites. The ad tech firms decoupled the advertisers' buying process from interacting with news publishers.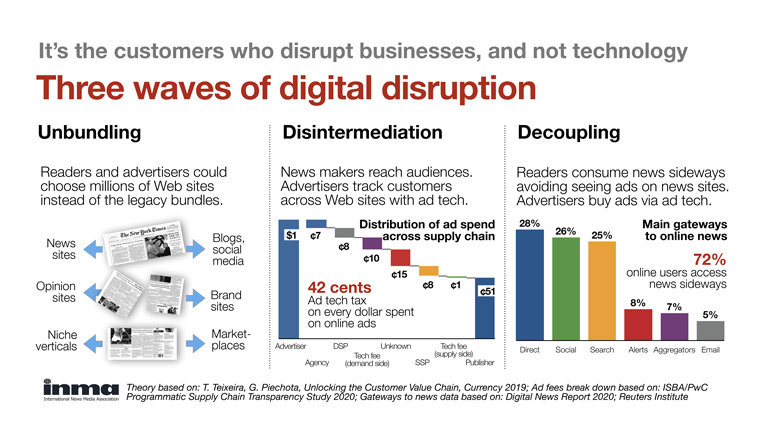 We saw the incumbents successfully responding to disruption when innovated with the business model — and not just products. They changed the way they created, delivered, and charged value. Again, we could find similar patterns in the news media transformation:
Firstly, rebalance the business model: When news publishers saw their advertising efforts disrupted, as the decouplers such as Google and Facebook dominated markets, they asked readers to pay for content. Along the way, publishers had to learn new skills — to log in readers, to study their behaviours, to segment, and to tailor marketing and content accordingly. This required analysing data in new ways, and this, in turn, drove first investments in data architecture and staff.
Secondly, recouple disrupted activities: With new skills and resources, the most advanced publishers upgraded their advertising products and services, e.g., they offered targeting to segments based on the first-party data or context. 
New privacy laws pushed the tech companies to abandon tracking users across Web sites, and advertisers started to search for alternatives. Potentially, this is the biggest opportunity in 27 years since the first banner ad had been displayed. Many publishers are trying to ditch the ad tech intermediaries and regain share in online advertising. 
Four steps to align data and your business model
Here is the practical framework on how to tie your data to business strategy: focus on maximising the value you generate for your customers so you can fix the business model — and then ask how data analytics might help.
The plan in four steps:
1. Analyse your business model by mapping customer value chains — the series of activities customers perform to accomplish their needs and wants. These activities generate either value or cost for customers.  
For example, these are two main categories of online news media customers:
A subscriber value chain: Search for news > Visit news sites > Try content, features  > See subscription offers > Buy subscriptions > Use content, features > Renew subscriptions

An advertiser value chain: Identify segments  > Plan campaigns > Produce ads > Target ads > Optimise campaigns > Document results
2. Research and analyse the required resources and skills needed to create value or reduce cost for customers at each activity. How can analytics help? What data do you need for those analyses?
The result is a list of customer-centric use cases for your data at the most critical customer activities.
3. Compare this to the resources and skills you are currently holding at your company and spot the gaps. Where is the biggest room for improvement? Where is the business opportunity?
The gap analysis helps to scope your data gathering priorities. In my experience, a Pareto-like rule in which 80% of the business impact will come from 20% of the data sources and analytics tools applies.
4. Consider how best to obtain the resources and skills that you are missing. Focus on the 3Bs. You can either Build them yourself, Borrow (i.e., partner with another company), or Buy. 
Research, benchmark, or find advice on what technology, people, and investment are necessary to generate the value you seek, as well as the estimated time to see this value. This helps build a business case for your data initiative, prioritise actions, and plan the roadmap.
When it comes to the business of news, data might not be the new oil, but it is certainly the primary lubricant easing value creation for customers. 
Additional readings
How did you formulate your data strategy?
I'd love to hear from you. Reach me at greg.piechota@inma.org.
Join our meet-up on Google and the Privacy Sandbox
What do publishers need to know about the Google plans to stop tracking users across multiple Web sites and new forms of interest-based targeting of advertising? 
Meet Chetna Bindra, Google's group product manager/user trust and privacy, and discuss the implications for your business.
Time: Thursday, April 15, at 10:00 a.m. New York time.Register now.
About this newsletter
Today's newsletter is written by Greg Piechota, researcher-in-residence and Smart Data Initiative lead at INMA, based in Oxford, England. This newsletter shares insights and best practices on creating value with data analytics and incorporating a data-positive culture. 
This newsletter is a public face of the Smart Data initiative by INMA, outlined here. E-mail me at greg.piechota@inma.org with thoughts, suggestions, and questions. Sign up to our Slack channel.