Survey highlights growing strength of newspapers in engaging Irish population
Media Research Blog | 29 December 2011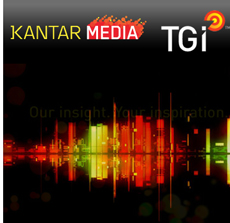 Since 2009, The Irish Times has subscribed to Kantar Media's TGI (Target Group Index) survey. This population-representative survey explores consumer habits, attitudes and media consumption among adults (aged 15 and older) dwelling in the Republic of Ireland. The 2011 data release highlights newspapers' strength as an advertising platform and shows significant growth in population engagement with aspects of newspaper editorial content. 
TGI includes a substantial section on advertising engagement across six media platforms: television, magazines, newspapers, Internet, cinema and radio. In the last year, the number of Irish adults who say they pay most attention to ads in newspapers grew by 7.5%, to a population total of 1.1 million. Meanwhile, newspaper advertising emerges as "most useful" for more Irish adults (943,000) than any other advertising media in helping them make purchase decisions. The next highest scoring medium in this regard is television, the ads of which are rated "most useful" by 929,000 Irish adults. More Irish adults feel newspaper ads fit better with the rest of the medium's content than any of the other media surveyed.
With almost 20 years of Irish consumer data, TGI is a highly powerful tool in tracking trends, including responsiveness to advertising campaigns. In 2011, there was a significant year-on-year increase in those acting on newspaper ads. The number of Irish people who bought something on the back of a promotion or appeal in a newspaper rose by 21%. This trend was particularly pronounced among main shoppers, with a 28% rise on 2010 numbers. Moreover, the number of Irish adults who purchased something after seeing a promotion/appeal via a loose newspaper insert grew by 8%.
From an editorial standpoint, newspaper supplements and financial pages emerge as strong performers. The number of Irish adults strongly agreeing that extra sections in newspapers make them more interesting grew by 13% and, in general terms, Irish adults strongly agreeing they read their newspaper's financial pages rose by 18%. Of Irish adults who strongly agree they're more aware of personal finance than they used to be, the number also strongly agreeing they read the financial pages of their newspaper grew by 38%. 
The centrality of newspapers as a source of information is also highlighted by this year's TGI, where the number of Irish adults who strongly agree that they rely on newspapers to keep them informed rose by 5% and those strongly agreeing they would not change the newspaper they read also rose by 5%.