Newspaper magazines: saviours of newspapers and magazines?
Media Research Blog | 27 September 2011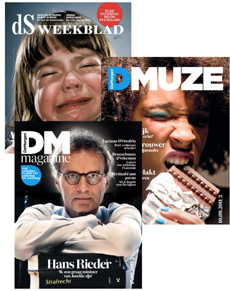 Newspapers have been more than just the daily news for some time now. The expanded weekend issues, with their associated magazines in particular, ensure newspapers don't just get thrown out with the next day's trash. Le Figaro Magazine and Madame Figaro, The Observer Magazine, Guardian Weekend, Telegraph Magazine, Stella, Weekend Magazine (Daily Mail), You and Io Donna Magazine (Corriere della Sera) are just a few of the many examples in Europe.
In Belgium, two quality Flemish newspapers each came out with a new weekly magazine recently: their readers will now get two complete magazines with their weekend papers.
De Morgen (De Persgroep Publishing), with its revamped DM Magazine, focuses on in-depth journalist reports, portraits and interviews, plus an extended TV guide. This means the magazine is aimed mainly at men. DMUZE is a totally new weekly magazine focusing more on lifestyle, fashion and beauty, aimed at women readers. Its competitor De Standaard (Corelio)'s DS Weekblad aims to present ambitious journalism and current events, while DS Magazine keeps the focus on lifestyle.
Why are these publishers launching two new magazines on the market today, at a time when many people are questioning whether print media have a future at all? This is not a pure research topic, but still worth discussing on this blog.
Here are three reasons which undoubtedly played a role in these considerations.
Reason 1: Newspapers need to strengthen their position in the media again.
Newspaper sales in Flanders have been stable to rising slightly (+0.1%) in recent years, which is noticeably better than in most other countries in Europe; but the most recent reach figures (July 2010 — June 2011) from the Centrum voor Informatie over de Media (CIM) show the number of newspaper readers in Belgium is down by 2.5%.
Magazines are also battling with falling sales, and this downward trend seems to be rather difficult to put the brakes on. The economic crisis and changing consumption patterns of the digital generation are said to be the main reasons for the falling trend in conventional print media. But media experts are now qualifying this thesis worldwide:
Digital media are no longer seen as the main culprits for the decline of print: on the contrary, they are said to promote media consumption, in fact.


Whether publishers are prepared to keep investing in newspapers and innovating constantly is the most crucial survival factor.


Newspapers need to meet the needs of the new generation of readers in terms of form and content, and make themselves attractive to this target group once more.
Reason 2: Sell more papers, reach new readers.
The main thing is to sell more papers. Of course, that's the day to day reality as far as any newspaper publisher is concerned. Convincing readers to buy your paper, day in, day out, is a real challenge. Giving these magazines away as free supplements gives newspapers another dimension, and helps them attract new readers too.
This last point is confirmed by the fact that newspapers sell more copies on Saturdays, and by the reach figures. The reach figures show that newspaper magazines in Flanders add 18% more readers to the daily reach of the papers themselves. In the case of De Morgen and De Standaard this even runs to one third more readers (CIM Reach study 2011).
Newspaper magazines also attract more women readers, with an average of 53% women readers in the case of the Flemish newspaper magazines, compared with 46% in the case of the newspapers themselves. Nina, the weekly magazine of Het Laatste Nieuws, has 61% women amongst its readers, which is considerably higher than the 46% women for the newspaper itself.
There is still undoubtedly growth potential for the Flemish newspaper magazines, though. In the United Kingdom, the Observer Magazine reaches 460,000 women on average, which is more than women's magazines Grazia (402,000) and More (372,000) (National Readership Survey July 2010 — June 2011).
Reason 3: Attract new advertisers.
The additional reach amongst women is, of course, another ace in attracting advertisers from typical lifestyle sectors. Fashion and beauty brands often tend to steer away from newspapers, as they are too masculine, but they fit in perfectly with newspaper magazines; and luxury brands which want to see their ads printed on glossy magazine paper only get more of what they want here.
A survey of a number of media agencies also indicates typical newspaper advertisers are showing interest in newspaper magazines too. Sectors such as finance, automotive, energy and telecoms see additional opportunities in magazines for establishing their brands.
And newspaper magazines are doing remarkably well in the volatile advertising market. Between January and August this year, gross advertising spend in Flemish newspaper magazines rose 5%, while advertising earnings in general magazines fell 5%. And that was before the new magazines were launched earlier this month, so expectations here are very high and researchers will undoubtedly follow this evolution with great interest.