Do you know when new subscribers cross their "Retention Point?"
Readers First | 04 May 2021
Hello! This is Readers First, a newsletter for INMA members on reader revenue innovation. I am INMA's researcher-in-residence. E-mail me at: greg.piechota@inma.org
Was this e-mail forwarded to you? Sign up.
ACTIVATION. What is the secret to slashing churn rates?
"Find a moment in the subscribers' journey in which they fall in love and get them there faster," recommended Robert Skrob, an author of "The Retention Point."
Skrob spoke at the INMA Digital Subscriber Retention Master Class in April. He explained: "The Retention Point is when your subscriber decides that he wants to be a member of your tribe, that he's engaged and he's going to do what it takes to succeed."
In practice, said Skrob, the Retention Point is a threshold of engagement or a key action, such as a customisation of experience, that correlates with retention.
In the book, Skrob claimed: "When you move beyond focusing on getting new members to instead measuring and focusing on getting new members to the Retention Point, your subscription numbers can triple, grow by a factor of five and even more."
He used an example of Netflix and their "hooked episode."
How Netflix knows you are hooked
In 2015, Netflix analysed streaming data across the inaugural seasons of the then most popular shows in 16 countries, looking for signals that pointed to when viewers became hooked. 
To its surprise, Netflix discovered no one was ever hooked on the series pilot. For example, "House of Cards" required three episodes, after which 70% of viewers on board stayed for the rest of the season. And "Mad Men" required six. 
This finding led Netflix to break with the TV traditions and release entire seasons of shows all at once.
In general, the core metric for Netflix is subscriber retention, and it is highly correlated with the number of viewing hours per subscriber.
In her interview for "Data Scientists at Work," Netflix Vice President Data and Insights Caitlin Smallwood explained that the biggest impact on business is when Netflix gets people who are streaming only three hours a month to stream four hours, then when it gets people who are already streaming 30 hours to stream 31 hours.
The charts Smallwood shared at an academic conference suggest the thresholds Netflix looked at were 10 and 20 viewing hours during 28 days of membership.

Would you cry if I died?
The idea of the Retention Point should be familiar to subscription product managers. In popular literature, such as "Hacking Growth," it is called the "aha moment."
"This is the moment," explained Sean Ellis, "that the utility of the product really clicks for the users, when the users really get the core value — what the product is for, why they need it, and what benefit they derive from using it."
For example, Twitter struggled to sustain growth in its early days until it learned that users who quickly started following at least 30 other users were much more engaged and likely to continue using the service.
Ellis and other authors recommend two-step process to establish the aha moment:

Surveys with users aimed at checking whether the product has a market fit, with questions like "How disappointed would you be if this product no longer existed tomorrow?" and "What is the primary benefit that you have received?"

Analysis of data aimed at common patterns of behaviours correlated with retention, for example, "What do retaining users do in your product?" and "Is there anything that the retaining users do NOT do?"
Your "aha moment" will be the threshold of engagement that most of your retaining subscribers met or the action that most did.
What would it be in the news industry?
Searching for the retention point in news
Patrick Appel of Piano looked at the historic usage data of 428 news Web sites internationally, finding most readers who visited on eight or more active days in a month returned within a week.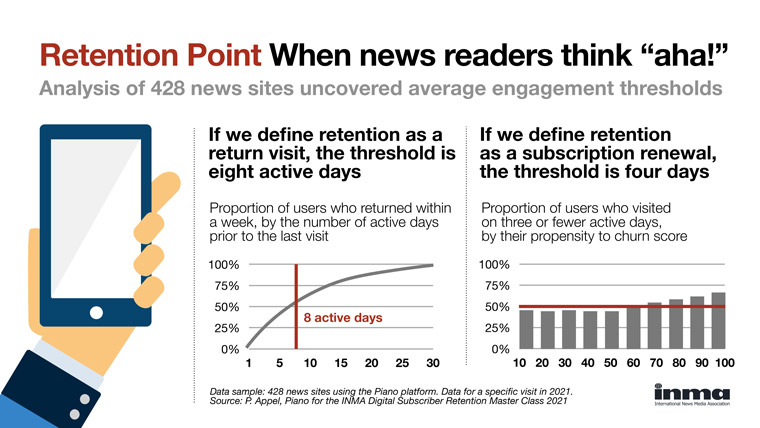 Active days is a popular metric for news reader engagement and is often found correlated with retention. For example, this is the key engagement metric for both the up-market Wall Street Journal and for the more popular Daily Beast.
Appel and his team built a propensity to churn model, analysing the correlation with 70+ metrics. They found that among subscribers least likely to churn, most visited on four or more active days.
So, what is the average retention point for news sites — four or eight active days?
"From a subscriber retention standpoint, I'd focus more on a four active days threshold. From an audience development and advertising standpoint, I would aim higher," answered Appel.
INMA asked 256 participants of the retention master class how they measure the retention point:

38% respondents said they looked at the usage threshold, such as the number of active days.

29% measured readers' progress in a journey, e.g., a post-trial conversion or a renewal.

13% analysed accomplished actions on a site or in an app, e.g., a newsletter sign-up.

Others looked at the completion of the on-boarding series, declared perception, such as a satisfaction or NPS score, revenue per user, and other metrics.
Leading subscribers to the Retention Point
Armed with the insight on the Retention Point, publishers ideate how to help new subscribers reach it quickly. 
For example, Mediahuis in Belgium formed an agile, cross-disciplinary team that runs rigorous experiments to drive engagement. "Focus on new subscribers. A good start is half of the battle," said Hanne Hendrikx of Mediahuis.
Guided by an agile coach, Hanne's growth team includes members of the marketing, data, customer service, editorial, and tech departments. 
Mediahuis measures the success with a blended engagement metric RFV based on Recency and Frequency of active days in a week and Volume of sessions in a week. RFV is used to segment readers, so Hanne and her colleagues can focus the further analysis and the treatment on the readers who are at the highest risk of churning.
Data analysts found high-risk readers visited the site the last time six or more days ago, on average they visited two or fewer days in a week, and they had three or fewer sessions in a week.
The growth team identified the key levers for leading these readers to the Retention Point:
Guide new readers: log in, on-boarding, and re-boarding of the new subscribers.

Motivate to use and form a habit: tools such as newsletters, social posts, push notifications, better selection and recirculation of editorial content, digital replica, podcasts, and puzzles.

Retain: value nurturing communication.
Most valuable retention tactics
INMA members who participated in the retention master class echoed Hanne's experience. In a survey, they told us the five most valuable retention tactics were:

On-boarding new subscribers.

Tracking what subscribers read. 

Studying interests and behaviours. 

Identifying at-risk subscribers. 

Using metrics to evaluate churn. 
These internationally sourced priorities are similar to the March findings of the American Press Institute, which surveyed 133 news executives in the United States alone.
Based on more than two decades of work in not-for-profit and for-profit membership businesses, the author Robert Skrob revealed the secret in engineering the combination of value, communication, and community:

Inspire new subscribers to improve themselves.

Give them clarity over their pathway to improvement.

Help them take the first step.

Reveal your brand's unique personality.
"What retains subscribers really is the solution to their problem," Skrob told the INMA master class. "When working on your retention plan, ask yourself: How are you changing the way your subscribers feel about themselves? Did they solve their problem? Are they accomplished?"
Recommended readings:
See you this week at the INMA World Congress
If you want to get an update on the state of data and media subscriptions, join the INMA World Congress of News Media on May 6-27. Agenda includes leaders from Axel Springer, Bloomberg, Folha de S. Paulo, Singapore Press Holdings, Schibsted, and Torstar, and the faculty from Harvard and Wharton. I will dive into digital subscriptions as part of the World Congress on Thursday, May 20 (full agenda here). Register here (early registration ends today).

About this newsletter
Today's newsletter is written by Grzegorz (Greg) Piechota, researcher-in-residence at INMA, based in Oxford, England. Here I share the results of my research and notes from interviews with news publishers. Previous editions are archived online.
This newsletter is a public face of a revenue and media subscriptions initiative by INMA, outlined here. E-mail me at greg.piechota@inma.org with thoughts, suggestions, and questions. Sign up to our Slack channel.