Everything you wanted to know about retention but were afraid to ask
Readers First | 29 June 2020
Hi! This is Readers First, a newsletter for INMA members on reader revenue innovation. I'm researcher-in-residence at INMA. E-mail me at: grzegorz.piechota@inma.org
Was this e-mail forwarded to you? Sign up to this newsletter.
1. HABITS: Evidence-based case for a robust onboarding programme for new subscribers
Following an in-depth research of churn, The Wall Street Journal overhauled its onboarding programme for new subscribers. It focused on helping readers form new habits.
Anne Powell, director of engagement at the Journal, presented the new programme that had been tested during the COVID-19 pandemic at the ongoing INMA Master Class on Digital Subscriber Retention.
The programme was inspired by the findings of the Journal's Habit Project, a 2019 study that compared survival rates of subscribers based on their actions, such as downloading an app or subscribing to a newsletter.
Internally, Powell and her colleagues called all those actions "habits," as they are intended to help increase the number of active days readers spend on a site or in an app within a month.
This metric is strongly correlated with retention — the more active days the reader visits, the less likely she is to churn. 
The Habit Project's insights added to a growing evidence that the first months are key to help readers form a habit and prevent churn.
The Journal's study revealed habits are formed early: A likelihood to take an action or adopt a new feature was highest in the first 100 days of the subscription (see chart).
This finding is broadly supported by a seminal 2009 study published by the University College London, in which 96 volunteers repeated a number of behaviours daily until they performed them automatically. The researchers found it took between 18 and 254 days to form a new habit. The median time required was 66 days.
A 2020 study of 285 news sites by the publishing platform Piano at the INMA Media Subscription Summit showed the churn rate for monthly subscriptions was the highest in the first three months and then stabilised, further proving that the opportunity to reduce churn was highest at the early stage of the relationship. 
The new onboarding programme at The Wall Street Journal focused on encouraging readers to adopt new features, or habits from day 0, for the first 100 days.
The Journal built an on-site onboarding experience that, based on my June review, remains the longest and the most comprehensive among the top 50 leading news subscription sites. The new subscriber is invited to swipe more than a dozen cards presenting benefits, helping to set up features, or asking to customise the experience. Despite the length, per Anne Powell, 60% of readers complete the whole flow. And up to 80% take at least one recommended action.
The Journal has also extended its welcome e-mail series to 93 days, that is also one of the longest series observed in the news industry. In a poll of the Retention Master Class participants, 90% publishers had a series shorter than 90 days and 63% had a series shorter than 30 days.
The on-site and e-mail experiences are supported with paid targeted campaigns on Facebook and other channels.
Together with the optimisation team, Powell's team runs three to four experiments every month, tweaking the onboarding experience. The engagement team of five also collaborates with the product and editorial teams to develop new features and content aimed at forming habits. 
Rethink your onboarding approach with insights from The Wall Street Journal and other retention masters:  Buy a ticket to the INMA Master Class on Digital Subscriber Retention, watch recordings, download presentations and additional reading materials. 
2. ATTENTION WARS: What could publishers learn from Netflix and others, and what's better to pass? 
How come Netflix and other online video streaming sites retain 49% new subscribers after a year, while news sites — on average — just 25%?
These are median retention rates after one year for new subscribers acquired in 2019 with free trials. The retention for the top six U.S. online video streaming services is based on a June 2020 study by Antenna, a subscription analytics company. Relevant retention benchmarks for news publishers are provided by Piano, following a request from INMA.
An analysis of the Piano data of 285 news sites worldwide by Patrick Appel, the company's director of research, reveals:
The top news subscription companies actually beat most online video streaming sites but Netflix; the best retaining publisher in the Piano sample keeps 51% trial subscribers after one year, while Hulu keeps 50%, Starz at 48%, and HBO Now at 43%. Netflix though is a retention leader, as it keeps 65% of its subscribers!
Apart of the industry leaders, news publishers struggle to retain free trial subscribers — median retention is just 25%. The worst performing publishers keep just 7% of free trialists!
Academic studies traditionally linked the high retention rates at Netflix and other streaming sites with high perceived value of entertainment content and their personalised recommendation systems. Similar to news sites, engagement was found strongly correlated with retention, and recommenders were effective in driving time people spend watching. 
Tactics that work well for video streaming sites might not do similarly well for news publishers:
While all online streaming companies offer free trials, the news subscribers on free trials — in general, with the exception of the COVID-19 pandemic — retain the worst. Paid trials seem to help publishers select readers with a better to the product, as these customers retain almost double the rate — after a year, 41% are still customers. New subscribers signed up at a full price retain at 45% rate.
Online video streaming sites usually sell monthly plans only, while publishers actually benefit from annual plans. The annual retention for those is much higher than for monthly plans — the median is 71%, with the top performers hitting 83%.
3. ANALYTICS: What can AI teach us about behaviours leading to churn?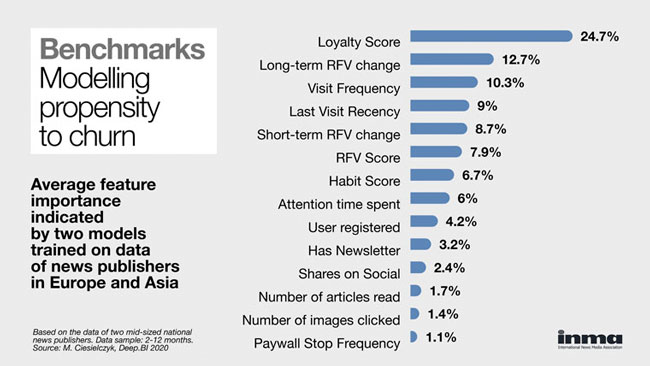 Leading publishers invest in data science to predict who's going to churn so they can prevent it. Advanced analytics can be used to inform tactics as well as the engagement strategy of news media.
Propensity modelling will be the focus of the June 30 class by Michal Ciesielczyk, head of AI engineering at Deep.BI, an analytics platform provider, at the ongoing INMA Master Class on Digital Subscriber Retention.
In an interview with INMA, Ciesielczyk presented the average importance of features indicated by two models trained on data of mid-sized national news publishers in Europe and in Asia. His team used an ensemble of machine learning algorithms.
The most predictive was the time since the first visit ever by a reader, or the tenure, measured by days and then translated into a loyalty score.
Then came temporal variables, such as long-term change in engagement measured by the RFV score (measures recency, frequency of visits and volume of articles read), visit frequency, time since the last visit, short-term change in RFV, and the RFV score itself.
Other features found predictive were total attention time spent interacting with the site, whether the reader subscribed to a newsletter or shared articles on social media, and the number of articles read or images clicked. 
The models of Deep.BI were trained using mostly Web site behavioural data. Based on INMA interviews, other vendors and publishers use also features such as payment data, information about content, marketing channels, and pricing.
For example, Dagens Nyheter in Sweden identified the subscriber's tenure, acquisition channel, and payment method strongly predictive.
Apart of temporal variables, The New York Times found visits to the home page mattered as well as the type of content consumed.
Advanced analytics can be used also to help answer other questions across the customer journey, such as who's going to register, what content or features best to recommend next, and what offer best to show, when and using what channels.
Interested in an introduction to the Ph.D.-level analytics? Michal Ciesielczyk of Deep.BI will deliver a primer on propensity modelling today at the INMA Master Class on Digital Subscriber Retention. Buy a ticket to watch live or catch up later on demand. 
About this newsletter
Today's newsletter is written by Grzegorz (Greg) Piechota, Researcher-In-Residence at INMA, based in Oxford, England. Here I am share results of my original research, notes from interviews with news publishers, reflections on my readings. Previous editions are archived online. 
This newsletter is a public face of a revenue and media subscriptions initiative by INMA, outlined here. E-mail me at grzegorz.piechota@inma.org with thoughts, suggestions, and questions. Sign up to our Slack channel.