Are the most popular paywalls also the most effective?
Readers First | 01 February 2023
In this newsletter, I discuss exclusive INMA research on paywall models and present a case study about AI-generated images used at scale.
If you have questions or suggestions, e-mail me today at greg.piechota@inma.org or meet me in person in Stockholm in March at the INMA Media Subscriptions Summit.
Which paywall models are most popular and which are most effective?
Freemium paywall model is most frequent internationally. Hybrid models are on the rise.  However, brands with different models grew subscriber base in 2022 at a similar rate.
This is based on original multi-year research, testing 473 Web sites in 33 countries and analysing subscription performance of 160 brands benchmarking with INMA in 2022. 
Paywall models describe criteria for labelling content or segmenting readers, and targeting them with subscription or membership offers.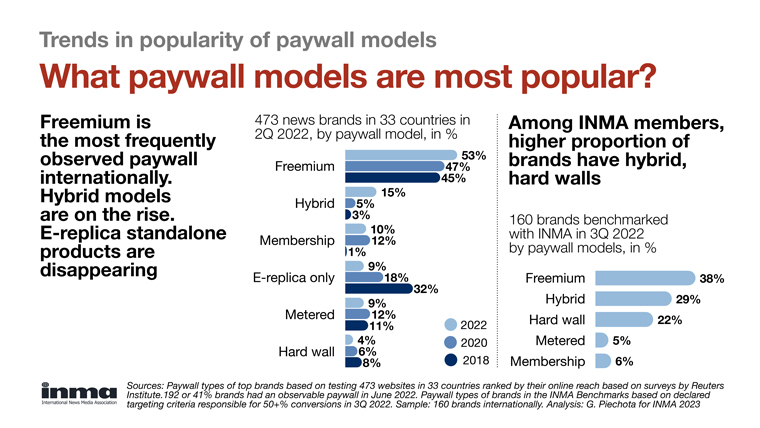 Popularity trends: Every two years since 2018, we tested top 15 news Web sites ranked by reach in each of 33 countries surveyed by Oxford's Reuters Institute.
In mid-2022, we found 192, or 41% of the total of 473 Web sites, featured some kind of a paywall restricting access to news content:
53% offered some articles for free and some for a fee (freemium model).

9% triggered a paywall after reading a few articles (metered model).

15% used a combination of the two or more criteria for targeting (hybrid model).

10% did not restrict access but asked for support (membership model).

9% kept free access to the Web content but charged for print e-replica.

4% restricted access to most or all content (hard wall model).
Our multi-year study showed some clear trends:
An increase in popularity of hybrid models, from 3% in 2018 and 5% in 2020. 

A decrease in popularity of charging only for print e-replica, from 32% in 2018 and 18% in 2020. E-replicas are usually bundled today with the Web access. 

Popularity of membership models is dwindling, rising from 1% in 2018 but falling from 12% in 2020.
Effectiveness trends: Every quarter since 2021, we collected current and historic performance indicators from INMA corporate members, benchmarking 160 national and regional news brands in 31 countries. 
The distribution of paywall models in the INMA sample was different than in the Reuters Institute-inspired sample. The freemium wall was the most frequent too (38%), but the proportion of brands with hybrid or hard walls was much higher (29% and 22%, respectively).
In 2022, brands with different paywall models enjoyed a similar growth rate of the total number of digital-only subscriptions. At the end of September, they saw 8.9%-10.4% more subscriptions than in January, depending on a model. 
In simple terms, all paywall models worked similarly well.
INMA saw bigger differences when indexing growth to January 2020. Brands with hard and metered walls seem to have grown the fastest (162% and 148%), and hybrid and freemium sites seem to have grown more slowly (100% and 86%).
Does it mean that the least popular paywall models delivered the best performance in the long term? Correlation doesn't indicate causation. 
The general logic of a paywall likely impacts the performance. However, brand awareness, product qualities, news cycle, actual offers (such as price and other terms), or specific paywall rules (such as its selectivity) impact the performance too, based on INMA research.
Individual publishers can test causal hypotheses through business experiments.
Brief history of paywalls: In the past, top news executives were sometimes deliberating paywall models for months before choosing one. Last year, some were changing targeting criteria every few weeks or months — South China Morning Post, for example. After exhausting one segment, they are simply targeting another, adjusting the paywall rules.
The most sophisticated paywalls today are automated systems, driven by predictive algorithms and fueled by data about readers, their behaviours, and context of visits. Initially, these hybrid models were the domain of the largest publishers, such as The New York Times, but recently software vendors have democratised access to predictive analytics and personalised paywalls.
Since the 2010s, the decision about whom to ask for a payment slowly moved from the strategic to tactical level — and now often is taken at the transactional level by an algorithm, locking and unlocking articles for each user. 
Paywall rules used to be optimised to maximise new conversions, but today they often balance different objectives, such as growing market share vs. lifetime value. Other revenue lines are also considered, as some readers may be unlikely to subscribe but monetised with advertisements. The Wall Street Journal is doing this, for example.
The decision about whether to charge online readers remains a strategic choice, exclusive to executives defining the business model of a company.
Considering change in a paywall model? Join INMA Benchmarks to see how different models impact reader funnels and business lines.
What happened when Dennik N published AI-generated illustration on its front page?
Dennik N's chief digital officer sees the potential of AI-generated art to supplement traditional illustrators rather than replace them.
In December 2022, Slovakia's national newspaper Dennik N published its first AI-generated drawing. By January 2023, it was using generative AI to illustrate 10%-12% articles every day.
"We don't use AI because it is cheaper than original photos or art," explained Tomas Bella, chief digital officer of Dennik N, in an interview with INMA. "We use it because it is quicker and helps to replace bad stock photos and improve overall visual quality."
The visual workflow: In Bella's 100-person newsroom, reporters and editors select photos from the wires and stock libraries under only general supervision of a design director. Every day they file 30 to 40 new articles that need illustrations. 
70% articles are news reports, illustrated with original photos from staff photographers or the wires. 
30% articles are features or analyses that used to be illustrated most frequently with photos from libraries, such as Adobe Stock.
"Some topics are hard to illustrate — for example, about mortgages — and when we write about them repeatedly, reporters sometimes use the same stock photo over and over," Bella said. 
Dennik N hires freelance artists to illustrate longer, more important pieces, but it is more expensive and usually takes days from the assignment to the delivery. Therefore, original art is not believed to be viable for the daily grind at a newspaper with 68,000 digital subscribers.
Onboarding AI to the newsroom: Last autumn, the capabilities of generative AI to create visually stunning and unique images caught the attention of Bella, who started playing with Midjourney, an AI model similar to OpenAI's DALL-E or Stable Diffusion.  
Bella became fascinated by the images he saw on the Web and used Midjourney to illustrate his own articles. Then he talked to others in the newsroom about the potential of using it to replace bad stock photos with AI-generated drawings and sketches.
The design director was sceptical, but the editor-in-chief was intrigued enough to try it out. Soon, 10 journalists began using Midjourney, which they found easy to learn and affordable for the publication. They set up a Slack channel to share effective prompts.
The subscription to Midjourney with a commercial licence costs US$600 per year, or as much as only three months of Adobe Stock's most comprehensive plan.
Over time, the team got comfortable to illustrate with AI its front page story in print and digital.
High hopes and concerns: "The reaction from the audience, and especially technology enthusiasts, has been positive," noted Bella. The illustrations are clearly labelled as created with the assistance of AI.
Some readers raised ethical questions about, for example, the impact of AI on human illustrators. "We continue to commission human artists for signature articles," answered Bella, declaring to follow a global debate on responsible use of AI. 
He acknowledged copyright lawsuits against AI companies for scraping artists' work from the Web without their consent, which are not resolved yet. 
Non-artists like himself benefitted from AI because it helped them to express themselves in ways they never could. The results, he admitted, were rather basic and lacked consistent style.
"As real artists learn how to use this technology, the possibilities for creating visually stunning and unique images are endless," he said, adding there was also the potential for a combination of AI-generated art and traditional illustration methods to create a unique style for the publication and its marketing.
"We need to find our own style before everybody starts using AI and readers get bored with it."
Tomas Bella of Dennik N and Lukas Görög of Die Presse will host a workshop on generative AI at the INMA Media Subscriptions Summit in Stockholm on March 8-10.
Download "AI Guide and ChatGPT Promptbook for News Marketers," Greg Piechota's new report. It's free to INMA members.
About this newsletter
Today's newsletter is written by Grzegorz "Greg" Piechota, INMA's researcher-in-residence and lead for the Readers First Initiative. In his letters, Greg shares original research, analysis, and best practices in growing reader revenue.
E-mail Greg at greg.piechota@inma.org, message him on Slack, meet him at the next online meet-up or in person at the INMA Media Subscription Summit in March.