Over the last three years, the subscriber base for news brands doubled across the world. The demand for online news has spiked worldwide, driven largely by the COVID crisis of the past two years.
"It's not just the pandemic," INMA Researcher-in-Residence Greg Piechota clarified. "It's actually years of investment and focus on consumers, focus on marketing, and great journalism that we are providing."
Some news companies more than doubled their subscriber base, Piechota told INMA members during a Meet-Up of the Readers First Initiative, which he heads up, on Wednesday. Brands in Europe with sizable audiences and established subscription programmes grew the fastest.
"When we look at the maturity of publishers, we usually see three different stages," he said.
Publishers try a new model. They launch a subscription as a minimum viable product and a paywall, which often starts as a marketing or tech project.

Publishers focus on getting a product-market fit. They see the need to adjust their content, products, and marketing. This requires adjusting resources and the operating model.

Publishers focus on scaling. The means new tech and data stacks, new talent and work methods, and often the reinvention of the company.
"In general, when we look at the news business models, we see that consumers today are the primary customers of news media worldwide, whether we look at digital or print revenues," Piechota said. 
Looking at broad media in general — meaning newspapers and magazines but also Web sites, apps, television, radio, music, books, and games — paid content is bringing in one-third of the US$2.1 trillion annual revenue. That is the same percentage advertising brings in. In addition, 79% of that paid content revenue is from subscriptions and 21% from single transactions.
Meredith Kopit Levien, president and CEO of The New York Times, said the last 10 years were to test the company's strategy that journalism was worth paying for and the next 10 will be scaling that idea.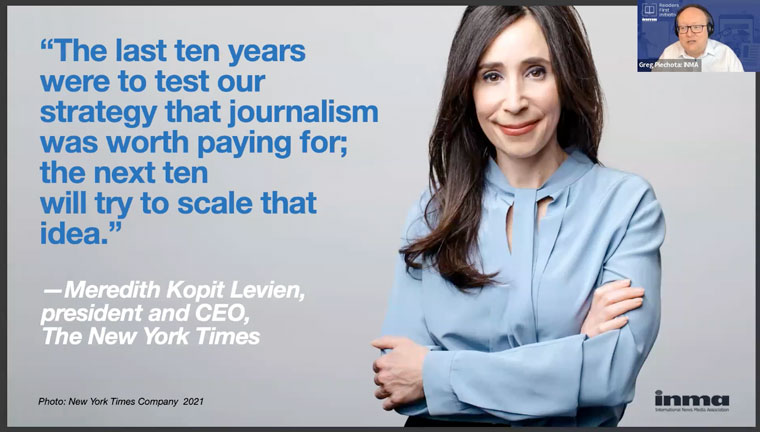 There are 100 million English speakers worldwide who could pay for news (approximately 8% of all English speakers), she said. If this is correct, Piechota theorised it means 8% of other language speakers could also pay for news, meaning there are also 90 million Chinese speakers, 51 million Hindi speakers, 43 million Spanish speakers, and so on. This represents a huge opportunity for news media subscribers that publishers have not even begun to hit the limit of.
"This is why I invited Robbie Kellman Baxter, a great expert in subscriptions and who is an author of The Membership Economy and The Forever Transaction, to discuss [this topic]," Piechota said.
Baxter has spent the last year or so responding to the changes brought about by COVID and its resulting acceleration of the interest in subscription models across industries.
"The journey to reader revenue is not an overnight phenomenon," she said. "It's something you need to invest in, not just from a pricing perspective or marketing … this is actually a joint effort."
The COVID bump is now slowing down, and news companies must strategise to continue their momentum and growth going forward.
Lessons about news consumers and subscriptions
Baxter pointed out the popularity of group subscriptions — for example, families sharing a Netflix or Disney Plus subscription, or companies buying news or industry publication subscriptions for their employees. These become very difficult for consumers to cancel because there are so many people enjoying different products or aspects of the subscriptions.
Many consumers subscribe for a very narrow, specific reason, she said. Perhaps they wanted information during the pandemic or they wanted to watch "Hamilton." 
"It becomes incumbent on the organisation to onboard that person in such a way as to surface the other sources of value and to help that customer optimise that subscription. They came for COVID, but make sure they know you also cover local news."
At the same time, when a customer does want to cancel, that process should be easy and frictionless.
"You of course want to do everything possible to engage them and give them value so they don't want to cancel. But if they do, make it easy for them to leave," Baxter said.
Otherwise, two things might happen. One, the customer might bad-mouth the company to others, and second, they won't come back in the future. Successful companies that have been around a long time understand the subscription process is cyclical, and customers sometimes cancel for temporary reasons. And, if they had a good experience, might return at some point.
Moving from transaction to relationship
Piechota asked Baxter what the most important factors are for news organisations that want to move their subscribers from a transactional relationship to a more loyal, engaged member relationship.
"Once you're in subscriptions, it's really important to play the long game," she said. It's not an overnight process, but something that must be invested in and nourished for the long term.
"You're feeding and growing something that will have this recurring revenue forever if you build it right. It's not something that happens quickly, and it's also something you can ruin by eroding that trust."
The great thing about a subscription model, she added, is that it achieves many goals concurrently. "It aligns the goals of the customer with the objective of the organisation: recurring revenue."
In addition, a reader-first model also makes for a much more attractive offering for advertisers, thereby also increasing ad revenue.
Weaknesses of a subscription model
Piechota and Baxter identified some of the potential weaknesses of a subscription strategy as well.
"Some of the challenges include low willingness to pay," Baxter said. "What that's actually saying is: If I can get a substitute for free, then what you're offering me is not that valuable. That becomes a really big question — if people value what you're doing."
Another weakness is low usage, even amongst subscribers. She said the reasons for that need to be explored. 
"Is it because people haven't made a habit of it? They haven't bookmarked it, they don't look at their app? Or is it that they don't see value in it? I think it's really important, when you see low usage, to understand why the usage is so low, and ask how you can remedy that."
What will happen in the next 10 years?
INMA recently held a board of directors meeting, discussing what the biggest priorities were for major news organisations in the coming year. Digital subscriptions topped the list, but within that, bundling held top priority.
Baxter said the reason companies bundle products is usually to more fully solve the forever promise. Bundling for the sake of bundling is not a solution, but it should only be done to deliver a fuller and better experience to subscribers.
"It can be a source of access," she said. "In the case of a small company bundling with a bigger one, it gives them access to this whole new market. And in the case of the larger organisation, often it's a way of driving deeper engagement and retention by not allowing for gaps that might allow someone to look around for alternatives."
Bundling can be a great way to gain awareness, exposure, and distribution, but companies must think about how to keep them connected with their brand directly.
When it comes to where news publishers should be investing over the next decade, Baxter referred back to the three-stage model Piechota shared at the beginning of the Meet-Up. It depends on what stage of the subscription model journey the company is at.
"If you're in the scaling stage, you're going to be investing in infrastructure," she said. "If you're in the earlier phases, you're probably going to be investing in product and in adjusting the content. Data and research are always important. It also depends on where your core strengths are."
Content, community, and commerce are three different categories for value creation. Depending on a company's promise to their customers, layering in more value in these three areas is another way to grow. 
The most successful subscription models around, such as Apple and LinkedIn, generally have one price, don't offer any promotions, and make it really easy to cancel.
"Is that because they're onto something, and that's what we all should be doing?" Baxter asked. "Or is it because they're growing so fast and they're so big that they have the luxury of not optimising for every last penny?"
Piechota asked Baxter where she thought the biggest growth opportunities for news publishers were in the next 10 years.
"From my perspective, it's always a battle between how do I acquire them and how do I stay relevant to them?" she said. "I think most news organisations are quite good at acquisition, and they're increasingly good at onboarding and building habits. And I think the next thing is remaining relevant."
Focusing on that, and continuing to deliver on it, means that the customer probably won't be looking elsewhere for alternatives. This gives the publisher permission to layer in more value and go deeper in the relationship.