Almost one-third of the 50 top news subscription brands have been missing out on welcoming and engaging newly registered readers, new research by INMA shows.
In the past two years, news media publishers have been increasingly registering and logging users in on Web sites, aiming at better understanding readers' behaviours, segmenting them, and tailoring content, features, and advertising.
Registrations have a pivotal role in engaging casual readers who, once they had traded e-mails for articles, could have been pushed to read more, sign up to newsletters, or download apps. 
That's why I am so surprised with the result of reviewing post-registration engagement tactics of the top 50 world's news sites ranked by the number of digital subscribers. 
Together with my associate, I signed up to daily newsletters at the 46 sites that offered free registrations in July 2020. I observed on-site and e-mail onboarding messages over the next 90 days: 13 news sites, or 28%, did not send any extra e-mail beyond the newsletter — not a welcome e-mail, neither an offer to subscribe!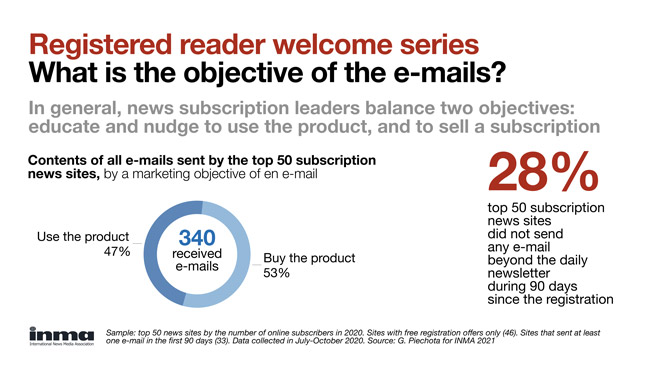 Welcome e-mail series are popular
In total, over the 90 days since registering, I received 340 e-mails other than newsletters, for which I signed up for: 
161, or 47%, nudged a newly registered user to learn about the product or access recommended content (other than recommended in the daily newsletter).
179, or 53%, encouraged to buy a subscription.
On average, sites sent seven e-mails, but the median was just three.
I received the largest number of e-mails from The Chicago Tribune in the United States (45), The Daily Telegraph in the UK (40), and Ara in Spain (35). These three publications demonstrated different objectives of their welcome e-mail series:
The Tribune sent mostly subscriptions offers (34 out of 45 e-mails).
The Telegraph balanced offers and nudges to explore the site (23 offers vs. 17 educational e-mails about the brand or recommendations to read).
Ara focused on getting me to learn about the brand and read (28 out of 35 e-mails).
On-site onboarding is rare
I observed only six of out of 46 news sites, or 13%, offering any type of on-site onboarding to newly registered readers in the first 90 days. Typically, these Web sites have sections describing the benefits of registration. 
Some sites, such as The Economist in the UK and The Star Tribune in Minneapolis in the United States, point newly registered to explore these sections right after signing up.
Some other, such as The Telegraph in the UK or The Wall Street Journal, seemed to wait for a reader to stumble upon member account management pages.
The Journal's on-site onboarding page was the most robust: In July it contained 19 different cards, asking readers about their interests, calling to sign up for additional newsletters, or introducing to apps. Some benefits though required a register user to become a paid subscriber to access the features.
Activity monitoring is very rare
Only three out of 46 news sites, or 6%, noticed that I have not opened any daily newsletter and tried to preserve the health of their e-mail database. They required any proof of live, such as having me open an e-mail or click a link. That would be a sign that I wished to receive further e-mails.
These listening publishers were: The New York Times and The Seattle Times in the United States, and Ara in Spain. 
After two months since registering, the first e-mail from The Times said: "We've noticed it's been some time since you last opened any of your New York Times newsletters. We know life can get busy, but these newsletters are worth taking the time to read." 
After another silent week, it informed: "Goodbye for now… Though we think you'll miss the free, award-winning Times journalism and commentary, we don't want to crowd your inbox, so the following newsletters will no longer be sent to you."
This post is the third part of my series on free registration offers: Part One explored the benefits and Part Two analysed the sign up flows.