How can news media publishers engage light readers who represent the strongest growth path for subscription-mature news media companies?
INMA delved into this growth trajectory in its September report "Light Readers: Digital Subscriptions' Next Growth Path." In it, INMA Readers First Initiative Lead Greg Piechota declared 2021 and coming years as "the years of the light readers." 
On Wednesday, Piechota hosted a special Readers First Initiative Meet-up to discuss his biggest findings on the topic and answer questions submitted by INMA members after the report's release. 
With the arrival of the COVID-19 pandemic in Spring 2020, news media companies were affected in different ways. Most took huge hits in advertising, but at the same time the demand for news spiked across the world. Trust in journalism rose, and people turned to trusted sources for their information.
In response, new publishers translated that surging demand into subscriptions, effectively broadening each stage of the subscription funnel:
Attract: high-interest news attracted more visitors to news Web sites.

Register: trading content for registrations helped nurture new, light readers.

Show offers: tighter paywalls exposed more readers to offers.

Convert: discounted trial offers helped convert readers sooner.

Retain: long-term trial offers helped retain readers better.
"As a result, when we look at the current size of the subscriber base across the world, it is much bigger than it was a year ago," Piechota said. "The median change in digital subscriber base for news publishers globally increased by 58%."
The next challenge: engaging light readers
This huge growth in readership and subscriptions was largely due to light readers — those who are occasional or casual readers, as opposed to heavy and engaged readers. Early adopting users are typically brand fans and heavy users, and then there is a chasm between them and late adopters, who are the light readers.
"It's no wonder that in the subscription world, many publishers focus on people who really believe in the journalism and trust the brand, and people who really use their content a lot," Piechota said. 
That's an important strategy for publishers. But at the same time, to capture the late adopters — the more casual users — and unlock growth amongst that audience, publishers must identify new segments of users and then adjust their value proposition and marketing mix.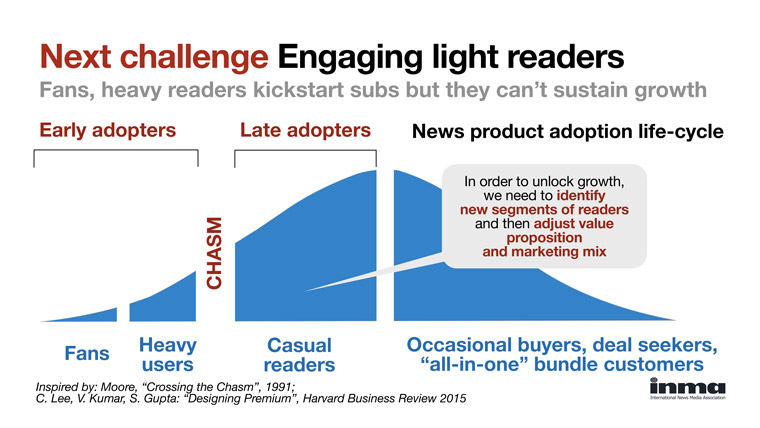 "Of course we love our fans and heavy readers," Piechota acknowledged. "We know they are most likely to subscribe. We know if we want to expand our revenue, they are the most likely to be retained and to upgrade."
These heavy users represent the highest lifetime value and bring in a disproportionate amount of revenue to most news media organisations — in both subscriptions and advertisement.
"The problem is, these guys help you launch a subscription [business], but they can't sustain the growth," Piechota said. Their numbers are simply too small.
Fall in love with your light-reading subscribers
The research firm Piano broke down the segments of people who have become new subscribers in the first month of their subscription and in the 12th month. In month one, heavy users (10 or more active days) represent a strong part of the subscriber base: 27%.
But as time goes on, those heavy users become a lower part of the mix, falling to just 19% by month 12, while moderate users (two to nine active days) make up 44% and light users (one active day) represent 37%.
"They can't grow," Piechota said of the heavy users. "[Publishers] don't have any heavy users left to convert."
Therefore publishers need to think about the new subscribers, many of who have converted for the first time and most of whom are light readers. Light readers don't matter just for acquisition, they also matter for retention. 
In a survey of 320 news sites globally, Piano found that 39% of paying subscribers had not visited the site in a one-month period.
"We know that these people are actually most likely to churn," Piechota said. "That's why perhaps we should find a way to focus on light readers."
Who are the light readers?
It's important to separate the strategies for acquiring light readers and for retaining them, said Shauna Plesmid, vice president of core subscriptions at Dow Jones.
"The characteristics of your light readers, depending on if you're looking at members or non-members, change," she said.
Companies must look at their funnel, divide it into different segments, and come up with a strategy for each segment. When Plesmid was with The Washington Post, the company did not rely on some of the more obvious metrics, such as returning visitor numbers and pageviews.
"Obviously, someone who is coming into your site and consuming your content, and hasn't hit a paywall — I think some people just kind of classify that as a light reader," she said. "But also look at the platforms where you're investing your newsrooms' time."
At The Post, those platforms included Instagram and TikTok, and those users represent their next-generation light readers. These are important platforms where they are building habits with users, but they aren't the traditional metrics that would be analysed on a dashboard.
"I think it's incumbent on us to think about where your light readers are consuming your content, and try to paint a more holistic picture," Plesmid said.
Louise Story, technology and consumer leader, formerly with The Wall Street Journal and The New York Times, approaches the definition of light readers a little differently.
"I originally have come at this question from the news side," Story said.
That is, what kind of data can editors and reporters use in the newsroom to evaluate whether the work they're doing is being consumed and if it's what users are looking for? Journalists and editors need to be looking at the data, but it's important that it's the right data.
"It's clear that too many news organisations have embraced data in their newsrooms that does not drive the business outcomes they are trying to get to sustain their journalism," Story said. 
Many newsrooms are looking at subscriber data, but are not breaking that data down into different subsets of subscribers.
"Subscriber data is going to be dominated by the pageviews of very content, loyal, highly engaged readers. And the problem is, those aren't the ones churning."
Audience strategy isn't an "either-or" decision between light and heavy readers, she said. In general, content that does well with light readers will also do well with heavy readers. It's an overall reader strategy.
"This is a big insight," Piechota said. "If we focus on what light readers want, we serve them and heavy readers. If we focus only on what heavy readers want, we serve only them."
How can publishers engage light readers?
It starts with registration, Plesmid said, which is an important part of the user journey. The user is giving some valuable first-party data — e-mail address, name, perhaps other pieces of information — in exchange for access to read the content.
At Dow Jones, this is the beginning of the relationship, from which they constantly try to learn more about that user through an onboarding process.
"It's all about, one, delivering more value than just the content itself, and also making sure the things you are putting in front of them are of real value — not just things that are serving your business interests," she said.
It's important to understand how overwhelmed people are by content, Story added: "In the news business, we often think just by giving people more, they'll pay more for it or they'll be grateful or they'll stick with us longer. No. They don't want more. They want the right story, not more."
More specific topics are often more appealing to the audience, particularly light readers, than broad, general topics or sections.
"I think the industry needs to reduce its focus on only getting people to come to our platform to count it as engagement," Story said. "What we need to do is: If they want to be somewhere else and they want to consume our content, we need to find ways to be where they are and to charge them for it there."
Many news media companies are completely focused on creating content that their loyalists love and that their journalists love. Story said this is "in their DNA." But they must also focus on these less engaged, paying members to counter that.
"The light reading, paying members have a lot in common with the people who are down in your funnel but haven't converted yet," she said. "That's a very good nexus to focus on because you want to convert more people, but you want them to stay when you convert them."
Plesmid's advice is to organise and categorise your content for action.
"What is the next layer below a section? How can you start getting into those coverage areas, those sub-topics? Focus on your taxonomy."
Dow Jones takes that content organisation and compares it with its light, medium, and heavy readers to look at things like paywall conversion rates and average active days for paying members.
Takeaways and advice
"Heavy users are not going to sustain your growth," Piechota summed up. "At a certain level of your development of your subscription programme, you need to start looking at light readers."
Segmentation will be an important part of the process of understanding the light reading audience. Once segmented, it's important to be able to group content or other features that are actually used by those readers.
"If you focus on their interests, you will serve your heavy subscribers, too. We talked about how important it is to engage those light readers and onboarding them, being able to offer more content via e-mail, paid advertising, social, notifications is absolutely key."
Piechota asked Plesmid what one big piece of advice she would give INMA members on this topic.
"My one tip is: Don't boil the ocean," she said. "Greg just mentioned a ton of different things that you can do, but you don't need to do them all at once. I think the most important thing you can do is talk to your members and talk to your non-members. Figure out what their pain points are, and that's a really great place to start — especially with light members."
He asked Story for her tip, as well.
"Because of the history and nature of our industry being so siloed and divided between news and commercial and technology, I would say one of the most important things you can do in your organisation is make sure your ship is aligned," she said. "And that your leadership is in agreement on what is the priority, in terms of which audiences you're trying to focus on most. Then make sure that's transparent and openly communicated to your full teams, because there will be decisions made at ground level in all kinds of areas that will affect whether or not you achieve those goals."